Mandatory Random Drug Testing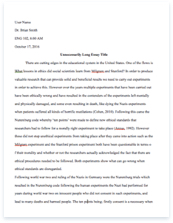 The whole doc is available only for registered users
Pages: 6
Word count: 1310
Category: Drugs
A limited time offer! Get a custom sample essay written according to your requirements urgent 3h delivery guaranteed
Order Now
Crunch! A warehouse employee's foot has just been run over by a forklift driver. During the accident investigation it was discovered that the forklift driver had been under the influence of marijuana. No one wants his/her doctor to be drunk or high on drugs as he slices him/her open with a scalpel. Regardless if the operation is successful, he/she will be much happier knowing the doctor was not impaired. A person walking his/her dog on a sidewalk near a high-rise construction site sees a construction crane. He/she will be much more content knowing that the crane operator knows exactly what he/she is doing. Mandatory drug testing is necessary to maintain a safe work environment.
In 1986, former President Ronald Reagan signed Executive Order 12564, which requires all federal employees to avoid using illegal drugs, whether on or off-duty, as a condition for federal employment. In 1988, Congress passed the Drug-Free Workplace Act of 1988, which, in turn, initiated the creation of federal Mandatory Guidelines for Federal Workplace Drug Testing Programs (Section 503 of Public Law 100-71). The mandatory guidelines apply to the uniformed services, contractors or service providers under contract with the federal government, and to executive agencies of the federal government. Even though the Drug-Free Workplace Act of 1988 applies to federal employees, state and local governments followed along and adopted similar programs under state laws and drug-free workplace programs (Drug testing, 2011).
The Fourth Amendment states, "The right of the people to be secure in their persons, houses, papers, and effects, against unreasonable searches and seizures, shall not be violated, and no Warrants shall issue, but upon probable cause, supported by Oath or affirmation, and particularly describing the place to be searched, and the persons or things to be seized (Fourth amendent, n.d.). Some argue that mandatory random drug testing violates their Fourth Amendment rights in that they are being subjected to an illegal search because testing allegedly intrudes upon expectations of privacy that people have long considered as reasonable. However, the United States Supreme Court has ruled that drug testing programs are constitutionally allowed in both the private and public sectors (LaFoullette, 1994). Although employers are not required by law to create a drug-free workplace policy, it has become a standard business practice. A key provision under state and federal drug-free workplace programs include tests may be conducted pre-employment, "upon reasonable suspicion" or "for cause," at random, routinely, and/or post treatment or rehabilitation. Another key provision is that random testing means unannounced and/or non-routine testing that may be applied at random to some, but not all employees (Drug testing, 2011).
The opponents of mandatory random drug testing claim that mandatory drug testing is often inaccurate (American Civil Liberties Union, 1997). That may have been true back in the early days of drug testing, but with the advances of modern technology drug testing is much more accurate. The vast majority of urine drug screens done these days conform to The National Institute of Drug Abuse (NIDA) standards. The NIDA is the government organization responsible for regulating the drug-testing industry (Test standards & accuracy, n.d.). Dr. Gero Leson of Leson Environmental Consulting conducted a study that evaluated the interference of delta-9-tetrahydrocannabinol (THC) levels in hemp food products with employee drug testing. The objective of the study was "to establish a correlation between extended daily ingestion of THC via hemp food and the likelihood of failing screening and/or confirmation testing of urine for marijuana" (Leson, 2000). Dr. Leson's study found that even with extended ingestion of currently available hemp foods it is unlikely to trigger a positive result on a drug test.
Opponents of mandatory random drug testing claim it is unfair to force workers who are not suspected of using drugs, and whose job performance is satisfactory in order to "prove" their innocence with drug tests. They claim the procedure is degrading, uncertain, and that it violates personal privacy (American Civil Liberties Union, 1997). Many proponents of mandatory drug testing state, "If the workers have nothing to hide, then there should be nothing to worry about (American Civil Liberties Union, 1997). Opponents claim that testing can reveal to an employer whether an employee or job applicant is being treated for a heart condition, depression, epilepsy, diabetes or is pregnant. Most employers are not looking for those things (Hartman, 2011).
There are a variety of drug tests that can be performed; however, the three that are used most often are urine, blood, and hair strand tests. The most common drug test used is the 5 panel drug screen (urine test). The 5 panel drug screen can include PCP, marijuana, cocaine, methamphetamines/amphetamines, and opiates (McClellan, 2011). There are blood and hair strand tests available, also. Of the three types of tests, blood testing is the most expensive. The hair strand test results are not affected by a person's intentional abstinence, and this test can identify whether the person has abstained within a recent period of time (Williams, 2010).
The Department of Health and Human Services, Substance Abuse and Mental Health Services Administration (SAMHSA) conducted a national survey on drug use and health in 2007. The survey revealed that an estimated 19.9 million Americans aged of 12 or older were considered current illegal/illicit drug users, meaning they had used illegal/illicit drugs in the month prior to taking the survey. The most commonly used drug was marijuana. The study further revealed that among unemployed adults aged 18 or older, 18.3 percent were current illegal/illicit drug users. The percentage was higher than the 8.4 percent of those employed full- time and 10.1 percent of those employed part-time. Of particular note is the fact that most of the illegal/illicit drug users were employed. The study stated, "Of the 17.4 million current illicit drug users aged 18 or older in 2007, 13.1 million (75.3 percent) were employed either full or part-time" (Results from the, 2008). Conducting mandatory random drug tests can lower business costs in the present and the future.
A person who uses illegal drugs carries the risk of serious problems, especially in high-risk workplaces such as on a factory floor where accidents result in injury or worse (Stepper, 2007). Accidents in the workplace are expensive and could lead to tremendous loss of productivity and profit. Employers utilize drug testing to ensure the employees they have are trustworthy. Employers feel employees who take illegal drugs are already breaking the law and are more likely to be involved with illegal activities than employees who don't take/do drugs. Employees under the influence of drugs or coming down off of a high, are much less functional than they normally are. There is the potential for attendance problems, as well as theft (Rhodes, 2009). With mandatory random drug testing, employers can head off potential problems and it gives a peace of mind to employers and employees alike. Employees will know that if they have a positive result on a drug test, they will be terminated and ineligible to receive unemployment benefits.
Since 1986, mandatory random drug testing has become commonplace. To protect employee rights, it is imperative for employers to implement mandatory random drug testing programs that follow state and federal guidelines. With mandatory random drug testing, employers are able to apply the old adage, "An ounce of prevention is worth a pound of cure." The bottom line is that mandatory drug testing is necessary to maintain a safe work environment.
References
American Civil Liberties Union. (1997, December 31). Privacy in america: Workplace drug testing. Retrieved from http://www.aclu.org/drug-law-reform_technology-and-liberty/privacy-america-workplace-drug-testing Drug testing. (2011). Retrieved from http://www.enotes.com/everyday-law-encyclopedia Fourth amendment (u.s. constitution). (n.d.). Retrieved from http://www.lectlaw.com/def/f081.htm Hartman, D. (2011, April 10). Mandatory drug tests for employees. Retrieved from http://www.ehow.com/info_8196714_mandatory-drug-tests-employees.html LaFollette, H. (1994). Mandatory drug testing. In S. Luper-Foy & C. Brown (Eds.), Drugs, morality, and the law (pp. 283-299). Retrieved from
Related Topics