Management Decision Problem of McDonald's Arabia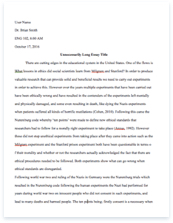 The whole doc is available only for registered users
A limited time offer! Get a custom sample essay written according to your requirements urgent 3h delivery guaranteed
Order Now
We are pleased to submit this research proposal for McDonald's retaining their competitive position management decision problem. We have provided information, which we feel, will help illustrate what course of action should McDonald's Arabia take to retain and expand its market share as well as improve its marketing strategies. The research would be completed in an estimated 8 weeks
1) Background Research
McDonald's began as a barbeque restaurant in 1940 operated by Richard and Maurice McDonald and was recognized as a hamburger stand in 1948 using production line principles. Ray Kroc a businessman joined the company as a franchise agent in 1955. In 1957 the company adopted quality, service, cleanliness and value as its motto. (http://www.mcdonaldsarabia.com, 2012)
McDonald's is the largest and best-known global food service retailer with 34,000 restaurants around the world in 119 countries serving 69 million customers. (http://www.aboutmcdonalds.com, 2012)
A franchisee, an affiliate, or the corporation itself operates a McDonald's restaurant. McDonald's owns about 20% of the restaurants. The remaining 80% are operated by franchises. (http://www.aboutmcdonalds.com, 2012)
The Emirates Fast Company is the owner and operator of more than 90 McDonald restaurants in the UAE. Established in 1994 it is committed to providing highest quality of products to every customer. (http://www.mcdonaldsarabia.com, 2012)
McDonald Arabia's current marketing campaign in the UAE is very basic. Their main mode of advertising is through radio and billboards. McDonald itself is a brand with high reputation and is known as the most popular fast food chain in the world.
However in the UAE market it's competitors such as Just Falafel and KFC are becoming more advanced with eMarketing and other methods of marketing as opposed to McDonald's.
Firstly the advantage the competitors have over McDonald's in the local market is that they home deliver to most parts of the UAE as opposed to McDonald's who only deliver to the Media City. Secondly the online presence that the competitors have is huge when it is compared to McDonald's. KFC has a much detailed website providing information about the menu, offers and campaigns. KFC recently did a competition with their customers to win JLo concert tickets. Just Falafel does heavy marketing on various social media sites. In addition they also have promotions on the popular GroupOn.
Bottom line is competitors are finding newer and innovative ways to market and attract customers.
2) Management Decision Problem
The Management Decision Problem faced by McDonald Arabia is how they can retain their number one position against competitors in the UAE market.
Marketing Research Problem
To find out consumers perception towards the current marketing strategy of McDonald's Arabia, and ways through which they can improve it so as to retain their competitive position in the market.
3) Market Research Objectives
The objective of the study is to understand and evaluate customer's perceptions about the current marketing campaign used by McDonald's Arabia. These will be accomplished by the following sub-objectives.
Sub-Objectives:
1) To examine what are the customer's views about McDonalds Arabia's branding compared to its competitors. * What are the current customer's perceptions towards McDonald's Arabia? * What determines customer retention and increase of sales compared to competitors? 2) To examine the impact caused towards customers when using non-traditional methods of marketing as opposed to traditional marketing.
4) Research Design
Exploratory Research
Firstly we would start by the collection of secondary data that will be done through exploratory research. This will include articles, journals and company reports of McDonald's Arabia.
We would then move on to collecting primary data through the use of qualitative analysis. To collect the primary data we would interview the marketing director of McDonald's Arabia in order to understand his opinions on the problems faced.
By collecting this data we will have a better understanding as to how we can help improve the marketing strategies of McDonald's Arabia that would retain their competitive position in the local market.
Descriptive Research
The descriptive research will be in the form of quantitative analysis in order to target large market. This would help us in gathering more
information. The quantitative analysis would be done in the form of questionnaires.
The questionnaire would contain basic information of the customer such as name, age, gender as well as questions related to how McDonald's can improve their services towards the customer. These questionnaires will be carried out two stores of McDonald's Arabia with maximum footfall. They will also be carried out at McDonald's Arabia drive through as well as food courts.
This would help the researcher understand better the customer's views and opinions.
Sampling Type
The sampling type will be systematic sampling since it will be targeting large audience. A questionnaire would be handed out to every 5th person the research comes across. Sample size of 400 questionnaires will be chosen from 150 questionnaires would be giving out in each of the two stores and 100 each would be given out in drive through and in the food court.
5) Data Analysis
The data would be analyzed using statistical techniques that would help us achieve more accurate results. This will be achieved with the of SPSS (Statistical Package for Social Science) software. This software will analyze the data that will be collected from the questionnaires and present the results in the form of pie charts, graphs and tables.
These results will help us in summarizing the research and make recommendations to McDonald's Arabia.
6) Timescale
* Literature Review- 1st week
* Interviewing marketing director- 2nd week
* Creation of questionnaires- 2nd & 3rd week
* Conduction of questionnaires- 3rd, 4th week
* Analysis of data- 5th, 6th & 7th week
* Compiling and recommendations- 7th and 8th week
References
http://www.aboutmcdonalds.com. (2012). Company Profile.
Available:http://www.aboutmcdonalds.com/mcd/investors/company_profile.html [Accessed on 29th November 2012]
http://www.mcdonaldsarabia.com. (2012). Local Ownership.
Available:Http://www.mcdonaldsarabia.com/uae/en/the_truth/our_history/leadership.html [Accessed on 29th November 2012]
http://www.mcdonaldsarabia.com. (2012). The Ray Kroc Story.
Available:http://www.mcdonaldsarabia.com/uae/en/the_truth/our_history/the_ray_kroc_story.html [Accessed on 29th November 2012]
Related Topics