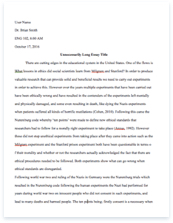 The whole doc is available only for registered users
A limited time offer! Get a custom sample essay written according to your requirements urgent 3h delivery guaranteed
Order Now
1. Malcom X learned how to read different from many other people, he learned how to read at the Norfolk Prison. At the prison he would read the dictionary to get a better understand of how to read a book and know the meaning of every word. Malcom was so interested in the dictionary he would spend three to four hours sitting on his cell floor just for the light to read constantly. Malcom read during late hours all the time to the point he knew when the gaurds did a night walk through of each cell hallway.
2. Malcom X's view on African American history was shocking and made me think that some points he made did actually make sense in some parts. One point that was interesting was when he said " If you started with a black man, a white man could be produced; but starting with a whitman, you never could produce a black man- because the white gene is recessive" (pg. 277). Malcom made sense of the views of African American history to the point where reading this autobiography has me thinking that maybe the world did start off with a black man instead of a white man. His views did give me a outlook on the history and makes me want to read more into black history and see if it is true that we started with a black man instead of white man.
Tan " Mother Tongue"
1. Tan descirbes standard English as a form of english where the grammar is perfect along with the tenses. Along with standard English she also talked about the way she talks to her family and husband where that is called English of intamacy. The English that made an impact on her was her mothers English where some would call it " limited english" (pg.419) where their English is unclear or not perfect.
2. English has been my first language. I was born in Fairbanks, Ak where everyone just speaks english and no terms or slang just regular good ole english of yes ma'am and yes sir. As a child I learned how to talk from my parents, because as babies you repeat words and sounds like a parrot. I have really never put thought into how my english is use, but thinking of it now my english has changed from being a little kid to and adult now.
As a kid the way I talked I would always use ain't and consider it a word and would argue if it was a word or not to everyone. Looking back at it ain't wasnt a word and I wasn't using standard English my english was limited at the time to where some people could not understand what I was talking about half the time. As time went on my English got better with more knowledge and words I had learned throughout my life in school to where I became great at standard English.
Related Topics