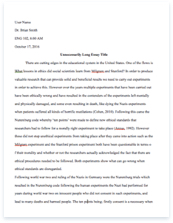 The whole doc is available only for registered users
Pages: 2
Word count: 459
Category: Law
A limited time offer! Get a custom sample essay written according to your requirements urgent 3h delivery guaranteed
Order Now
Magna Carta refers to the Great Charter that established basis of English Common Law and constitutionalism. Magna Carta stemmed from disagreement between Pope Innocent III, King John of England and English Barons. During the 100 Years War, King John lost many battles, and as the result of the lose, King John brought the economy England to the bottom. Magna Carta was initially a feudal document that applied to the demand of the barons, which was to prevent King John from collecting absurd taxes. It was signed at Runnymede near Windsor Castle in 1215 after the clergies and feudal barons had occupied London. It forced King John to give up some of his powers and to proclaim certain liberties to the barons. However, Magna Carta became to be considered as the people's authority to advocate their rights against the king's absolute monarchy.
The year of 12115 is remembered as one of the most inspiring year not only in Western history but in human history. At that time, Margna Carta had a significance of documentation of a compromise between a king and people. The check and balances occurred to follow the written agreement between them became one of the foundations of modern state. Being the first document forced onto a king, so to speak, Magna Carta was the source of constitutionalism. Besides, Magna Carta had an influence on Parliamentary system by affecting Petition of Rights and Bill of Rights. Many countries from Western civilization, such as England and the United States, practice constitutionalism, and many other countries with constitution borrowed the basic ideas from Magna Carta. For example, the right of Habeas Corpus persons, the right of the people who are deprived of their liberty to challenge through judicial inquiry the legality of their arrest or detention, is the most enduring legacy of Magna Carta.
I have always thought that a king cannot govern his country by himself. There must be supporters and ground that recognize and establish the authority of king. The supporters were nobles in pre-modern era. Their support and loyalty could not be earned easily. A king had to distribute honor, powers, and wealth to the supporters. Even if just one of these distributions is taken away by a king, the king will have a hard time keeping his throne. King John ignored the importance of his supporters and took their wealth away from them. The result was so evident. I also tried to see this situation from a perspective of a king who rose to the throne after King John, and I ended up thinking that the other kings might have blamed King John for offering the lead to Magna Carta. It's good for the people and the country, but for the kings.
Related Topics