Low Income And Minorities Are at a High Risk for Environmental Burdens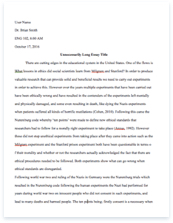 The whole doc is available only for registered users
A limited time offer! Get a custom sample essay written according to your requirements urgent 3h delivery guaranteed
Order Now
Public housing residents and it illustrated that women were at elevated health risk, particularly with maternal issues. Several women in the study showed that they have higher preterm low birth weight (LBW) during their pregnancy compared to women who not affected by their housing being part of a project demolition. But, there are other non-policy-indications that determine that housing transition indicators that were not associated with such pregnancy outcome. Back in 1992, the United States department of housing and urban development created the Housing Opportunities for People Everywhere initiative in an effort to create more affordable housing for its residents by restoration public housing projects.
Another influential change within American history is when the 1996 Summer Olympics went to Atlanta, and the Atlanta Housing Authority (AHA) proposed to replace 29 of Atlanta, Georgia's public housing projects with mixed-income housing developments. Overall, the government's plan was to replace the public housing recipients with another government program called the Housing Choice Vouchers. The major reason why the United States government shifted away from public housing was to use the acquired land for the private rental market. Such housing policies continue to affect low-income neighborhoods by displacing them without a transition plan that includes the residents' opinion into consideration.
These external factors contribute to stress and force the residents to make life altering changes. Several of the residents tend to be low-income families and tend to be single parents. Such lousy housing policies continues to affirm that the socioeconomic class continues to affect people and tends to place them into disadvantaged communities. All things considered, housing projects might have the best intentions to solve housing insecurities within the American society, but there is more scientific data needed to establish other external stressor that effects health issues during housing transitions.
Policy changes in the 2009 Special Supplemental Nutrition Program for Women, Infants, and Children (WIC) affected the distribution rate on WIC food packages that are handed out to the program participants. Shannon E. Whaley and her co-authors describes the impacts of those distribution rates in their research, Impact of Policy Changes on Infant Feeding Decisions Among Low-Income Women Participating in the Special Supplemental Nutrition Program for Women, Infants, and Children, and their scientific data suggests that breastfeed is associated with a 20% to 50% lower risk of overweight and obesity in children, depending on duration of breastfeeding and degree of supplementation, which can be considered a primary prevention strategy for early childhood obesity.
The Special Supplemental Nutrition Program is funded by the United States Department of Agriculture (USDA), which provides valuable information about healthy foods, including prenatal care education to low-income women.  The USDA changed the Dietary Guidelines for the food packages for the WIC participants received. One of those changes included the contents of the food packaging that are distributed for women and children.
The food packaging now includes: fruits, vegetables, and whole grain, and the participant would be limited to purchasing only lower-fat options. Another massive change was the amount of formula for mothers reduced. The policymakers goal was to supply the participants with healthy food options, and mothers would breastfeed more often since they had less access to formula. The results of Whaley study illustrated that changes did increase breastfeeding rates among low-income mothers served by the program. Therefore, policy changes in health care can significantly change the well-ness of a community, but more scientific data is needed to validate these points.
Related Topics