Life, Death, and Redemption in an American Priso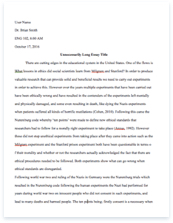 The whole doc is available only for registered users
Pages: 4
Word count: 847
Category: Regret
A limited time offer! Get a custom sample essay written according to your requirements urgent 3h delivery guaranteed
Order Now
The individuals in the book view life from different angles. This is depicted by the way they respond to issues. Some resolve to violence in order for them to be heard, each individual take time to reflect on their action and pain and regret of their action is felt. This can be seen when the other wishes for a single shot to freedom whereby he might not make the same decisions as what he did. From the story, it is evident that the actions of the individuals are influenced. The poverty and lack of attention to the author led him to street where he engaged in drug trafficking as well as other illegal activities that that led him to the prison. It is also illustrated that when the author was thinking of escape, he found someone else with the like mind and thus regardless of the geographical setup, people with similar thoughts will always find themselves and learn from each other.
In the prison, life was depicted as a dead end, where there is no hope and thus they are just living as the day unfolds. They don't see the prison as a place for them to change and thus attempts to escape which lands them in even more trouble. They have the confidence and hope that they can led a hopeful life after serving their sentence. This implies that even behind bars it is possible for to find good insights the help one to hold on what is so dear to them to the end.
When reading the book, I was able to have a vivid picture of what was happening, the prison life and how the prisons likely behave. From the reading I depict that the reader implies that we should be quick to judge people until we understand the motive behind their actions. This is because he takes us through his childhood life, the experiences on the street, the life in the prison and how he resolved to transform.
From this, I believe the virtue of forgiveness is given a lot of weight, one can be forgiven but fail to forgive themselves. Healing starts when one accepts themselves in the current situation, ask for forgiveness and forgive themselves. When that is done one is able to move forward and be able to have peace and pursue what they desire.
People are faced with challenges that burden them in their day to day life. This makes them to develop coping mechanisms to counter the stress. Talking about other people problems help some to forget about their own issues and thus be able to face a new day. This is seen when the other prisons are heard discussing the authors issue with courage and confidence yet they do not know what really transpired that day. Poverty and the inability to meet the basic needs and wants has the potential to make someone to resolve to illegal activities. Thus not all people that are imprisoned are criminal some is a result of choosing a wrong coping activity and thus with right people and support they can change and live a positive life.
The adaptation to stress varies from individuals thus those who resolve to violence see it as the only option. This can be illustrated when the author prepares a fist ready to defend himself against the assumed forthcoming trouble. There are those who respond politely and thus in the process changes the thinking of the people around them as they nurture positivity.
From what I have learned in the story, it is important to carry out a historic search of a client to be able to understand why they do the things they do. By addressing the root cause, the client is able to heal the long carried wounds and take change positively. This is because the author says he took time to search himself when he realized that it started when he did not get the desired attention and thus joined a group that listened to him.
Taking time to understand what a client is going through will help me be accepted in their life. A good rapport is the avenue for trust and thus they can disclose what is weighing them down and we brainstorm together to arrive at the most possible solution that they will own and not feel that I imposed to them.
Leading by example is another vital aspect that I have learned from the story. This is drawn from where the author had a dispute with twin and he came to apologize and he also took the responsibility to apologize. This act of humility and remorsefulness made other inmates to seek counsel when a dispute arose. I will use this act be able to take responsibility of the misunderstanding as opposed to engaging in power struggle thus establish a healing environment that will make the clients comfortable and seek help when need arise. I will be able to encourage my client that regardless of what they are facing, they have the potential to change and it is majorly important that they decide to face the situation and transform.
Related Topics