Lean In Women, Work, And The Will To Led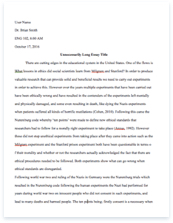 The whole doc is available only for registered users
Pages: 7
Word count: 1579
Category: Ambition
A limited time offer! Get a custom sample essay written according to your requirements urgent 3h delivery guaranteed
Order Now
Why did you pick this book – What did you expect to learn when you picked this book?
I picked this book because it talked about a topic that can easily affect me which is women in business. A lot of the issues that she talked about are things that I will have to overcome. This is a movement that women have been fighting for many years, yet there are still so many obstacles that women have to go through to get those top leadership roles. This book also starts a conversation about any workplace, growth with careers, and challenges that people usually do not see. I am expecting to learn a lot of examples of information about sexism and common issues that women have in male-dominated jobs. I will also learn about gender-based and how that affects women all throughout their lives not only when it comes to getting a job. I also hoped that the book did not only talk about all of the problems that many women go through but something that they can do to fix it. That is a problem that a lot of papers about this topic, this is that people now that it exists, but no one knows how to change what they do to not like.
What is the book about?
This book is about women in the workplace and how they are discouraged from taking top business jobs because of: self-confidence, trying to meet unbelievable standards, and having to meet the social standard of society. As well as, being about how to push past these roadblocks and taking charge of your life to get what you want and to not be afraid to fail. Sanberg wants to increase the chance that a woman can be in the leadership position that has been dominated by males, but she thinks that this books can also help women just meet any goal that a woman puts her mind to. This can include women that are just starting out their career, women that want to do more in their current job, or women that want to come back to their job. This book is not only for women though, this story is also for men in any part of a women life, like partner, friend, or boss, to understand what women have to deal with, because many people do not talk about what women have to go through and what they are doing to help.
Sandberg wrote this book because when she was growing up this was the height of the women's movement, especially for education and the workplace. However, as time went on the speed of the movement has been slowing down. Many women were still being slowed down when it came to getting their careers. She wrote about a speech she gave where she said "So please ask yourself: What would I do if I weren't afraid? And then go do it". (pg ). She explains throughout the book that women a lot of times is not stopped by the men, but part of it is because they are stopping themselves. She wants women to find their passion, gain strength from hardship, find a balance in their lives, and have the ambition to run the world
What are the five take always (your learnings) from the book?
One of the most basic takeaways that I get from this book is that gender equality has not changed in many years. Men that are risk-taking, powerful, ambitious are congratulated, while women have "social penalties". Things like gender stereotypes, sexism, and social expectations are still alive and affecting how women are treated and expected to act. Sandberg writes about the hurdles that women go through in the workplace, which involves "blatant and subtle sexism, discrimination and sexual harassment" (pg) this has not changed. This is even seen is the workplace not even thinking about flexible hours and basic needs of women like child care and maternal leave. This is not a surprise though this state of mind starts at a very young age when baby girls are expected to be comforted and talked to more than male. As well as what toys and colors that a male and female can like. As time goes on women are put down or made fun of for having certain behaviors that are different from males. It is seen as inappropriate for a girl to talk out of turn, but are rewarded when it comes to things like being pretty and being kind. All of the studies that Sandberg sited, all concluded that as time goes on women do not see themselves as a leader. An example being when millennial women and men were asked to characterizing themselves, very few women used the words: leader, visionaries, self-confident, and risk takers. This makes sense because many of these words are expected of men, but are seen as negative traits when it comes from women in our society. Things like aggressive and hardworking women are seen in media like movie and news as a person that does not have a life and has to have a guy save her and make her a kinder person. Many of these social standards have not changed in years, which just reminds me that we have to do more to change the way that people think about women and what they can do when it comes to making a career. The only way to change something is to make it known that this is a problem, and clearly, there has not been enough of that in the last couple for years. Female accomplishments always come at a cost, and that should not be the case anymore, there needs to be a change.
Another takeaway that I had was that society is not the only reason women are not in leadership roles. The other problem is the fear and insecurity that women have in the workplace that is holding a lot of women back. "Fear of drawing negative attention. Fear of overreaching. Fear of being judged. Fear of failure. And the holy trinity of fear: the fear of being a bad mother/wife/daughter" (pg) these are things that most women feel when going into the workplace and in life. All of these fear are what stop women from wanting more. For example one of the most common fear for women is to ask for a raise, they do not think about that I need this, they think about what they might get fired, they might be seen as greedy, or being seen as bossy, just to name a few. I hope you find true meaning, contentment, and passion in your life. I hope you navigate the difficult times and come out with greater strength and resolve. I hope you find whatever balance you seek with your eyes wide open. And I hope that you—yes, you—have the ambition to lean into your career and run the world. Because the world needs you to change it. Women all around the world are counting on you. So please ask yourself: What would I do if I weren't afraid? And then go do it. For women, feeling like a fraud is a symptom of a greater problem. failure. When a man fails, he points to factors like "didn't study enough" or "not interested in the subject matter." When a woman fails, she is more likely to believe it is due to an inherent lack of ability. And in situations where a man and a woman each receive negative feedback, the woman's self-confidence and self-esteem drop to a much greater degree.9 The internalization of failure and the insecurity it breeds hurt future performance, so this pattern has serious long-term consequences.
How much there is a stigma about women and whether or not that they are married and can do it all, but that should not stop someone.
Everyone should be able to speak freely. The professors had a group of students read Roizen's story with her real name attached and another group read the story with the name changed to "Howard." Then the students rated Howard and Heidi on their accomplishments and on how appealing they seemed as colleagues. While the students rated them equally in terms of success, they thought Howard was likable while Heidi seemed selfish and not "the type of person you would want to hire or work for." Sandberg's conclusion: when a man is successful, he is well liked. When a woman does well, people like her less.
Women should have an agreement with there partners when it comes to children, women should not be expected to do it all. maternal gatekeepers" and both insist their partners do more parenting and housework and stop trying to control the way their partners do those jobs. She acknowledges that this is difficult but makes a convincing case about how necessary it is if women are going to pursue demanding careers. She also writes about "the myth of doing it all." Despite my impression that Sandberg believed women could be corporate titans while somehow magically parenting their kids perfectly at the same time, she writes affectingly about how tough it was for her to find a balance that worked—restricting her time in the office to 9 am to 5:30 every day, having dinner with her kids when she isn't traveling, and working from home after they go to bed.
Related Topics