Leadership Interview & Reflection Paper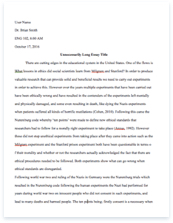 The whole doc is available only for registered users
A limited time offer! Get a custom sample essay written according to your requirements urgent 3h delivery guaranteed
Order Now
Interview: – Franchesca Santana Director of Operations at First Service Network. Miss Santana is a twenty eight year old Dominican woman who graduated at the top of her class in Business Analytics' she has successfully started her own companies which she later sold. Miss Santana currently works for First Service Networks (FSN); First Service Networks is a multi-site facilities maintenance and repair specialist that partners with clients in industries ranging from restaurant and retail to transportation and logistics for clients. The company she is responsible for the daily operations which include managing dispatch managers and team leads both at the local office and other office in her assigned region. F.Santana stated that her role at FSN is to stream line operations and assist in growing the company. Santana since taking the reins from the former director she has implemented new recruiting requirements and started to build the company's culture personal communication, January 27, 2015).
She attributes her leadership style to that of a servant leader however she also stated that she can also be a very charismatic leader as well. Santana states that in her carrier she has worked for managers that micro managed her and did not trust her at all she states that with her employees she does not micro manage rather she trains her employees and gives them freedom to function in their role . She has attributed her success in leadership from working her way up to leadership in her pervious jobs; she also gives credit to her mangers as well for the encouragement to overcome being a woman in a male dominated field. Santana expressed that her biggest challenge in her current job has been the other women that are in positions under her give her a hard time to get things done in the office often side stepping her and going to her supervisor whom is a man. Santana considers her greatest achievement to be being able to be a minority and a woman as well in a male dominated field while she is earning the respect of her peers (personal communication, January, 27th 2015). Reflection of Interview
In today's world woman have taken the fore front of the face of business, many of them leading the way even in politics. Gone are the days when women did not have an opinion on how things are done Lau Chin, (2010). Today we have women such as Hilary Clinton leading the way motivating women to step into these roles that have been traditional held by men. During my interview with Miss Santana she talked about her struggle in Dominican Republic she mentioned that her uncle is currently the President there and have been for many years. She stated that being his niece did not make it easy as she was expected to marry have kids and stay out of the business world. She mentioned leaving there so she could have her own success. Often when we think about leadership roles we identify with many traits that are very masculine. In this interview I learned that this notion is changing and women are emerging as strong leaders Feyerherm, Vick, (2005).
I was surprised that she comes for a political back ground and of the expectations from her own family. I was also surprised by the way in which she handled the questions and her advice to me was "as a woman in leadership you have to always recognize that you are playing in a man's world and work extra hard "(personal communication, January, 27th 2015). Conclusion
Leading people should never be something that anyone should take lightly as leaders we have a duty to provide an environment that promotes healthy atmosphere for customers and employees alike hence increasing the bottom line Feyerherm, Vick, (2005). Doing this interview was very helpful being a woman in leadership is not an easy task however I am encouraged and looking forward to becoming successful woman in a leadership role in the future.
References
Lau Chin, J. (2010). Introduction to the Special Issue on Diversity and Leadership. American Psychologist, 65(3), 150-156. doi:10.1037/a0018716
Feyerherm, A., & Vick, Y. H. (2005). Generation X women in high technology: Overcoming gender and generational challenges to succeed in the corporate
environment. Career Development International, 10(3), 216-227. Retrieved from http://search.proquest.com/docview/219386259?accountid=7374
Related Topics