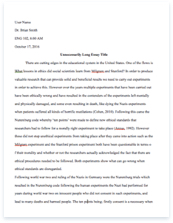 The whole doc is available only for registered users
A limited time offer! Get a custom sample essay written according to your requirements urgent 3h delivery guaranteed
Order Now
Both laws and morality, severed to regulate or direct human's behavior, have become prevailing concepts in the contemporary world. In recent days, there are many debates on whether laws can change human nature or not. As far as I am concerned, laws can not only govern people's behavior but also affect what is in people's hearts and minds.
In our daily lives, various laws govern or control people's behavior to maintain a peaceful, orderly and relative stable society. Without laws, every one would be free to do whatever he wanted, then the society would be in disorder. For example, if there were no laws about how to drive or walk in a two-way street, then every one just go either side as he wanted randomly, the streets might be in highly congested and no one could move a pace further. If there were no laws about how to deal with rubbish and emitting polluted water, people would hardly breathe freely because the whole world would be a rubbish dump. And if there were no laws about criminology, people might be bewildered by various fraud, plunder and murder, then every individual's security would be in egregious threaten state and the whole society would be in frantic chaos. Since all people live in a constructed world, they are not isolated individually but need to associate with others from time to time, then it is of essential necessity to have laws to regulate different aspects in any society.
Laws not only put limits on people's behavior but also change people's hearts and minds. Throughout the legislation, people regulate their conducts in order to immune from punishment, and thus a consensus of morality is formed, which directly or indirectly produce influence on people's hearts and minds in the end. Consider, for instance, as we all know laws against criminal inhibit people from committing crimes to society. In a society where almost no people commit crimes, people will spontaneously consider committing as evil and will have strong feelings of disgust to it from their deep hearts. Similarly, contract laws help to ensure people to keep their promises in the business world and to take it as a virtue even in other realms. On the contrary, consider in a society where people freely took other else's property as their own, it would be hardly for anyone to have a sense of respecting other's properties, let alone to rights. In a word, laws direct our conducts and shape who we are in our moral character.
In sum, laws are the glue of a society, which sever to keep it together. Laws control or alter people's behavior to the external world, which also result in establishing the notion of right and evil in the human's interior minds and hearts. And in its turn, laws properly guide human's behavior as well. Those who consider laws could only put limits on people's behavior and cannot change people's hearts and minds do not really understand the true meaning of laws.
Related Topics