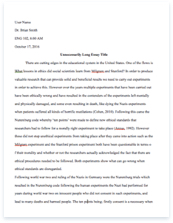 The whole doc is available only for registered users
Pages: 2
Word count: 458
Category: Work
A limited time offer! Get a custom sample essay written according to your requirements urgent 3h delivery guaranteed
Order Now
Problem solving interview with Joe:
Manager:         Joe, I want us to discuss about your recent performance in your work
Joe:                  Okay. Thanks and I would also like to discuss it with you because it has become difficult for me of late
Manager:         In the recent past, I have noted that you have not been performing your best. Which is the major problem you are facing in your work?
Joe:                  Yes, I believe am not performing my best in my work
Manager:         What could be the main problem Joe?
Joe:                  The situation is very complicated. I find it hard to explain
Manager:         Okay Joe, do you find your work challenging, I mean beyond your performance or is it that you are not motivated in your work?
Joe:                  As you have noted, I have been performing my work very well. However I feel that am not appreciated. No one listens to the idea that I contribute no matter how workable they are.
Manager:         I see Joe. You mean there is no one who agree or takes in your contribution?
Joe:                  Yes. They just think that because I have not earned a degree in the work, I cannot make a sensible contribution while I feel that some of my contributions are the best. Am not motivated at all
Manager:         Have you considered furthering your studies Joe?
Joe:                  Your cant understands how hard it is. We are working overtime here. Being the lowest paid employee in this company, what earn is not even enough to support my family and my wife had to find employment in order to supplement my earning. I mean it is really unrealistic.
Manager:         Joe, we really appreciate what you have been doing for our company. We understand the situation that we are having in the company and all of us are really overworked. I want you to understand that the company wants to retain you Joe since we recognize your hard work. How do you think we can assist you?
Joe:                  In any way you can. I want to make equal contribution like other employees and perhaps earn enough to support my family
Manager:         Okay Joe, what we shall do, we are going to increase your salary by 20%. Meanwhile, the company will arrange your work schedule such that you will be leaving early so that you can attend night class to further your education. I hope that will really help you.
Joe:                  Thanks, this is perhaps the best news I have ever receive in my life. I promise to work hard for the company. Thanks again
Manager:         You are welcome Joe.
Related Topics