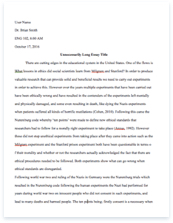 The whole doc is available only for registered users
A limited time offer! Get a custom sample essay written according to your requirements urgent 3h delivery guaranteed
Order Now
Mr. Niel Goodrich, Vice President of Manufacturing of the American Radiatronics Corporation, returned from a three day business trip on October 13. While going through his mail he found a memorandum from Dr. Virginia Daniel, Manager of Process Engineering, concerning the introduction of a new line of radiation tubes and several proposed changes in the manufacturing process of the Nuclear Tube Assembly Room. Mr. Goodrich was quite familiar with the Nuclear Tube Assembly operations and had read the Nuclear Tube Assembly Room (A) case prior to its release by the company. Goodrich also had a distant but friendly relationship with Mr. Walter Long, the General Foreman in charge of the Nuclear Tube Assembly room. Mr. Goodrich was especially interested in the new tube line and he read the memo with considerable interest. (Dr. Daniel's memo is reproduce a in Exhibit 1.)
Shortly after he had finished reading the memo, Mr. Goodrich was interrupted by his secretary who gave him a hand written note from Mr. Alex Paul, Factory Manager of the Boston Plant. (Mr. Paul's note is reproduced as Exhibit 2). His secretary told him that Mr. Paul had left town the preceding evening on a business trip but had left instructions to have the note delivered to Mr. Goodrich first thing in the morning.
Purpose:
The purpose of this memorandum is twofold:
(1) to propose a plan for start up of the assembly process required to manufacture the new line of LDTC (Low Distortion Low Temperature Coefficient) radiation tubes. (Cost and departmental allocation expenses will follow under separate cover.)
(2)to propose a series of changes to improve the processes used in the current assembly of existing tubes in the Nuclear Tube Assembly Department.
Background:
As you know, the Research and Development Department has completed the design of the new LDTC line of radiation tubes. On August 15th, the Sales Department signed a two-year contract to sell LDTC tubes to the Universal Electric Co. Deliveries to Universal will commence on April 30th of next year. The Universal Electric order will require a 50% capacity expansion in the nuclear tube operations. most of which will be LDTCs.
My department is currently developing a pilot process for assembling the LDTC's in the process development lab. We anticipate that the pilot process will be "shaken down" by January 15th. Our past experience suggests that many of the tube assembly processes have not been adequately followed through in the transition from development to production start-up. In the past, most of our tube assembly processes have not been sufficiently "debugged" after going into production. Historically, this lack of follow-through has resulted in production problems and poor yields in the tube assembly room because of lack of adequate process specifications.
The LDTC is a new and important product line and we hope to avoid past difficulties by ensuring that it undergoes a controlled and careful production start-up—including the development of tight, replicable process specifications after the LDTC has gone into production assembly. I believe the plan we are proposing will result in a smoother start up of the LDTC line and lower reject rates than we have previously experienced with new tubes or tube modifications.
I think that it is also safe to assume that you are familiar with the problems the company has traditionally had in the Nuclear Tube Assembly Room. Until recently, it has been a "hit or miss" operation, with low yields, unpredictable process results, lack of process specifications, and lack of consistency.
A feasibility study recently completed by Mr. H. Singer of Process Engineering shows that considerable room exists for improving yields and for reducing costs of existing tube assembly processes by improving and tightening process specifications for existing products.
The fact that results have improved so significantly within the past twelve months with only minor changes in supervision and relatively little improvement in process control provides evidence of how great the potential is for further improvement.
We believe that substantial process improvements could be attained by: (a) monitoring and rewriting process specifications on existing operations and ensuring they are adhered to; (b) monitoring, evaluating, and documenting any deviations or changes made by assembly room personnel so that process specifications are either complied with or revised to incorporate improvements; (c) introducing new methods to improve individual aspects of the assembly process.
It seems to me that the new LDTC product line provides an opportunity for introducing a new process correctly as well as an occasion for improving existing processes. I have discussed these ideas with Messrs. Halbert, Laughton, and Paul and all agree that changes of this kind are desirable. The remainder of this memo will outline: (1) A plan for the production start-up of the LDTC and (2) A plan for improving existing tube assembly processes. Both plans require some temporary as well as permanent changes in the arrangements of the tube assembly operation, but I believe you will find them justified given our objectives.
I.Proposal for Introduction/Start-Up of LDTC Tube Assembly Process
A.Pre-Manufacturing Process Development
1.Pilot Process Development
Pilot process development is currently underway. We expect to begin simulated production assembly in the lab by Dec. 1.
We propose hiring four assembly operators prior to Dec. 1st to begin simulated production assembly in our lab. They would be trained by Mr. Singer in the lab and would be transferred to the Nuclear Tube Assembly Room when the LDTC goes into production.
Given the increased technical sophistication of the LDTC, we are proposing that these operators be relatively young and have earned an. associate's degree in electronics (or completed comparable special training in electronics) or have had prior experience as technicians. Obviously these operators would have to be hired at higher hourly rates than we currently pay our assembly workers, but their addition to our assembly department would upgrade the department's skill level. We have already contacted the HRM department and they have three candidates for these positions. Since these operators would eventually become production employees, we will await your approval before taking further action.
2.Pre-Production Facility Changes
Given the tight specifications of the LDTC for both distortion and temperature coefficient, we propose several major changes in the facilities of the Nuclear Tube Assembly Room. Projected return on the LDTC justifies these construction costs and we believe they are desirable (financial data will be sent under separate cover). We propose that the Assembly Room be divided up into three separate rooms: (1) a "clean room" to house final assembly and lead testing and exhausting operations. The clean room would be dust free and temperature and humidity controlled. Access to it would be limited to authorized employees only; (2) a metal work room to house the dirtier operations; and (3) a "moderate control room" to house the glass work and final test operations.
Industrial Engineering assures us that this construction could occur during January without a major effect on production of existing products.
B.Production Assembly Start-Up of LDTC
We propose that Start-up of the LDTC Assembly in the Nuclear Tube Assembly Room begin on February 15 under the joint supervision of Messrs. Long and Singer. Assembly operations would be based on pilot process specifications; any deviations from these procedures would be made only with Mr. Singer's approval. The four new operators would follow the process from the lab to the factory and would act as resource people for training existing assembly workers. This start-up period would begin on February 15th and would be of ten week's duration.
C.Finalization of Process Specification on LDTC
At the conclusion of this ten week period final process specifications would be drawn up by Mr. Singer based on the start-up experience.
II.Proposal for Improving Existing Assembly Processes
A.Development of Process Specifications
1.We propose that process specifications for the 20 highest volume individual products be either written (if they are not now in existence) or revised. This could be accomplished over an eight week period beginning .January 3rd. To accomplish this we propose:
(a)Assigning a process technician full-time to the Nuclear Tube Assembly Room
The technician would write up, revise, or improve process specs on these 20 items under Mr. Singer's supervision.
(b)Monitoring of Process Changes
We propose that during this period as well as in the future any deviations or changes in process by assembly workers be reported to Mr. Singer. No changes in process procedures should be allowed without the approval of Mr. Singer. If they are deemed by him to be improvements, they will be incorporated as revisions to existing product specifications.
No changes in materials or methods should be made by tube assembly operators without Mr. Singer's explicit approval. In the past, material substitutions have been made by assembly workers without appropriate authorization.
B.Development of Operator Specialization and Fixed-Station Assignments
Based on Mr. Singer's observations, product reliability could be enhanced considerably if more worker task specialization existed within the nuclear tube assembly room. Currently, many workers perform several different tasks in different parts of the room based on what appears to be almost random self-initiated work assignment practices. It is our belief that process quality would improve if workers were assigned to the same fixed work stations, to the extent possible. We believe fixed station assignments and worker specialization would result in increased worker skills in specific types of operations, greater depth of specialization, and better pinpointing of responsibility.
C.Separation of Testing Functions from Assembly Operations
We propose that as part of a process improvement plan, that final and intermediate testing functions be done by one or two operators whose sole responsibility is testing. Although this recommendation exceeds the scope of the process engineering proposal, we believe that it is not desirable to have assembly workers testing their own production. Many firms separate these functions to ensure consistent quality standards.
In summary, we believe that the combination of the above recommendations for both the introduction of LDTC line and the improvement of existing assembly processes will greatly improve yields and reliability in the Nuclear Tube Room.
This is just a brief note to prepare you in case you run into Walter Long. I will give you a more detailed picture when I return tomorrow from Philadelphia. For the moment, however, you ought to know that Walter is pretty angry about the memo that Ginnie Daniel sent you. He received a copy of Daniel's proposal yesterday and came in to see me about it immediately. He feels strongly that it is fraught with potential problems and that several of the proposed changes will hurt tube production and the assembly room's morale. He went so far as to say that if the proposal is implemented it will destroy his efforts of the last two years. When we talked yesterday he was typically calm, very straight forward and, as usual, he didn't mince any words. I assured him that Ginnie's proposal is still just that—a proposal and that there is plenty of time for everyone involved to talk it out and make changes. We agreed to talk about it on Friday. I also told him that I would arrange some meetings between the three of us and the process engineering people within the next couple of weeks to discuss the proposal. That seemed reasonable to Walter and he left my office satisfied.
That was yesterday. Today, Walter came in to see me again in what I can only describe as cold anger. Apparently, Harold Singer went to see him first thing this morning, "to get things going on the new proposal," as Walter described it. Harold wanted to begin planning the rewriting of process specifications. From what Walter said, Harold had a batch of 'process spec' sheets with him and a new form for approving process modifications that he wanted to begin using as soon as possible. Walter told Harold that he and I had agreed to defer any action until everyone had a chance to digest the proposal. I guess they exchanged words and Harold insisted that nothing he was proposing was out of line and that the changes were long overdue.
One thing led to another and Harold accused Walter of "perpetuating a mess." Harold apparently got pretty angry because he told Walter that the improvements Walter had made in the nuclear tube room were "peanuts compared to what's possible" and that Walter had achieved these improvements by "coddling" his workers. That's what I think really set Walter off. Walter came in to see me and said that under no circumstances would he tolerate Harold Singer interfering with his people and operations. He also said that if Singer's "riding rough shod" over the tube assembly room was necessary to start up the new LDTC tubes, then he would resign responsibility for the nuclear tube room. He seemed very cool and very firm. I told him not to worry and that I would talk with him as soon as I got back tomorrow.
Here it stands now. I thought you ought to know this in case you see Walter. My guess is that word of the fight between Walter and Harold has probably spread throughout the plant by now. I will do my best with Walter when I get back. He's a very reasonable man, but I have a feeling he's really digging his heels in on this one. As you know, I think many of the changes proposed in Ginnie Daniel's memo are necessary and will result in sizeable improvements. We need the efforts of both Long and Singer to make it work. Singer is the only process engineer who has any familiarity with nuclear tube assembly and I would hate to lose Walter's leadership in that department. This is a problem we shouldn't let drop. I'll see you as soon as possible after I return.
Related Topics