Jing-Mei in Tan's Two Kinds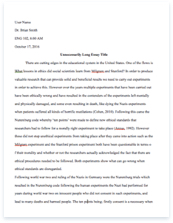 The whole doc is available only for registered users
OPEN DOC
Pages: 3
Word count: 715
Category: Chinese
A limited time offer! Get a custom sample essay written according to your requirements urgent 3h delivery guaranteed
Order Now
In everyday households, families face challenges and arguments regarding all kind of issues. Throughout a variety of different cultures, most of these fights are acceptable. Both, Alice Walker's "Everyday Use" and Amy Tan's "Two Kinds" find similarities with mother daughter relationships, cultural appreciate and obedience. These stories portray different cultures but both have the same values of family and show demonstration of family social problems.
Jing-Mei in Tan's "Two Kinds, is a young girl who is struggling to find her "prodigy" amidst her mother's influence. Jing-Mei's rebellious attitude plays a role in her difficulties accommodating to her mother, Suyuan Woo's high expectations. These high standards were based on their strict Chinese culture and the sacrifices her mother made to make a life in America. Jing-Mei set the tone of the story, as she narrates her mother, Suyuan Woo's decision after "losing everything in China" (222) Suyuan Woo attempts to be active in her daughter's life, but it too aggressive about her approach.
Jing-Mei does not like how her mother's presence can control her future. There is a cultural imbalance between June and her mother that was never fixed after their explosive fight which led to Jig-Mei's freedom from her mother's overbearing parenting. It wasn't until Mei revisits her home after her mother passing that she realizes, through her old music, that no one can be blamed for her and her mother's distance.
Dee walked to the beat of her own drums, whether or not it was appreciating by other. Instead of embracing the African heritage her mother raised them with, Dee insists to keep her distance from her origins, embraced her own, and never looks back. Dee, who now goes by Wangero expresses her distaste for her culture by telling her mom she "couldn't bear it any longer, being named after the people who oppress me." (496)
Dee was a family named that was passed down by her mother. Her mother Mrs. Johnson, the narrator of the story, struggles to find a common ground in their relationship, which is very opposite of her sister Maggie. Maggie, opposite of her sister, is uneducated, shy, and remained close with her mother. She is more focused on family and her upbringing opposed to her sister who would rather focus on material possessions than her background. This is why Mrs. Johnson gifted old family quilts to Maggie, who would put them to use instead of Dee, who wanted to use them as decoration. Dee is not used to being told "no."
The two major topics for similarity are obedience and a mother-daughter relationship. Both Mrs. Johnson and Suyuan Woo have very disobedient daughters. Both daughters outline different scenes in the short stories that broadcast their inability to confirm for the cultures their parents were raised in. Jing-Mei refuses and puts up a strong and successful fight to live her own life, while Dee (Wangero) just leaves the home to further her education. Dee never moves back home.
Jing-Mei lack of obedience is present from the very beginning of the story. Her consistency with disobedience continues as they both grow older. Jing-Mei is in opposition to the ideas her mother has in mind. "If she had as much talent as she has temper, she would be famous now" (225) shows the tone of the short story. Jing-Mei never felt supported or accepted by her mother. The opposite occurs in "Everyday Use." Mrs. Johnson explains how her daughter would like her to look, explaining he daughter would want her to look "a hundred pounds lighter," (494) and her skin an "uncooked barley pancake." (494)
These stories also show relation to the quote Jing-Mei's mother said in "Two Kinds." "There are two kinds of daughters…Those who are obedient and those who follow their own mind! Only one kind of daughter can live in the house. Obedient daughter!" (228) The tie between Mrs. Woo's belief in the quote supports the whole setting of "Everyday Use"
While both stories show relation between different cultures, they both embody and represent the same importance of culture and tradition. There is an imbalance between having respect for your family and being obedient; Conforming to their beliefs and denying them. Nonetheless, these short stories clarify the distinctions amid relationships and a difference in opinion. The core values of good relation are very present in both stories.
Related Topics