Is there anything in life worth dying for?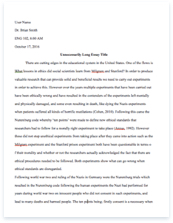 The whole doc is available only for registered users
A limited time offer! Get a custom sample essay written according to your requirements urgent 3h delivery guaranteed
Order Now
For most people, Life is very close and cherished to them. They yearn to enjoy every single moment in life and wish they could live forever. People believe there is nothing in life that is worth dying for. On the contrary, I believe there are some situations and values that are worth dying for as they are really important. Conversely, I consider there are some matters that tempt people to die for, but are not worth it.
For example, if someone put a gun next to my friend and father's head and asked me to choose between them, what would I do? Would I choose? No. I would have willingly succumbed my life to rescue my loved people. Why would anyone do such a crazy thing? Affection and loyalty to peers and family is what insisted me into making this decision. My family has always supported and guided me to a righteous path of life. In fact, sacrificing my life for them is the least I can do. From what I recall, friends are supposed to help and take care of each other at all times, and as a friend I am also entitled to that duty. If I had chosen between my peer and father, I would have been apologetic for the decision forever. What is life without friends and family?
Friendship and family are not the only values I care of. There are some rights that I am obliged to and which I am eager to give up my life for. I believe it's my duty to protect own rights. If someone seized my right of freedom or speech, I would definitely rebel back to acquire my rights even if the consequences were severe. At least there are some chances that my actions would be influential on people and I would be considered a martyr. Also, I feel the opportunity of living in USA, one of the most prosperous countries, is a fortunate privilege for me. Like any loyal person's responsibility, I am ready to defend and protect this country at any cost.
There are other matters like money and fame that lure and attract people to the path of death. Money and fame are one of those issues that every man longs for and is ready to give up anything; eventually this search leads to an ineffectual death. Since my opinion contradicts most people's idea, it doesn't mean I am right. I know there are different people in this world and different people have different views. The people who believed there is nothing in life that is worth dying for probably had too much in stake or their whole life revolved around fun and they didn't want to lose their life under circumstances. People, who thought like me, were probably extremely devoted to something and couldn't imagine life without it. After all, the opinion reflects the person's character and his beliefs.
I presume that, without certain aspects, life would be difficult to bear for me and dying is sometimes the only way to demonstrate our dedication for something one believes in. However, there are some matters that are not worth of giving up life for and there are some situations that are. Anyways, different people have different opinions and in such cases, people often disagree with each other. Since the issue was strictly a matter of opinion, I would not insist that my views were right.
Related Topics