Is Employer Monitoring of Employee Social Media Justified?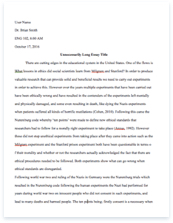 The whole doc is available only for registered users
A limited time offer! Get a custom sample essay written according to your requirements urgent 3h delivery guaranteed
Order Now
Is Employer Monitoring of Employee Social Media Justified?
Social networks have been making a splash in the internet world over the past couple of years. In some studies into the monitoring of social media activity by employees has once again brought to light the various concerns and complaints that this contentious area inevitably generates. The idea of monitoring employees' conversations has a certain Orwellian darkness that encourages accusations of privacy invasion and corporate spying. Indeed, some companies have taken this too far – some reportedly even requesting their employee's Facebook login details. However, by and large the concept of employee monitoring – when done appropriately – seems to me to be relatively contentious. Clearly, asking employees for their Facebook passwords is several steps over the line in terms of privacy, but many of the other questions that people have raised about this area seem to make a mountain out of a molehill. While employees unquestionably have a right to express themselves in private about any issue they choose, if that employee is expressing an opinion in a public forum about their employer then it immediately becomes an area of legitimate interest for that employer. The key distinction seems to be between public and private. If an employee posts content in a private forum – for example their personal Facebook wall with security settings on – then it is not appropriate for a company to monitor that content. However, if an employee posts something mentioning their employer to an open twitter account, or on a public discussion board, then that content is open to all and is thus of legitimate interest to the employer.
The comparison with offline behaviour seems obvious. If an employee is talking to their friends in the bar about their work then that is their business and of no appropriate interest to the employer. However, if the same employee tells the same stories to a journalist then it suddenly becomes a corporate issue. Corporates have every right to monitor what their employees are saying in the press, so why shouldn't they have the same right to monitor what is being said in similarly public outlets on the social web? There are, of course, grey areas within this debate. It is appropriate that any social media post that identifies the individual's employer is of justified interest to that employer. However, where an individual discusses work situations without identifying the employer it is perhaps harder to justify this intrusion. The obvious line here is that companies should, by and large, restrict themselves to monitoring mentions of their brand or senior executives and should stay away from monitoring individual staff names on their own unless otherwise justified. Indeed, we have picked up significant quantities of content from client's employees without specifically monitoring for individuals. Examples include a delivery driver who tweeted about how little work he did and an individual who expressed support for a group protesting against their employer.
These posts – where the individual clearly named their employer – could have had a significant impact on the companies' public reputations and therefore were of justified interest to the companies in question. Yes, there are subsequent questions about how a company should act upon this sort of information. Whether one should discipline an employee for discussing workplace conditions online could be a legal minefield, but that is an HR issue and not a monitoring one. What seems certain is that the monitoring of employees' use of a company's brand on the social web is not only justified but potentially highly valuable. But also while most think this is a question of moral constitution, it however is a question each employer must ask themselves if it is worth the trouble of losing the trust of their employees. So in part I believe that employers must not allow social networks to be accessed at work or during the hours of work. But the employer must also know that with technology that is continually growing it would be hard to stop, only way would be let employees know that there are punishments set in order to prevent this from occurring.
Related Topics