Introduction to The Product Life Cycle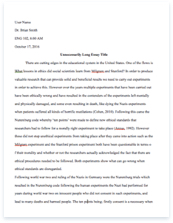 The whole doc is available only for registered users
Pages: 7
Word count: 1662
Category: Life
A limited time offer! Get a custom sample essay written according to your requirements urgent 3h delivery guaranteed
Order Now
Just like a human being or any life form for that matter, every product and service go through different phases in life from pre-conception, development, maturity and ultimately death. Though there is no fixed period for the same, as different products and services might have different trajectories of growth and decline, one fact that can be substantiated is that products and services are like human beings. They need considerably higher care in the beginning and during their decline, and during their growth swings; they can take an organization or a brand from oblivion to super stardom.
A company like Apple had lost most of its charm after its co-founder Steve Jobs left it in 1985, from being a niche and sophisticated computer manufacturer it turned into a brand that was ransacked and pummeled by the juggernaut Microsoft. In the mid 90's the market share of Apple's personal computers was merely 2% the world over and when Steve Jobs came back to the company, he knew that he had to tread a different path. His innovations ever since have taken the company leap milestones making it a giant in not just the personal computer space but also in the industry of consumer electronics, the credit for which goes to his passion for Innovation and thinking out of the box. (Steve Jobs: Perpetual Innovation machine", Time April 18 2005, p-78)
PRODUCT LIFE CYCLE MADE EASY
Source: http://www-rohan.sdsu.edu/~renglish/370/notes/chapt11/index.htm
Part I
The four stages of a Product Life Cycle are:
Market Introduction Stage: In this phase, the product researched thoroughly is introduced to the world and while some companies prefer to make a killing with an all out global launch, others prefer a subtle and local launch. This phase is characterized by low profit or no profit, with the overhead cost per product sold being very high. Very few competitors exist and even stakeholders like distributors are wary about the product. This is a phase characterized by heavy investment and low returns.
Pricing Strategies: The price of the product is considerably higher than other stages as the cost per customer or per product is also very high. Some companies looking at a global kick-off might consider penetrating pricing unlike the above solution.
Promotion Strategies: The focus of the promotional activity is to create brand and product awareness in the customer and induce him to try the product.
Distribution Plans: The distribution plan might not always be in place and is targeted at key business locations.
Growth Stage: If a product gets a successful feedback from its early customers, the sales take off leading the product into its high sales and high revenue phase of growth. How fast this phase begins and how long it lasts defines the profitability of the organization. This phase spreads the brand reputation of the organization as the product reaches to every nook and cranny of the world. In a way, the success of the company lies in recreating growth phases many times by making necessary changes in the product with time. Fascinating products with extraordinary technology have taken off like rockets in this stage and even today enjoy an extended growth stage with further improvements to the original product.
Pricing Strategies: The price is maintained high if the product is a hit and is reduced if the required sales targets have not been met.
Promotion Strategies: To increase sales volumes in a spur, companies spend considerably to promote the product and the brand. Volume based promotions are targeted in this phase.
Distribution Plans: Strong distribution channels are introduced and the whole activity becomes very intense.
Observe how Twitter has grown from less than 2 million tweets a day in January 2009, to over 50 million tweets by January 2010. The service of Twitter is growing at a phenomenal rate.
(Michelle McGiboney, Twitter's Tweet Smell Of Success
Nielsen Online, March 18 2009)
(Steven Klepper: Entry, Exit, Growth, and Innovation over the Product Life Cycle, 1996, American Economic Association.)
Maturity Stage: This is the stage where the product reaches a stage of consolidation in market position, sales and brand reputation. While this phase might last a few years or decades, brands like Coke, Tabasco, Budweiser, and Gillette Ford etc have remained in this phase for over a century. Brands like Coke or Tabasco have survived more due to the intelligent marketing filled with vitality and less due to the philosophy of the Product Life Cycle as they have beaten all odds and withstood the toughest tests of time. It is during this phase that the most radical changes are brought into the original product to push the product back into the growth stage of high sales and higher revenues.
Pricing Strategies: A scope for a price war begins as other competitors step with competitive prices to penetrate the market.
Promotion Strategies: The emphasis in this phase is on creating brand differentiation and building brand loyalty. Higher incentives are offered for customers to switch from other brands.
Distribution Plans: Even distributors are offered greater margins or promotions not to shelf competitors products or to push the company's own product.
Decline Stage: Every product or service at some point or another has to reach this phase where sales dip steadily or in some cases drastically. While steady dip in sales can be a natural process, drastic dips can happen due to several external factors like introduction of a better product by competition, government policy, technological advancements etc. During such times the management of the company might consider harvesting the product, which would in turn reduce the variable costs incurred or consider selling the brand altogether or merely drop the product from the product line altogether. Critics observe that thanks to the product life cycle concept, many products, brands and services are left to die well before the product has lost total vitality. (Nariman K. Dhalla & Sonia Yuspeh: Forget the Product Life Cycle Concept, Harvard Business Review, February 1976).
Pricing Strategies: Prices are lowered further to liquidate stocks and also bring in fresh sales.
Promotion Strategies: Branding and promotion expenses are minimal and merely a few brand reminder exercises are done.
Distribution Plans: Channels that are underperforming are phased out, as selective distribution becomes the mantra for success in this phase of the product life cycle.
(Philip Kotler & Gray Armstrong: Principles of marketing, Pearson education, 2008)
PART II
PRODUCT RESEARCH & REDEVELOPMENT
A research shows that out of about thirty thousand food, beverage and health products introduced every year, bout 70-90% of them never live beyond a year. While some of these products were things that would not have cost a lot of money in research, some might have cost a bomb! A company like Texas Instruments spent over 600 million dollars on the development of personal computers before they realized that the sphere of personal computers was not their area of expertise. Similarly, millions of dollars were wasted in the development and launch of the "New Coke", which could be named one of the biggest product disasters of the 20th Century. Four million dollars was lost in this incredibly expensive exercise and hundreds of thousands of Coke loyalists almost deserted Coke to Pepsi, before they decided to take things back. (Robert F Hartley: "Management mistakes & Successes", John Wiley & Sons Inc.)
Every company that considers innovation as a core value invests a lot of time and energy on research and development of new and existing products. Daimler Chrysler, the brand owner of the prestigious Mercedes brand of automobiles has been performing research for over a decade on full-cell powered electric cars. In fact, Daimler Chrysler wants to penetrate segments of markets that have never been its core competency with this technological innovation. (Steven Ashley: "On the road to fuel cell cars",
Scientific American, March 1 2005) A major challenge for Mercedes is to push its SUV sales as it has one of the most capable vehicles in the industry and yet has much lower sales due to the lower fuel efficiency. With a SUV running on renewable energy, it hopes to have greater sales in the SUV segment. This would push the life cycle of the SUV Mercedes segment as fuel efficiency would translate into money save for the customer.
There have been many other examples around the world of similar companies that have survived the onslaught of competition by reinventing the product to meet greater needs of its customers. One fine example again is Apple, which launched the Apple Ipod Music player that has grown from being merely a music player into a multi faceted gadget to meet every need. (Andrew Kusiak and Chun-Yu Tang: Innovation in a Requirement Life-Cycle Framework, Proceedings of the 5th International Symposium on Intelligent Manufacturing Systems, IMS'2006, Sakarya University, Sakarya, Turkey)
Another fine example of how research and reinvention have taken a vehicle to great heights is the Volkswagen beetle, which was a runaway success when it was launched in the late nineteen thirties. In those days, it was a complete revolution in the industry and enjoyed cult status for many years. With the advent of superior technologies from competition, the beetle lost its charm only to regain its position as a niche compact car in recent years. (George Taucher, Professor of International Business: After success, what next? success as a barrier to change, European Management Journal, March 1993
Just as in the above examples, any product that intends to withstand the onslaught of fierce competition would need to constantly reinvent itself and prove to the world that it has a strong place in commercial history and is a player to reckon with. The journey is not easy, as seeing the success of one organization hundreds jump in affecting the company, product and brand in several ways. A product or a brand that can survive through such vicissitudes is one that will withstand the test of time.
Related Topics