Interview with a W.I.C Dietitian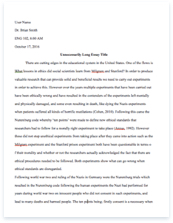 The whole doc is available only for registered users
Pages: 4
Word count: 822
Category: Health
A limited time offer! Get a custom sample essay written according to your requirements urgent 3h delivery guaranteed
Order Now
1.)What are the roles and responsibilities and limitation in terms of roles and responsibilities of your chosen health profession in the delivery of health care and/or public health services? A registered dietitian provides adequate nutrition to families in need of nutritional help. A dietitian assesses the nutritional needs of the individual along with the health issue that the person is faced with. A Dietitian will prescribe a specific food package (meal plan) to an individual based on their specific needs. They will analyze and evaluated the overall health of an individual in order to provide adequate nutrition. 2.) What are the educational requirements including licensure, certification or other credentialing requirements? In order to become a dietitian one must go to an accredited college or university and major in a food and nutrition program such as dietetics. After obtaining a bachelor's degree one must complete a three year internship before they could apply to take the exam.
This internship program must be certified with the CADE (Commission on Accreditation for Dietetic education.) once the three year internship was completely the person is now able to take the exam that is administered by the Commission on Dietetic Registration. Once the exam was complete one must become a member of the American Dietetic association and pay a yearly renewal fee. One must also pay a yearly fee to stay registered with the Ohio Board of Dietetics. 3.) Are there continuing education requirements?
Yes, there are continuing education requirements. Every five years the dietitian must complete seventy-five hours of continuing education. The dietitians must be up to date on all licenses and certificates. Some of the certificates that are included are "back to basics", seven and half hours of breastfeeding education. The W.I.C Dietitians must meet quarterly with all of Mahoning County W.I.C dietitians. Continuing education through online programs and being tested on the course work. Also every year the dietitian must pay a yearly fee with both the American Dietetic Association and the Ohio Board of Dietetics. 4.) What are the career opportunities including salary ranges and/or employment trends? Some of the career opportunities are working as a Registered Dietitian, working in Clinical Dietitian, Registered Dietitian, Outpatient Dietitian Correctional Food Service Supervisor, Dietary Manager, Nutritionist, Pediatric Dietician, and working in local health programs. Work in the W.I.C office as a Dietitian.
One does not need to be registered dietitian to work at the local W.I.C office. The average salary as a dietitian in Ohio is around 24.50 per hour and $50,600 yearly. 5.) What do you conclude are the positive aspects of the professions? Some of the positive aspects of working as a dietitian in the W.I.C office are that the program helps out infants and children get off to a good nutritional start. Being a dietitian is a great experience when it comes to changing lives. Many people in this nation have health issues that could possible be prevented by good nutrition. A Dietitian helps plant the seed to a healthier nation. 6.) What are the Negative aspects of the profession?
Some of the negative aspects of the job are that people do not like to open up to the dietitian. People get upset when it comes to the dietitian asking about personal information such as what type of foods they eat, if they receive public assistance. Many people do not like to hear that their children may have a nutritional issue. People also do not like to change their physical and eating habits. Therefore they are not very happy when they find out that this negative eating is destroying their children's health. By having a negative attitude this makes the Dietitians job not as pleasant as it could be. For this paper I used a Registered Dietitian by the name of Michelle Rovnak R.D. She has been a W.I.C Dietitian since 1983. She is well educated in the field of Dietetics.
Also, I used the website O*NET. This website is a training website used by the government. This website is very informative about the different fields of study and training that is involved. This website is used as stepping stone in order to prepare an individual with the proper training and education that is needed in order to acquire a trade or degree. The other website is a website that I had got from my job working with Mahoning County W.I.C program. This is a website that is used to explain the W.I.C program along with the different types of programs the state of Ohio can offer. Both of these websites are a great quality for researching information since they both come from the government that is in control of the programs.
Citations
"O*NET Resource Center." O*NET. US Department of Labor/Employment and Training Administration , n.d. Web. 23 Jun 2010. .
"Women,Infants,Childrens(WIC)." Women,Infants,Childrens(WIC). OHIO.GOV Department of Health, n.d. Web. 22 Jun 2010. .
Related Topics