Internal Equity for Starbucks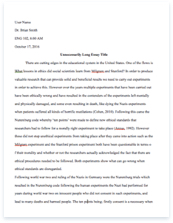 The whole doc is available only for registered users
A limited time offer! Get a custom sample essay written according to your requirements urgent 3h delivery guaranteed
Order Now
Starbucks is the most successful coffee-chain company in the world. A close analysis of how Starbucks became one of the most profitable corporations today would reveal that it has a well developed and highly efficient internal equity within its pay structure. Internal equity simply means the perception of workers and executives of their assigned responsibilities, offered benefits and rewards, experience, tenure work conditions vis-à-vis those of other workers and executives in similar posts in similar organization (Falcone, 1996, p.183).
Since employee satisfaction and loyalty depends upon the effectiveness of the organization's internal equity, it is important to properly weigh and determine its policies, rules, and programs that pertain to employees' tenure, compensation, benefits, and work conditions. However, for internal equity to be effective and not damaging to both the organization and its employees, the same must be within the organization's pay structure. One of the recommendations that can be adopted by Starbucks to improve its internal equity is to establish a pay strategy that should consider the following factors: employee's years of experience; number of reporting employees; results of performance evaluation; hazardous work conditions; unwanted shifts; degrees and education; and management evaluation.
Another way to enhance internal equity is to make an annual review of salary ranges and reflect them with the productiveness of the organization. If there is constant progress, then it is just fair to increase employees' salary and offer additional benefits and perks. Also, it may also adopt a program or policy that would treat its employees as partners, thus establishing sense of belongingness within the organization. Finally, the organization may also offer regular trainings and professional development programs to employees at the expense of the company in order to properly evaluate their performance and to determine who deserve promotion and pay increase.
On the other hand, the organization's ability to pay has significant effect on the competitiveness and performance of its employees. If the company offers only a meager salary, it may risk losing its valuable executives and employees. Moreover, a company's pay structure has an impact on the employees' satisfaction and commitment to the company, as well as their performance and productiveness.
Reference:
Falcone, P. (1996). 96 Great Interview Questions to Ask Before you Hire. New York:
AMACOM
Related Topics