Information Handling System for 'TKO Games' in 'Newbury Park'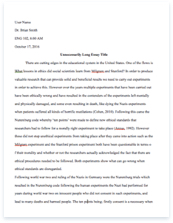 The whole doc is available only for registered users
Pages: 7
Word count: 1586
Category: Games
A limited time offer! Get a custom sample essay written according to your requirements urgent 3h delivery guaranteed
Order Now
1.1 Identification of the problem
TKO games in Newbury Park currently run their computer games shop with a manual system to hold details of all games in the shop. Since there are so many people coming in to the shop and asking questions about stock, the staff working there are spending more time answering customer queries, searching for a product in the store, and looking on their manual index card system (which is difficult to use, and takes a long time) than selling stock.
1.1.2 Aim
I intend to devise a solution to the above problem. I am going to create a computer system which can be used by customer's in order to help them to find information on a certain game, console or game's accessory without having to ask the staff in the shop.
1.2 Methods of data collection
To collect the information needed for my project I will go to a number of different sources. I will use the TKO shop to get price lists in order to find out about the products and prices.
In order to find out what the manager wants the system to do, I will decide whether to use interviews or questionnaires.
Interviews and questionnaires both have advantages and disadvantages. This table (below) will show what these advantages and disadvantages are:
Interviews
Questionnaires
Benefits
Drawbacks
Benefits
Drawbacks
* Actually speaking to the person
* Arrange interview times.
* Someone fills it out.
* Limited responses.
* Pickup on things they say
* Only 1 person at a time
* More than one person at a time.
* May not be returned.
* Tape conversations
* May run out of time
* Statistically large spread of answers.
* Questionnaire cannot be developed.
* Difficult to carefully analyse.
* Easy to extract from.
* People may not take questions seriously.
* You have to write everything down.
* Saves time.
An interview is more suitable for manager's, personnel and people working at the store, because they can give the time it takes for an interview and can also give a better insight of what the new system should be able to do.
But questionnaires on the other hand would be more suitable for the customers of the store, because they won't have that much time to give long detailed answers, but will also give a good insight on how to make the store easier to use for them, since these are the people using the store.
There is also another method for collecting information. This would be to go to the shop and watch how the current system works. This is good because it lets me see for myself. But this would not be possible as I go to school during the week.
After looking at all the advantages and disadvantages of interviews and questionnaires, I have decided to produce questionnaires. I have chosen this because it allows me to get a more extensive result and it also takes up less time.
1.3 Designing the Questionnaire
In this section I will list the questions I think are suitable for the manager, staff and customers of the shop. I will give separate questionnaires to the manager, staff and customers of the store.
Questions to for the Manger/s
* Does the shop store any information about the games, consoles and accessories in the store? (Yes, No)
* If yes what information about the products are stored?
* How do you know how much of each item is stocked of each item?
* How is new stock ordered?
* How do you find out which items are selling well and which aren't?
* How do you know when an item is out of stock?
* Do you store any information about customers?
* If yes, what information is stored? (Name, Address, Telephone, Age, Sex)
* How are customers, who have made orders contacted? (via e-mail, telephone, post)
* Tick any of the problems listed below, that you are experiencing with your current system:
* Difficult for you to keep up to date.
* Difficult to find data quickly.
* Complicated searches take a long time.
* Difficult to make backups.
* Contacting customers takes too long.
* Not enough information about products stored on system.
* Do you have any experience with computers? (Yes, No)
* What computer types do you have experience of? (Windows, Mac, DOS)
* If a computer system were proposed for the new system how much would you be prepared to spend? (�500-�1000, �1000-�2000, �3000+)
* Do you send any mail order letters, adverts of the business or letters to customers?(Yes, No)
* If yes, is this successful?
Questions for the customer/s
* When you go into the shop, how do you usually find the things you are looking for? ( browse, ask an assistant, look at signs/posters in the shop)
* What do you think is the most time wasting aspect of being served in a shop? (long queues, assistant not knowing what is in stock, needing to write things down, staff answering telephone calls)
* What information would like to see held about the product? (Name/title, cost, what the game is about, when it was released, No. in stock, picture)
* When you go into a shop do you find it useful to be offered a price list? (Yes, No)
* When going into a shop do you find it useful to be offered promotional material? (sales, special offers)
* When asking for information about products would it be useful to be given printouts to take with you? (Yes, No)
* How would you like to be informed about an order, or a certain item? (via e-mail, telephone, post)
Questions for staff
* What are the most routinely asked questions in the shop? (how much the game, console, or accessory is, whether the games are, CD's, cartridges or minidisks, what sort of genre the games are, what the games are about, the age-group suitable for the game, whether the console has a DVD player built in it, whether the console can be connected to the internet)
* What do you think would help reduce the amount of queries asked? (more staff, a computer system customers can see without having to ask staff)
* Can you produce quick searches for products in the shop? E.g. All games under �30. (yes, no)
1.4 Methods of collecting information
In order to collect information for my new system I thought of suitable questions and created some questionnaires for the Manger of TKO, the staff and the customers. I handed these questionnaires to users of the system and then collected them once they had been filled out. The questionnaires helped to identify a number of problems with the current system and what needs to be done in order to improve it, such as; data field requirements, system capabilities, what problems there are already so that they can be fixed, what kind of reports the system is capable of producing and queries. The questionnaires that hold all of this information can be found in the questionnaire section.
1.5. Analysis of Questionnaires
1.5.1 Identify the user's problems
After analysing my questionnaire I have found and listed key problems that the current system has. The main problems are:
* It is difficult to keep the stock up to date since new games are coming out all the time and the staff does no know which games there are quickly, because a manual stock count has to be done.
* Complicated searches about games take a long time because not very much information is stored about products and all the information about the products are stored on paper in a records bank.
* Estimating stock value is difficult with the current system because the manual stock count has to be taken and then it is calculated, but if mistakes are made, it could cause problems or they would have to start calculating from the start again.
* Analysing sales performance is difficult with the current system because what games are sold, when they are sold and how many are in stock is not recorded.
* It would be good to get pictures for games so customers could identify the game, if they don't know the name, but the current system doesn't allow this.
* The only way to search for games that customers are looking for is to either look through the files or look on the shelves. This may take a long time.
1.5.2 Identification of user requirements
After analysing my questionnaires I have found the features that users of the system will require. The main features the system will require are recording what stock there is as the stock is sold, keeping stock levels up to date, producing price lists for the manager, staff and customers to use. The manager also needs to know which stock is selling well, so that he doesn't buy it again and can put it for special price or buy one get one free, etc.
Related Topics