Importantance of Proper Military Appearance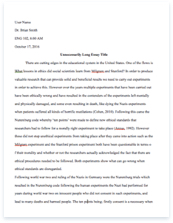 The whole doc is available only for registered users
A limited time offer! Get a custom sample essay written according to your requirements urgent 3h delivery guaranteed
Order Now
My name is Private First Class Ryan A. Littleton and I didnt get my hair cut. I have disrespected the United States Army by forgetting the importance of Military Appearance. It is important to show civilians that I care about them and this country and I will fight for them and protect them. If I look like a slob then I will not be taken seriously by my country and I want to project to the people my promise to them respectfully and I wouldnt be portraying that if I am uniformed. All soldiers are different but we are a team and we have to show that we are fighting for America and wear are uniforms proudly. We will not be able to do that if they are messy and unkempt. Its disrespectful to our country. We should all look like a unit.
As a volunteer to join the United States Army I promised to follow rules and regulations which I have failed to do so. Which show irresponsibility and immature behavior. The rules were clearly spelled out to me when I enlisted and in basic training about the proper appearance of a soldier. Shown to me by the Army Regulation 670-1. Personal Appearance Regarding Personnel Currently Serving in the United States. AR 670-1 is the ruling of this standard in which every soldier must uphold to. A soldier is measured by his/her ability to do his job successfully, tactfully, and professionally. The key to doing a job as a professional is a professional appearance, none know this as much as the Army. In the Army, the regulation that dictates what to look like while on duty is the AR 670-1; this provides an SOP on what to wear and how to groom for both males and females alike.
When a job is done for the Army, the soldier is responsible to uphold the Army standards and is challenged to excel in his duties and a substandard looking soldier will never excel in the aforementioned. Ill start off the main part of the essay by saying that a good portion of what is written in this essay is knowledge from AR 670-1 Wear and Appearance of Army Uniforms and Insignia. A male soldier is responsible for keeping his hair in regulation that is no longer than 4 inches and off the collar and ears, the requirements of hair grooming standards is necessary to maintain uniformity within the military population. A well maintained hair cut is part of a uniform not a choice. Extreme hairstyles are not authorized in the United States Army. Many leaders judge the appropriateness of particular hairstyles by the appearance of the head gear when worn.
The hair at the top of the head must and will be neatly groomed. It mustnt be unkempt or ragged. The appearance is the outline that my hair conforms to the shape of my head, curving inward to the natural termination point at the base of my neck. My hair should not fall over my ears or eyebrows, or touch the collar, except for the closely cut hair at the back of my neck. Also I must keep my side burns well trimmed. They will not be flared or fuzzy. My side burns should be cut in a horizontal line and not extended past the bottom part of my ear. The hair on top of the head must be neatly groomed. The length and bulk of the hair may not be excessive or present a ragged, unkempt, or extreme appearance. The hair must present a tapered appearance. A tapered appearance is one where the outline of the soldiers hair conforms to the shape of the head, curving inward to the natural termination point at the base of the neck.
When the hair is combed, it will not fall over the ears or eyebrows, or touch the collar, except for the closely cut hair at the back of the neck. The block-cut fullness in the back is permitted to a moderate degree, as long as the tapered look is maintained. In all cases, the bulk or length of hair may not interfere with the normal wear of headgear. It is important to uphold this standard of Professionalism and soldierly appearance at all times while on duty in civilian clothes or military uniform. Males should not have braids such a corn rows and dread locks in and out of uniform. All hair must meet the regulation standards of short cut hair so it may be worn with head gear such as protective masks and other pieces of equipment.
His facial hair is also subjected stating that unless on profile from and Army Physician, the soldier is responsible for having a clean shave every morning and every day for the duration of his career. Males must keep their faces clean-shaven in uniform and in civilian clothing. Mustaches are allowed if neatly trimmed and tidy. They will not appear chopped or bushy and must not cover the upper part of their lips. They may not extend sideways or curled up around the outer parts of their mouth. Sometimes medical authority allows beard growth though the length of the beard must not be more than ¼ inches long and they must keep them well trimmed.
Goatees are not allowed in any form. Wigs and other hairpieces are also not allowed in uniform or civilian clothing. Even if an accident has occurred you may wear them but they still must fit the same hair standards. Failure to do so is grounds for either a warning from his first line supervisor, a negative counseling form, or even be subject to UCMJ action by his superiors. The requirement for hair grooming standards is necessary to maintain uniformity within a military population. Many hairstyles are acceptable, as long as they are neat and conservative. It is not possible to address every acceptable hairstyle, or what constitutes eccentric or conservative grooming. Therefore, it is the responsibility of leaders at all levels to exercise good judgment in the enforcement of Army policy. All soldiers will comply with the hair, fingernail, and grooming policies while in any military uniform or while in civilian clothes on duty. In AR 670-1 it covers not only hairstyles and grooming Standards but Standards for your uniforms and Insignias.
The Importance of Wearing the Proper Uniform The proper wear of the uniform is a very important key to our military success. One key factor is having strong discipline. Discipline is defined as behavior in accordance with rules of conduct behavior and order maintained by training and control. The standards while in Garrison environment in the army combat uniform is ACU top and bottoms with tan t-shirt, tan boots, and tan belt along with the black beret. The reason why it is important to wear the uniform correctly is because it not only represents the military but it represents who you are as a person it represents your team members as well as your unit and your command. The beret is the basic headgear while in a Garrison environment and is not intended to be worn to the field. However it is the policy of the third infantry division that while on Fort Stewart the ACU pattern patrol cap is to be worn at all times except during special events and ceremonies. The beret is to be worn so that the headband is straight across your forehead one inch above the eyebrow. The flash is positioned over the left eye and the excess is draped over the right ear, extending to at least the top of the ear and no lower than the middle of the ear. Military uniforms must be clean and neat. They mustnt be dirty or wrinkled. Uniforms are to be worn with pants around the waist and not sagging. They mustnt be too tight or too loose. I must project a military image that I can be responsible and maintain military discipline.
It is also important not to have anything in my pockets that may protrude from them or show off a bulky appearance. I must wear a belt around my waist and it shall not be more than two inches long out to the left side of the buckle. My shirt should not be wrinkled or dirty and it will be tucked in evenly around my waist line. My finger nails should be well cut and not pass the tips of my fingers. I will make sure that my boots will always be well maintained and serviceable and my pants will be bloused above the third eyelet. There will be keys properly placed attached to my pants or belt. I must have all buttons, snaps, and zippers maintained in my uniform. There will also be no loose strings coming off of my uniform. My hand will not stay in my pockets and will only be in them to place something in them or retrieving something out of them. My hat will be worn outside at all times while in uniform. Soldiers may wear a wristwatch, a wrist identification bracelet, and a total of two rings (a wedding set is considered one ring) with Army uniforms, unless prohibited by the commander for safety or health reasons. Any jewelry soldiers wear must be conservative and in good taste.
Identification bracelets are limited to medical alert bracelets and MIA/POW identification bracelets. Soldiers may wear only one item on each wrist. When on any Army installation or other places under Army control, soldiers may not attach, affix, or display objects, articles, jewelry, or ornamentation to or through the skin while they are in uniform, in civilian clothes on duty, or in civilian clothes off duty (this includes earrings for male soldiers). The only exception is for female soldiers, as indicated in paragraph 114d,below.(The termœskinis not confined to external skin, but includes the tongue, lips, inside the mouth, and other surfaces of the body not readily visible. Females are authorized to wear prescribed earrings with the service, dress, and mess uniforms.
Hygiene is as equally important to the standards and regulation of the United States Army. I must be showered and clean. I must brush my teeth and wash my hands thoroughly because as a medic it is important to keep any germs or bacteria away from a patient. This also protects me from any disease or sickness that I may retrieve from a patient or other soldiers I may come in contact with. Soldiers will maintain good personal hygiene and grooming on a daily basis and wear the uniform so as not to detract from their overall military appearance. Tattoos or brands anywhere on the head, face, and neck above the Class A uniform collar are prohibited.
These are just a few things covered in the AR 670-1 and should be followed with a strict military manner. The ability to follow the Standards of AR 670-1 is a direct line to your Army Values and how you conduct yourself as a soldier and Adult. AR 670-1 starts off with Part 1 which is General information and responsibilities. Part one is made up of 19 sections they are listed as followed: 11. Purpose 12. References 13. Explanation of abbreviations and terms 14. General 15. How to recommend changes to Army uniforms 16. Classification of service and utility or field uniforms 17. Personal appearance policies 18. Hair and fingernail standards and grooming policies 19. Uniform appearance and fit 110. When the wear of the Army uniform is required or prohibited 111. Uniformity of material 112. Distinctive uniforms and uniform items 113. Wear of civilian clothing 114. Wear of jewelry 115. Wear of eyeglasses, sunglasses, and contact lenses 116. Wear of identification tags and security badge 117. Wear of personal protective or reflective clothing 118. Wear of organizational protective or reflective clothing 119. Restrictions on the purchase, possession, and reproduction of heraldic items.
The Reason it is so important that you meet and uphold the standards set forth by AR 670-1 is because as a soldier. I have been trained and taught to maintain your appearance and general hygiene as a professional and Expert, Being in the right uniform, at the right place, at the right time shows a basic level of self discipline and motivation. I have made it one of my own personal goals to never disregard or break the standards of AR 670-1 and to Abide there standards at all times on and off duty as best to my abilities . I have learned the error of my ways and will make habit to not let it repeat itself ever again and as to be the best soldier I can be. I wish to convey my deepest regret to have allowed my infractions to have occurred most Especially due to the fact I made my section and my company to look the lesser from my mishap and lack of ability to follow the standards set forth by AR 670-1 . So it is my personal goal to make sure I never let this or anything else that disobeys the AR 670-1 standards ever happen again .
The reason that it is so important for the guidelines for maintaining a professional appearance that are outlined in Ar 670-1 are followed is the concept of uniformity. Uniforms help identify or tell us someones job or an organization they belong to. When you see a uniform it tells you something about the person wearing it. When you think about it, you see uniforms everyday. For example, doctors, police, chefs, and us soldiers. Uniforms can tell you that a person is there to help you. It makes them look different from other people so you can identify/recognize them more easily. Think of doctors, nurses, police, firemen and soldiers. A uniform, as opposed to a costume, is clothing of a certain type, style, and make up that is required by the organization the person belongs to. An Army uniform is actually described in Army regulations and Federal law allows military uniforms to be only worn by persons serving in the military. Uniforms tell you not only that a person belongs to a certain group but also that person has skills other people dont. A police officer is only allowed to wear this uniform if he/she has completed specific training. A nurse is only allowed to wear this uniform if they have completed nursing school.
You wouldnt ask a police officer to stitch a cut on your arm and you wouldnt ask a nurse to arrest someone. People in the armed services are different from other people. The army uniform tells you that the person wearing it belongs to a specific country and organization: The United States Army. This means the person wearing it has taken an oath to the government of the United States to defend the nation, even if it means they might get hurt or even die. The Army has two types of uniforms, one for dress and one for work. The Army work uniform is like a firemans uniform it helps protect the wearer. The uniform provides protection for the wearer. It is a type of camouflage (because of the pattern) to protect the wearer from being seen. It tells you s/he is a member of the US Army. It tells you the persons name. It tells you the persons rank. It tells you what part of the army he/she is in. This allows other people in the army to identify the wearer and be able to know where the person comes from and if they must take orders from this person. It allows the army to work smoothly.
Uniforms are important in our society because it helps us identify the people who can help us if we get lost or hurt, protect us and keep us safe Uniformity is a tool for the Army. It helps instill self discipline, attention to detail, and the ability to follow instructions for each soldier, and it provides leaders with an indicator of who among their soldiers actually is making an effort and who is just trying to do the minimum necessary to stay out of trouble. How crisp a uniform is pressed, how well boots are shined (when we had to shine them, the new boots don't need it) placement of badges are all indicators of the effort someone puts in. Uniformity also helps ensure a comradery, and team environment. Everyone looks the same because they wear the same uniform. The only way for a soldier to separate themselves from the rest is either to exceed the standards, and encourage his teammates to do the same, or rock the boat, and hope he doesn't get thrown out. The Class A uniform consists of the Army green coat and trousers, worn with either short-sleeve or long-sleeve green shade 428 shirt and a black necktie.
This uniform is used for special occasions like graduations, promotion boards, promotions, and any special event put by the military. This uniform may also be worn to civilian functions such as weddings, religious services, and the like. The Class B uniform omits the coat. The tie can also be omitted if the short-sleeve shirt is worn. The Class B uniform is what soldiers wear when they are not working in a field environment. Soldiers in the National Guard who serve part-time do not generally wear these uniforms, but you will need to know some information about them. The ACU uses a new military camouflage pattern called the Universal Camouflage Pattern (UCP), which blends green, tan, and gray to work effectively in desert, and urban environments. The ACU consists of a field jacket, trousers, headwear, a t-shirt, and footwear. The Army is about executing the mission, whether its unloading supplies at a warehouse in Texas, or going on patrol in Iraq. The ability to execute tasks is something that must be practiced. A similar example can be found in the NFL. In NFL minicamps the players are practicing techniques, and play every day in order to ensure they can execute when game time comes around. Uniforms were made to provide a method to identify the soldiers.
The uniform helped to identify friend from foe and to identify the type of soldier and his rank within his unit. Uniforms were standardized and each soldier became an element of a larger entity. Uniforms also gave the soldiers a pride and taught them military discipline and bearing. A soldier had to be disciplined to learn how to clean his uniform, as well as his weapon. So in a roundabout way the principles on proper military appearance and wear of the uniform as outlined in 670-1 has to do with self discipline which is one of the core principles required for a soldier to be successful. The core of a soldier is self discipline. It is intertwined with the discipline of physical and mental achievement. Total discipline overcomes adversity, and physical stamina draws on an inner strength that says "drive on."Former Sergeant Major of the Army William G. Bainbridge, 5th Sergeant Major of the Army, was sworn in on July 1, 1975 and served until June of 1979 and the is what he has to say about self discipline: œSelf-disciplined people are masters of their impulses.
This mastery comes from the habit of doing the right thing. Self-discipline allows Army leaders to do the right thing regardless of the consequences for them or their subordinates. Under the extreme stress of combat, you and your team might be cut off and alone, fearing for your lives, and having to act without guidance or knowledge of what's going on around you. Still the leader must think clearly and act reasonably. Self-discipline is the key to this kind of behavior. In peacetime, self-discipline gets the unit out for the hard training. Self-discipline makes the tank commander demand another run-through of a battle drill if the performance doesn't meet the standard, even though everyone is long past ready to quit. Self-discipline doesn't mean that you never get tired or discouraged; after all, you're only human. It does mean that you do what needs to be done regardless of your feelings An example is an event that occurred during the 3 October 1993 American raid in Somalia. One soldier kept fighting despite his wounds. His comrades remembered that he seemed to stop caring about himself that he had to keep fighting because the other soldiers, his buddies were all that mattered.
When things go badly, soldiers draw strength from their own and their unit's discipline; they know that other members of the team are depending on them. Another issue that is affected by proper military appearance or lack thereof is the issue of the army values and how they pertain to maintaining an acceptable appearance at all times. In order to look at the army values as they pertain to maintaining ones appearance. We must first start by looking at the first army value which is Loyalty. Loyalty is defined in the dictionary as œfaithfulness to commitments or obligations or faithful adherence to a sovereign, government, leader or cause. The way that that pertains to maintaining professional appearance is that when a person volunteers to join the army they accept the responsibility. As a soldier of the United States Army you are expected to be loyal to the army and to fulfill the obligation that is an enlistment contract. One of the obligations that is included when you sign a contract and enlist in the military is the obligation of maintaining you appearance as outlined in army regulation 670-1. Duty is defined in the dictionary as œ something that one is respected or required to do by moral or legal obligation. Duty when pertaining to maintaining a professional appearance is intertwined with the army value of loyalty.
When one is loyal to the army it therein becomes ones duty as a soldier to maintain themselves in a presentable military appearance. Respect pertains to the responsibility of every soldier to maintain a professional appearance is something that goes without saying. If you have respect for your country and your job as a soldier to protect our country then you will maintain your appearance in order to portray a level of professionalism the the public will view as honorable. When you fail your duty as a soldier to maintain your appearance not only do you disrespect our country but you disrespect the countless others who have died in the same uniform defending our country. So out of respect for our history as a country, our people and the ones who have gave it all defending our freedom you should always ensure that you appearance is maintained. Selfless service is what is portrayed in some cases when soldiers take the time in effort to live up to the standards set in ar 670-1. A lot of times the grooming standards and uniform standards require a soldier to relinquish his own free time and money to maintain his appearance.
It is also displaying selfless service when I soldier adheres to the regulation even though it may not be the hip fashion or it may not be a style that he or she may not like. Honor is another one of the army values is obvious when pertaining to the military appearance soldiers must uphold. If a soldier honors his or her country then it is obvious that they will honor the regulations the army has put in place in order to maintain good order and discipline within the fighting force. It is simply out of honor for ones country that the will strive to achieve the standards set forth by the United states army. Integrity is defined as adherence to moral and ethical principles; soundness of moral and character; honesty. Maintaining professional military appearance is a way of adhering to to moral and ethical principles. What I mean by that is when one is a soldier in the army it is morally and ethically right to respect the ones who have died defending our nation by doing your duty as a soldier and maintaining an a professional appearance.
Personal Courage is not displayed as much when pertaining to the aspects of maintaining your military appearance but that does not mean that it does show up in some instances. It is not always easy to follow every regulation the army has set for to make its fighting force uniform and ready to fight. It takes personal courage to put on the uniform and wear it in a professional manner while wearing it to represent the greatest nation in the world where ever we might be sent to go defend it. Personal values are the guidelines that we live and work by daily standards of appropriate behavior in order to accomplish ones moral duty throughout all aspects of life. Acts of personal values emcompass acknowledging the difference between right and wrong and act accordingly in an honest, trustworthy and moral manner. To plainly recognize an ethical or unethical is not enough; one must display like actions through all daily activities.
Unfortunately, there is no blueprint for the development of personal values. I believe the biggest influence on my personal ethics is my family. From the time I was born my mother taught me right from wrong, to respect adults, treat others with respect, respect authority and the list goes on and on. Although I did not learn in a structured environment, she built a solid foundation on situations throughout everyday life and this was done in many different ways.
Trust and respect are what I consider the most important value learned. Mom was very consistent in all she did. Because she was consistent it developed a pattern of learned behavior and expectation. When she told me to do something she followed through to ensure it was done. When she told me she was going to pick me from school she was there and on time. When she punished me she ensured the punishment was carried out, there were no cut short and the punishment was not altered in any way. She modeled the behavior she taught by addressing people appropriately, with common courtesy and respect and she displayed a genuine concern for others to name a few. Because of her displayed behavior I was able to learn the value of respect and trust.
When a family member encountered trouble things quickly became chaotic. Although family troubles covered a large scope of things the end result was always to unite and support. To have a difference of opinion, to not agree with the circumstance or how they came to be, our job as family members was to stick together. This was also the result of a strong religious presence in our household. My grandmother, the backbone of our family, would cook a great southern style meal and recite Genesis 45: 1-15 and follow by explaining the story of Joseph. Josephs family turned on him by selling him into slavery where he was jailed, beaten and punished although he had done no wrong. Eventually Joseph gained power and his brothers came to him in need not knowing who he was. Although Joseph could have sought vengeance he did not. Instead he fed them and took care of them until he died. This was the best way my grandmother could explain forgiveness and family being there for family no matter the circumstances. My mother would add to the message by referencing Timothy Chapter 5 which talked about any family member or relative who fails to care for his own disavows Christianity for he is worse than an infidel.
According to my mother failure to take care of family by any means was worse than not believing in GOD and she use 1Timothy Chapter 5 to support her feeling regarding the matter. Thanks to my family I have adopted the use of scriptures to cope with struggles in day to day life and life challenges. My favorite scripture comes from Isaiah 54:17, œNo weapon formed against me shall prosper. This scripture aids me in making it through some of my toughest moments. When my director talks to me in a demeaning manner, when financial difficulty struck due to my divorce, dealing with the stresses of not having medical coverage and being in need of it, when my son was troubled and I could not seem comfort or sooth his internal chaos, I turn to my faith to bring me through. If my family had not established a strong foundation of faith Im not sure that Id be able to stay focus and grounded. Because religion had such a strong presence in our household equipped me with the tools I need to establish a sound foundation for my son and have the internal strength to fight through the tough times.
Another personal value developed throughout my childhood and adult life is self love as described in the bible. Unlike love portrayed by the world, biblical love is selfless, kind and unconditional. It always protects, perseveres, trust and hopes. Love does not keep records betrayals, does not rejoice with evil and love is not vengeful. True love can only exist when one has experience the love of GOD first hand and without question. Before one can love anyone else a love of GOD must be in existence. I love myself based upon GODs abiding love for me and in return I share the same love with family and friends and others in a brotherly love fashion.
Having self love provides me with a strong feeling of satisfaction and happiness within myself regardless of the lack of or abundance of physical characteristics and perceived œbeauty. My mom always taught me that beauty lies within. Material things like make-up in order to feel pretty, being socially accepted by others, putting a body through unhealthy extreme measures to be fashion model size, looking for others for compliments and other obscenities are only characteristics of a person thats unhappy with oneself. Instead I learned to embrace my large eyes, over sized smile, extra short legs and knock knees and now I see all of those things as things that make me unique and gorgeous. Those are some of the things that peers used to tease me about as a child and now those are the same things that gets me the compliments; bright smile, nice tone legs and big brown eyes.
Serving as a soldier in the United States Army also developed personal value. While most of the Army Values; loyalty, duty, respect, selfless service, honor and integrity were already taught to me in my upbringing, there was one that I wasnt too familiar with, personal courage. Personal courage was something I had to learn because I had never encountered a situation that required it. Being a soldier trained me to face my fears and deal with adversity both physically and morally. It takes courage to be a soldier and provide protection of freedoms that are taken for granted every day. To leave your family to protect your country, the vigorous physical training, the hardship of deployments and public service all require inner strength and personal courage.
Being a soldier I also learned about other cultures, how to interact with people from different backgrounds, how to work in a team and much more. The values learned in Army also go hand in hand with everything learned from my family but from a slightly different perspective. In conclusion, my personal values are a way of living and the fact that maintaining my professional military appearance is in large part due that. I never meant to disrespect my country, the army, my unit and my leadership by failing to get and maintain my haircut and grooming standards at all times. I am sorry and I now realize that ar 670-1 is not to be taken lightly it is a lot more important than a lot of people make it out to be and it took doing the research and writing this essay for me to realize that. I am truly sorry and it will not happen again.
Related Topics