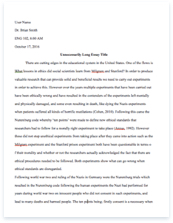 The whole doc is available only for registered users
A limited time offer! Get a custom sample essay written according to your requirements urgent 3h delivery guaranteed
Order Now
This case examines the Human Resource Management system at American Airlines and its role in the airline's past and continued success. The case takes us through a time line from 1980 to 1992 of the company; of how the growth of the company was followed by changes in the strategy, changes in the HR policies at different time and finally their effect and impact on the employees and the company as whole.
Events
1. 1978: Deregulations of the airline industry.
2. 1980: AA's growth plans called for ore planes, new routes, increased membership in its AAdvantage frequent flier program, and an enlarged installed base of its SABRE reservation system.
3. 1981:The Presidents Conferences began.
4. 1983: Two Tier compensation system concepts was adopted. Head count restrictions was applied to the managerial posts
5. 1985: Decline in fuel prices. AA began building up it U.S route network
6. 1986: Developed presences in 15 different European countries
7. 1987: AA began a Peak Performance Through Commitment program
8. 1988: AA decided to broaden employee involvement to improve customer relations. A program named Committing to Leadership was started
9. 1990: Industry conditions started to Detroit.
10. 1991: Due to the Persian Gulf War there was a recession in the economy and slow moving profits. And finally new contracts with the employees were
finalized.
CASE FACTS according to the time eras
Target market: Price-insensitive and business class people, who emphasized high levels of service.
Structure: Seemingly functional (centrally controlled).
1. 1981-1988
Corporate level strategy:
Internal Growth
Business level strategy:
Market penetration, (Surpass United)
Market development (new routes, Europe)
Functional level strategy:
Differentiation in IS and marketing dept (SABRE reservation system, frequent flier program, lost baggage system, sheep-skin seats). Low cost in HRM department.
HRM practices
o Base salary lowered yet external equity was maintained. Incentive based on suggestions of cost-saving but not performance based. In short-term below competitors, in long term above competitors
o Benefits: above market
o Recruitment: hire and promote (life-time security)
o Promotions: seniority based
o Organization design became decentralized and less formalized (Service Improvement program): Empowerment and information sharing (through QWL program in 1983) Emphasis on emergent strategies also.
o Leadership was developed. (Commitment to leadership (CTL) program).
o PPC program to emphasize counseling, mentoring etc yet it seems appraisal were top-down.
Contradictions were already there but from 1985-1988 industry prospered, so profits came on coming
2. 1988-1991 and onwards
i. Industry was in a consolidation phase.
ii. Corporate level strategy: Retrench
iii. Business level: low-cost/ downsizing
3. After 1991
Base salaries were increased: profit-sharing percentage was increased (to 6.3%).Bonus programs like LEAAP and TEAM added to base pay.
Principles of HPWS
1. Information sharing: Inculcated and emphasized.
2. Knowledge development: no evidence in the case.
3. Performance-reward linkage: only for improvement suggestions and not for daily operations and results until after the two-tier system was renegotiated.
4. Egalitarianism: THE VIOLATED PRINCIPLE. High status, power and compensation differences, even between people doing similar work, since more or less tasks were repetitive.
Although the acts of moving power down in organization, setting-up suggestion systems, and benefit plans were decisions that would have helped create an egalitarian system, the compensation package inequity messed up the entire efforts.
Anatomy of the system
1. Workflow design and teamwork: No evidence in case of designing jobs around processes or of teamwork.
2. Staffing: broad pool attracted through the benefits plan and new recruits were offered great growth potential i.e. employees being talented tended to "come up to the speed" quickly.
3. Training in specific skills in Flagship University: their training centre. Developmental perspective only in leadership area.
4. Pay plans were seniority based and individual based although employees were all salaried. Difference in earning levels for even employees doing similar work was HUGE.
5. Developing leaders from within, managers were to be seen as coaches and facilitators
6. Information and Communication technology was developed: new reservation system and baggage tracking system were one of the best and most expensive of their times
Horizontal fit
Its not really a perfect horizontal fit because where as the work processes and tasks have been kept repetitive, promotions are seniority based and training is specific (all of which mesh well on one end of the spectrum), leadership skills are being focused, information sharing IS and empowerment is being emphasized, compensation plans are being directed at long-term through lower base pays and profit sharing plus bonuses and above market benefits (which integrate well together but not with the former set of action plans) also, the compensation plan is being tried to implement in isolation but it's the ripple effects on the system that are causing problems
Vertical fit
The vertical fit is again missing. Whereas the HRM practices of recruiting, promoting, developing for leadership and compensation (of low base pays) and most importantly the newly inculcated CULTURE of information sharing and focusing on emergent strategies favor differentiation strategy, the specific training skills, specific job design and the agreed compensation plan of higher base pays for pilots support the lost cost strategy of HRM function.
There is no clarity of purpose. American Airlines seems to be trying to move towards a HPWS, yet the BASIC problem they have faced is the failure to link the changes to the strategic orientation of the organization.
Problems in Implementation of HPWS
1. Poor Management of bridge between Union and Management
Also, although the management was successful to negotiate compensation terms with union members time and again, yet it failed to explain to them the logic and rationale behind the change efforts. In addition, once the two-tier system was agreed and lifetime jobsecurity was offered why was a policy document not issued stating the clauses of collective bargaining that
took place?
After the time-period case ends, management also messed up with the TRUST factor with union members and as a result American Airlines had to file bankruptcy and the next CEO had to resign. The future of American Airlines is, as of today, MURKY
2. Poorly managed Transition to HPWS
The system was not totally and fully scaled to the characteristics of a HPWS rather incremental changes in culture of the organizations were made and these piecemeal changes actually proved detrimental.
o Lack of Transition Structure
A clear timetable and change plan for mapping the business processes, redesigning work and aligning other organizational factors was the missing link.
o HRM department not made a partner in change formulation stage It was the HRM function that failed to innovate and bring in concepts of cross-training, skill-based pay/ performance base rewards, teamwork into action to support the changes that are being introduced
3. Evaluation phase was skipped altogether both in terms of periodic review and process audit for measuring the results of change
Conclusion
One of the most possible wrong approach to turn around a business is to ask the rank-and-file employees and newly hired workers to take wage and benefits cuts and at the same time reward the senior management and employees that got the company into trouble by granting them bonuses and protecting their benefits. (An UNFAIR INEQUITY)
American Airline made the same mistake.
APPENDIX 1: Organizational Change Programs
Elimination of Direct Supervision
From the company's structural point of view a few changes were also made. In order to cut cost and have a cost reduction a head count restriction was applied in 1983. As this pressure continued during the airlines growth, front line employees increasingly found themselves operating without direct supervision. This was because the ranks had been thinned by cost reductions. This resulted in employees in the work fore appointing leaders amongst their peers. Another step taken in this regard was to create SIP. It was designed to empower front line employees to resolve customer complaints.
Two Tier Compensation Systems
In 1983 an idea of "Two Tier" compensation system came into existence. Under this approach all employees hired under the new contract would strata at significantly lower wages, while existing employees continued under the existing agreement.
President's Conference's
Open communication was now valued and was greatly emphasis by Robert in 1981 when he began the "Presidents Conference". This helped to increase the flow information and ideas both up stream and down stream. This encouraged leadership abilities and ownership amongst the employees.
Quality of Work Life
QWL was intended to make supervision less authoritarian. QWL department was created with its director directly reporting to Crandall. Supervisors were encouraged to seek input from employees on decision s that affected them. The employees were told that their opinion was valuable to the company.
Performance Through Commitment
AA began a PPC program t shift supervisors away from punishing behaviors and towards coaching, counseling and recognition as the means for motivating employee performance.
Commitment to Leadership
In 1988 an organizational change program was initiated called CTL. Its purpose was to institute changes that would create an environment such tat " every employee at AA ha the responsibility to do what needs to be done at any moment to meet the corporations business objectives and each employee has full corresponding authority. Owner ship and leadership were very important for this. This was done to encourage mangers to fully share information and decision making with their employees.
Related Topics