How to Safeguard the Well Being of Children and Young People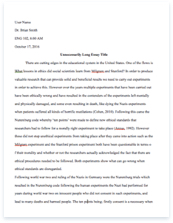 The whole doc is available only for registered users
Pages: 12
Word count: 2816
Category: Abuse
A limited time offer! Get a custom sample essay written according to your requirements urgent 3h delivery guaranteed
Order Now
Explain child protection in the wider concept of safeguarding children and young people. Every school or organisation that deals with children must have a safeguarding policy in place which should be reviewed and updated regularly. As a teaching assistant it is vital that I know what the policy at my school contains, so I am aware of what to do if I ever have any cause for concern. The term "child protection is increasingly being replaced by that of "safeguarding" Child protection is specifically about abuse but it comes under an umbrella term called safeguarding. Safeguarding are all the things that we do and the policies and procedures we have that help keep children safe. Child protection is part of the wider concept to safeguard and promote the welfare of children and young people. It refers to the activity that is undertaken to protect specific children who are/maybe suffering from any form of abuse or neglect.
It also involves protecting children and young people from maltreatment and preventing impairment of a child's health and development by ensuring children are raised in positive circumstances by providing safe and caring environments. Parents or carers who fail to protect or care for the children they are looking after could then be taken to court and the child may be then removed from the home and placed into care. Safeguarding a child or young person is ensuring that they have the opportunity to achieve their true potential and have the right to be protected from abuse (physical, emotional or sexual), neglect or exploitation from anyone including family, friends and any professionals working with them.
When and why are serious case reviews required? How do the findings reform practice?
The purpose of a serious case review is to:
Establish what lessons are to be learned from the case about the way in which local professionals and organisations work individually and together to safeguard and promote the welfare of children; Improve the communication between agencies to share and work together as a system to make sure that the complete information is passed onto each individual organisation and take better actions to make sure that the child/ren voices are heard and not assume that they are all OK;
Identify clearly what those lessons are both within and between agencies, how and within what timescales they will be acted on, and what is expected to change as a result; Improve intra and inter-agency working; Better safeguard and promote the welfare of children who are in danger of a future abuse;
Serious case reviews are not enquiries about how a child died or was seriously harmed, or into who is culpable. These are matters for coroners and criminal courts respectively to determine. Equally, serious case reviews are not part of any disciplinary process, but may highlight information which may indicate that one or more agencies should consider disciplinary action within established procedures. A SCR may be conducted at the same time, but should be separate from disciplinary action. In some cases it may be necessary to initiate disciplinary action as a matter of urgency to safeguard and promote the welfare of other children. When a child dies or is seriously harmed and abuse or neglect is known or suspected, the first priority must be to consider immediately whether there are other children who are likely to be placed in the same situation. Where there are concerns about the welfare of siblings or other children the procedures must be followed. The concept of the SCR is not to eradicate the abuse of children because that is impossible; the idea of it is to constantly improve the way we deal with the cases and to find better way to deal with serious cases and the cases that are seem less important at the time; this is to be able to act sooner and without potential error because the less important case turned out to be the one with the most consequences.
Unit CYP 3.3
3.3 Evaluate ways in which concerns about poor practice can be reported whilst ensuring that whistleblowers and those whose practice or behaviour is questioned are protected. The procedure to follow if an employee wishes to raise a concern is as follows: • All staff should act in good faith when they suspect misconduct or malpractice within the setting. • The whistle blower should think hard about what is worrying them and why, they should not make the report personal or out of spite. • They should then report their concerns to the manager/supervisor in charge, do this when you feel that the time is right, but it should be done asap to make sure that all the concerns are up to date • Write your concerns down giving background of full details, history, names, witness names (if any) dates and places if you can with full truthfulness. • During an investigation both parties are adequately informed with any progress that has been made by the manager/supervisor, they will also give a timescale on how long the investigation will go on. • Support is offered to both parties if they require this.
• Both parties can defend any complaints and give their version of events that have happened. • All information disclosed from both the whistleblower and the accused are all kept confidential and they are investigated discreetly (Data Protection Act). • However, if a situation arises where a case cannot be resolved without revealing identities, they will discuss how they can proceed with still full awareness about both parties best interests. • If nothing happens about your concerns you would take the next step. If you feel that you cannot talk to your manager/supervisor or if you feel nothing has been done you can contact The Early Years Advisor or Ofsted for further advice on steps to follow.
If you lose your job or suffer as a result of whistle blowing you are protected by law under The Public Interest Disclosure Act 1998, this was brought in to protect whistleblowers, this covers any offence that has been committed (A miscarriage of justice, Danger to health and safety of an individual and/or environment, any deliberate concealment of any information given. The Standards Board for England's whistle-blowing Policy and Procedure, are set out, in line with the Act. It is the role of the whistleblower to appropriately report or respond to possible misconduct, however it is not the whistleblower's role to investigate the misconduct or to give out their own justice as we may not have all the information or our understanding of the situation was misread which may cause in more problems that benefit.
All the Parties are protected either it be the accused party/parties or the whistleblower, so all the measurements need to be taken with care when dealing in such situation: • The manager/supervisor will assess whether it is necessary to protect the accused / accusers until the concerns have been investigated. • The accused/accusers will be informed of the seriousness of the allegations of misconduct by their manager/supervisor they will also provide any supporting evidence. • The accused or accusers will be advised in writing of the procedure to be followed. • The accused/accusers will be given the opportunity to respond by a meeting or put their response in writing to the claims made against them and speak about any relevant evidence. The accused/accusers will be given the opportunity to be accompanied by a representative of a trade union or a work colleague. • They will be provided with support, counselling or mediation to those subject to investigation in order to resume normal working relationships as soon as possible.
5.1 Explain different types of bullying and the potential effects on the children and young people. Bullying can be described as an unwanted aggressive behavior towards an individual that involves a power imbalance, whether real or perceived. The term "bullying" is thrown around a bit excessively these days, and one thing we need to keep in mind is that not every confrontation is an instance of "bullying." The key component is the power imbalance. Two peers having a go at eachother over some contentious topic isn't "bullying." Such examples of these power imbalances include multiple children ganging up on one, a child that is bigger and stronger than another, or even a child that is perceived as being more important due to his or her stature at school (the "cool kid").
Bullying usually takes many forms and can involve physical attacks, emotional attacks and/or verbal attacks. The following is an overview of the different types of bullying: Physical Bullying This type of bullying basically involves the use of physical force. Physical bullying is most prevalent in academic institutions. This bullying technique may involve the spiting, shoving, kicking or even punching. In most instances, the aggressor is physically larger than the victim or may be within a group. The idea behind physical bullying is for the bully to establish superiority and continued control over a victim. These are the potential effects from this bullying: – Poor academic achievement. – Attempt suicide. – Truanting from school / Tearful / Nightmares
– The child becomes distressed, anxious or depressed and withdrawn – Loss of appetite / develop eating disorder – The child suffers bruising, cuts, scratches etc. Verbal Bullying
Verbal bullying incorporates the use of words to carry out an act of bullying. In this type of bullying, the aggressor also known as the bully tries to verbally upset the victim through taunting and teasing. The verbal assault might focus on an individual's appearance, lifestyle choices, intellect, skin colour and even ethnicity. Most verbal bullies have a low self esteem and tend to bully others so as to increase their social standings and feel better about themselves. These are some of the effect this kind of bulling could have: – May become aggressive – Delayed development – Low self-esteem and self-worth
– A child becomes withdrawn and isolated
Emotional Bullying
Also known as relational aggression, emotional bullying is the act of an aggressor attacking a victim on an emotional level. Emotional bullying is most common in relationships whereby, one partner might make statements or act in such a manner as to bring about distress to the other partner. Emotional bullying may also involve the spreading of rumours, excluding an individual from certain activities, refusing to talk to someone and even making statement with an intention of hurting a person's feelings. These are just some of the effect of this kind of bullying: – Self-Blame – Depression – Self harming
– Lack confidence (shyness)
– Mental health problems in children
– A child becomes withdrawn and isolated
Cyber Bullying
This is one of the most popular types of bullying in the modern world. Cyber bullying can be described as any form of bullying that incorporates the use of technology. Cyber bullying is rampant on social networking sites and can be very difficult to know the real identity of a bully since most bullies do not use their real names. – Anxiety – Depression – Self harming
– Loneliness
– Mental health
– Unhappiness
– Poor health and sleep
– Lack confidence
Unit CYP 3.3
5.2 Outline the policies and procedures that should be followed in response to concerns or evidence of bullying and explain the reasons why they are in place. Bullying can take place for various reasons such as disability, race, religion or culture, sexual orientation, gender or health conditions. Schools have a duty to promote good behaviour and to prevent all forms of bullying among pupils and staff. The head must publish the behaviour policy and bring in to the attention of parents, pupils and all the staff. Bulling concerns should not be dealt by a TA but it should be reported to the designated person who will follow all the schools procedures and policies to deal with any reports or evidence of bulling.
These are some of the procedures the designated person will follow when dealing with the bulling incident/ report:
• Students will be informed of anti-bullying procedures in the school's assembly and PSHE lesson. • Parents will be informed of procedures via the Parent Handbook, updated annually. • The anti-bullying policy will be published in the Staff Handbook. • Staff will treat reports by students of bullying very seriously. • Staff will not ignore suspected bullying • Staff will take action immediately. This applies to all staff, not only teaching staff. • If bullying is racist or involves persistent harassment or assault, it is a criminal offence and will be reported to the Head of Year/ Principal immediately. This also applies to bullying which targets a student's religion/belief or sexual orientation. • Staff will produce a written record of each bullying incident, to be passed to the appropriate Head of Year who will alert the Vice Principal/Principal • Staff will respect a student's request that information is not discussed with other students. • The victim will be supported in the weeks following the reported incident, to ensure that the bullying has stopped.
Staff guidance: if bullying is reported, or if staff notice a bullying incident Minor incidents will be reported to the student's Form Tutor, who should investigate the incident and inform the Head of Year in writing of the outcome. For serious incidents of bullying, staff will inform the designated person such as Head of Year and the Vice Principal/Principal. Normally, the procedure outlined below will be adopted by all staff in serious incidents. Tougher sanctions will be needed if there has been violence, but this is a rare occurrence in schools. • If a student is injured, take the student immediately to the Nurse for a medical opinion of the extent of the injuries. • Use a room that allows you to interview in privacy. A witness is recommended for serious incidents. • Avoid making premature assumptions. It is very important not to be judgemental at this stage. • Be non-confrontational. • Ask the alleged bully and the alleged victim to write down details. This may need prompting with questions from you to obtain the full picture.
It may be appropriate to use the 'guidance questions for interview' available from Year Heads. • Ask additional witnesses/Bystanders for information, preferably written. • Reiterate to witnesses that there are no innocent bystanders – they are all responsible if anyone is being bullied. • Listen carefully to all accounts – several students saying the same does not necessarily mean they are telling the truth, particularly if they have had an opportunity to discuss the incident in advance. • Do not attach blame until your investigation is complete. • If the bullied student might have provoked the bullying incident, help them to understand how. • Tell all students interviewed that they must not discuss the interview with other students. Record details of the bullying • Write a very brief summary of the incident. A separate interview sheet is needed for each student involve • Write a more detailed single account and attach written statements of alleged victim, alleged bully and witnesses. Full names of all involved should be included in this account. Send this to the Principal.
• The Head of Year should keep a record of all incidents of bullying for their Year. Take appropriate action to deal with the bully • If you are satisfied that bullying did take place, help the student to understand the consequences of their actions and warn them that there must be no further intimidation. Inform them of the type of sanction to be used if the bullying is repeated. • If possible, try for reconciliation and genuine apology from the student. • Try to reach agreement on reasonable long-term behaviour. • Inform parents about bullying incidents and what action is being taken. • If initial attempts to stop the bullying fail, apply an appropriate level of sanction commensurate with the seriousness of the bullying. • If bullying is racist, inform the Principal immediately. 5.3 Explain how to support a child or young person and/ or their family when bullying is alleged.
Unit CYP 3.3
6.1 Explain ways in which you can support children to develop self-confidence and self-esteem, giving examples from your practice/setting.
6.2 Why is it important to support reliance in children and young people?
Unit CYP 3.3
6.3 Explain why it is important to ensure children and young people have strategies to protect themselves and make decisions safely.
6.4 Explain ways of empowering children to make positive and informed choices that support their well-being and safety (give examples from your practice)
Unit CYP 3.3
7.1, 7.2 Explain the risks and possible consequences for children and young people of being online and of using a mobile phone and explain ways of reducing these risks.
Explain the potential risk
Ways of reducing the risk
Social networking sites – eg facebook
Related Topics