How to Safeguard the Well Being of Children and Young People – Bullying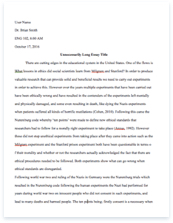 The whole doc is available only for registered users
A limited time offer! Get a custom sample essay written according to your requirements urgent 3h delivery guaranteed
Order Now
It is the aim of the following booklet to support practitioners, children, young people and their families to recognise and respond to bullying at school. Responding to Evidence or Concerns:
5:2 Outline policies and procedures to follow in response to concerns or evidence of bullying. Explain why these are in place: As part of the Every Child Matters agenda set out by the previous Government (Education Act 2002 and the children Act 2004), it is the duty of St Matthew's Primary School to ensure that children and young people are protected from potential harm. In order to do this, we need to involve children, young people and their families/guardians in this process and help to make them recognise and respond to bullying within or outside the school environment. Policies and procedures are in place at St Matthew's to ensure the continued safety of all of our children and to follow strict guidelines if/when a situation arises which needs to be dealt with thoroughly and swiftly to eradicate further bullying and potential harm. St Matthew's 'Anti-Bullying', 'E-Safety/Cyber Bullying' and 'Behaviour' policies identify the definition of bullying and outline both direct and indirect forms of bullying. The three policies should be read and used in conjunction for best outcomes. Incident Management
The following steps will be taken when dealing with incidents:- * If bullying is suspected or reported, the incident will be dealt with immediately by the member of staff who has been approached. * A clear account of the incident will be recorded and given to the Head teacher (Safeguarding Officer). * The Head teacher will interview all concerned and record the incident. * Class teachers will be informed.
* Parents will be kept informed. Sanctions will be used as appropriate and in consultation with all parties concerned.
Pupils who have been bullied will be supported by:-
* Offering an opportunity to discuss the experience (if appropriate).
* Reassuring the pupil that action is being taken.
* Offering continuous support.
* Restoring self-confidence and self-esteem.
* Helping the child build resilience.
* Empower the child to make positive and informed choices. Pupils who are bullying will be helped by:-
* Discussing what happened and the consequences of bullying.
* Discovering why the child became involved in this behaviour.
* Establishing the wrong doing and need to change.
* Informing parents/guardians to help change the attitude of the child. * Consider whether there are underlying issues such as the child may need to go on the SEN Register and given the support of an Individual Education Plan, and include outside agencies (Specialist Teacher). The following disciplinary steps will be considered to demonstrate that their behaviour is unacceptable and to promote change * Child will be removed from immediate contact with victim (classroom/playground). * Loss of privileges in the context of the incident. This may be loss of playtime, choosing time or class treats. In an isolated incident this will be deemed sufficient in accordance with established School behaviour Policy. * The bully must understand the wrong and make amends to the victim (in context). * Persistent bullying will involve the child in monitoring their own behaviour and reporting daily to the Head teacher.
This will then slowly be reduced to reporting on a weekly basis. * Extreme cases, which fail to be resolved, will require the interventions of the governors who may have to decide to exclude the child for a 'cooling off' period. * As a final measure all parties; parents, teachers, governors, and additional support may decide that a change of school environment is the only solution for the child. This would hopefully benefit both the victim and the bully to have 'fresh starts'. Within the curriculum the school will raise the awareness of the nature of bullying through inclusion in PHSE and Assemblies, in an attempt to eradicate such behaviour. There is also a dedicated Anti-Bullying week in November each year to support this. 5:3 Explain how to support a child, young person and/or their family when bullying is alleged or suspected: * Encourage both the child and parents to talk openly about the bullying issues. * Encourage and support the parents to be aware of the signs and symptoms of bullying. * Ensure the parents are taking bullying seriously and the importance to find out the facts when told about an incident of bullying.
* Make the child and parents aware of the designated teacher/head teacher they can seek ongoing support from. * Help children practise strategies such as shouting no, walking with confidence and running away. (Also refer to points 6:1-6:4). * Allow the child and parents a chance to vent their feelings about being bullied. * Get other parents together and discuss ways to stop the bullying. * Arrange for the parents to meet their child, if the bullying is happening on the way to or from school. * Ask that the bullies be kept at school until everyone has had a chance to get home. * Suggest that if it would help with the child's confidence, ask them if they would like to take self-defence classes. * Check that the child is not inviting the bullying by some obnoxious habit, such as spitting, picking his nose, etc. * Encourage parents and if appropriate the child to keep a written diary of all incidents. * Encourage the parents to invite other children over to their house to help the child make new friends. * Keep parents and (considering their age/stage of development) the child fully informed of the progress of any decisions, and where appropriate involve them.
How to work with children and young people to support safety and wellbeing: 6:1 How to support children and young people's self-confidence and self-esteem: It is important that children and young people feel confident about themselves in order to achieve in all areas of their development. A child whom has low self-esteem/confidence is less likely to discuss issues of bullying with someone as they may feel that they won't be believed or even listened too. The way in which we treat children and young people has a direct effect on this, so it is important that we: * Encourage and praise them.
* Allow them to feel independent.
* Value each child as an individual.
* Celebrate differences and similarities.
Parents should talk with and listen to their child everyday, ask questions about their school day including experiences on the way to/from school/lunch/playtime. Also ask about their peers and friendships. Teaching and support staff can spend time at school and playtime. Coordinate games/activities to encourage children to interact with peers aside from best friends. All adults who are caring for the child (school staff and parents) should set a good example, model effective communication, teach children language to diffuse potential situations. Parents should accept that if they use negative behaviours in front of a child, this encourages the child to mimick these learnt behaviours. Create healthy anti-bullying habits. Starting as young as possible teach children, on both 'what to do' and 'what not to do' this includes:-negative behaviours – push, tease and being unkind and positive behaviours – to be kind, empathise and take turns.
Coach children on what to do if being bullied for example, get an adult, tell the bully to stop, walk away and ignore the bully). Make sure children understand Bullying. Explicitly explain what it is and that it's not 'normal' or to be tolerated and not good to be a bystander when seeing another child being bullied. 6:2 Analyse the importance of supporting resilience in children and young people: It has been argued that, compared with earlier generations, children are less able to cope with stress and obstacles, partly because of their being sheltered from challenging opportunities (Mental Health Foundation 1999). Recent trends in health and social care services have tended to emphasise factors that pose risks for children, rather than those which provide opportunities for growth and adaptation (Early and GlenMaye 2000).
In the society we live in today parents are often more likely to be over protective towards their children ('wrap their children up in cotton wool') due the risks to their safety which is echoed by the Media, when we hear horror stories of children being abducted and murdered or suffering such terrible bullying that some children have took their own lives. Four decades ago children would be seen out playing on their own streets, local fields/grassed areas and even parks. They would play out for hours with groups of friends, only returning home for dinner or tea or to check in with a parent that all was safe and well. However, by today's standards this has become an increasingly rare event, with children playing indoors much more with electrical devices and such like. When we do see children in parks playing, this is often closely observed by parents checking up on their children to ensure that they can always be seen.
It can be argued how wonderfully reassuring it is to see parents ensuring their children's safety, protecting them from potential inappropriate strangers etc. However, though this is all true and is certainly a must in today's society, it has also come at a price to our children's emotional and psychological development. Children are not developing the same level of resilience due to this. These children are not able to face new challenges alone, they are not developing their independence at the same rate and are not learning to problem solve or take care of themselves whilst looking out for others. The following section taken from www.barnados.org.uk explains this in more detail with some quotes:-
There is no doubt that the identification of potential risk factors has led to substantial improvements in many areas of children's physical health. However, it has not always led to similar improvements in many aspects of children's emotional and psychological well-being. On the contrary, a substantial increase in psycho-social disorders of children has taken place in most developed countries over the past half century, including suicide and para-suicide, self-injurious behaviour, conduct and eating disorders and depression. (Smith and Rutter 1995; Slap 2001). Even countries with such widely admired social welfare systems as Sweden have not escaped these trends (Nordberg 1994, cited in Werner and Johnson 1999). The dilemma for child care services can be illustrated by the recent rise in the numbers of accidental drownings of children, a trend that has been associated with the overprotection of children by parents, and the corresponding failure of children to be offered sufficient opportunities to learn the management of risk.
Over-protection may reduce morbidity, but a hidden price may be paid by children in industrialised countries 'whose lives and childhoods are being newly circumscribed by unprecedented levels of parental concern' (UNICEF 2001:21). The importance of identifying protective as well as risk factors is recognised in the Department of Health Framework for the Assessment of Children in Need and their Families (2000), which contains a very helpful summary of key resilience promoting factors and their implications for the assessment process (paragraphs 1.14 to 1.18, available on line at: www.wales.gov.uk/subichildren/content/practiceguide/section 1-14-e.htm).
We thus have a worrying situation where children are seemingly being affected by an absolute increase in many serious problem areas, accompanied by an apparent weakening in their capacity for natural resistance. The promotion of resilience may be an important strategy in attempting to reverse this trend, through placing more emphasis on factors that promote well-being, and not just on the identification and elimination of risk (Rayner and Montague 2000).
A definition of Resilience
A resilient child can resist adversity, cope with uncertainty and recover more successfully from traumatic events or episodes. There are many adversities which children may face, including the death of a parent, sibling or other close family member, divorce or the separation of parents, moving home, abuse, illness of parent or sibling, homelessness, accidents and poverty. Three different kinds of resilience are often described (Masten et al. 1990). The first type is represented by children who do not succumb to adversities, in spite of their high risk status, for example low birth weight babies. The second type concerns children who develop coping strategies in situations of chronic stress, such as children of drug using or alcoholic parents. Thirdly, children who have suffered extreme trauma, for example through disasters, sudden loss of a close relative or abuse, and who have recovered and prospered may be described as resilient (Gibson 1998). It is important to stress that no child is, or can be rendered, invulnerable to emotional or physiological stress. Where adversities are continuous and extreme, and not moderated by factors external to the child, resilience will be very rare (Cicchetti and Rogosch 1997; Runyan et al. 1998).
Why we need resilience and how it can be developed
Having said all of this it becomes increasingly apparent that a balance needs to be struck so that children, even though protected from today's societies risks of abuse and harm are also enabled to develop resilience. Primary schools are in a very good position to not only encourage this within children and offer challenging experiences to develop this, but could also use this knowledge to support and help parents to understand more deeply that resilience in their children is just as important for a well-developed and well-rounded young person/adult as safety and protection are.
In order to develop resilience in children we need to encourage their independence e.g. go to the toilet and wash their hands themselves, challenge children more e.g. set practical and challenging problem solving activities for children to carry out in groups, encourage healthy competition e.g. school sports day/sports academies/writing competitions, with rewards and certificates/medals for winner-3rd runner up. As these children mature they will be better adapted to facing disappointment at a job interview for example or better equipped to live an independent life whilst at university. 6:3 Explain the importance of working with children and young people to ensure they have strategies to protect themselves and make their own decisions about safety: All children have a right to be safe and feel protected. The UN Convention on the Rights of the Child sets out the rights of all children to be treated equally and fairly. It is the responsibility of the adults around children to ensure their protection.
However, as children grow, develop and mature they become more independent and want to do things for themselves. It is therefore important that we help children develop the skills and tools to develop strategies to protect themselves and make their own decisions in order to keep themselves safe from potential harm i.e. bullying. Bullying prevention skills can protect kids from most bullying, increase their confidence, and help them to develop positive peer relationships. Here are some strategies that both parents/carers and teaching staff can teach children to aid them to make their own decisions about their safety:- Walking with Awareness, Calm, Respect, and Confidence
Children/young people are less likely to be picked on if they walk and sit with awareness, calm, respect, and confidence. Projecting a positive, assertive attitude means keeping one's head up, back straight, walking briskly, looking around, having a peaceful face and body, and moving away from other children who might play too roughly/cause trouble. Show your child the difference between being passive, aggressive, and assertive in body language, tone of voice and choice of words. Have your child walk across the floor, coaching her or him to be successful, by saying for example; "That's great!" "Now take bigger steps", "Look around you" "Straighten your back." etc. Leaving in a Powerful, Positive Way
The best self-defense tactic is called "target denial," which means "don't be there." Act out a scenario where maybe your child is walking in the school corridor (or any other place where they may be bullied). You can pretend to be a bully standing by the wall saying mean things. Ask your child what these mean things might be because what is considered insulting or upsetting is different for different people, times, and places. Coach your child to veer around the bully in order to move out of reach. Remind your child to leave with awareness, calm and confidence, glancing back to see where the bully is. Let your child practice saying something neutral in a normal tone of voice like "See you later!" or "Have a nice day!" while calmly and confidently moving away. Point out that stepping out of line or changing seats is often the safest choice.
Setting a Boundary
If a bully is following or threatening your child in a situation where they cannot just leave, your child needs to be able to set a clear boundary. Pretend to poke your child in the back (do this very gently; the idea is not to be hurtful). Coach your child to turn, stand up tall, put their hands up in front of the body like a fence, palms out and open, and say "Stop!". Coach your child to have a calm but clear voice and polite firm words- not whiney and not aggressive. Show how to do it and praise your child for trying -even though they may not get it right to begin with. Realise that this might be very hard and triggering for your child (and maybe for you too). Children need support to learn these skills. The idea is that the child takes charge of their space by moving away and, if need be, setting boundaries as soon as a problem is about to start – so that your child doesn't wait until the bullying is already happening. Using Your Voice
If the child does get into a situation where somebody is trying to push or hit them, you could practice by holding your child gently and acting as if you are going to do the action, but gently. Coach your child to pull away and yell NO! Really loudly. Coach them to say "STOP! I don't like that!" Coach the child to look the bully in the eyes and speak in a firm voice with both hands up and in front like a fence. Teach the child to leave and go to an adult for help. Protecting Your Feelings from Name-Calling
Schools, youth groups/clubs, and families should create harassment-free zones just as workplaces should. However, you can teach children how to protect themselves from insults. Tell the child that saying something mean back makes the problem bigger, not better. One way to take the power out of hurting words by is saying them out loud and imagining throwing them away. Doing this physically and out loud at home will help a child to do this in their imagination at school. Help the child practice throwing the mean things that other people are saying into a bin. Have the child then say something positive out loud to themselves to take in. For example, if someone says, "I don't like you", you can throw those words away and say, "I like myself." If someone says, "You are stupid" you can throw those words away and say, "I'm clever." If someone says, "I don't want to play with you" then you can throw those words away and say, "I will find another friend."
Speaking Up for Inclusion
Being left out is a major form of bullying. Exclusion should be clearly against the rules at school. A child can practice persisting in asking to join a game. Pretend to be a bully who wants to exclude.
Have the child walk up and say, "Please can I play." Coach the child to sound and look positive and friendly, not whiny or aggressive. Ask the child the reasons that other children give for excluding them from play. Use those reasons so the child can practice persisting. For example, if the reason is, "You're not good enough," your child can practice saying "I'll get better if I practice!" If the reason is, "There are too many already," your child might practice saying, "There's always room for one more." If the reason is, "You cheated last time," your child might practice saying, "I did not understand the rules. Let's make sure we agree on the rules this time." Being Persistent in Getting Help
Children who are being bullied need to be able to tell teachers, parents, and other adults in charge what is happening in the moment clearly and calmly and persistently even if these adults are very distracted or rude – and even if asking for help has not worked before. Learning how to have polite firm words, body language and tone of voice even under pressure and to not give up when asking for help is a life-long skill. We have found that practice is helpful for both children and adults in learning how to persist and get help when you need it. Here is one you can do with a child. Pretend to be a teacher or someone else who the child might expect help and support from. Tell the child who you are pretending to be and where you might be at school. Have the child start saying in a clear calm voice, "Excuse me X is bullying me." You pretend to be busy and just ignore the child! Coach them to keep going and say: "Excuse me; I really need your help." Act irritated and impatient and say, "Yes. What is it now?" and keep being busy.
Coach the child to say something specific like, "The girls over there are calling me names and not letting me play with them. I have told them I don't like being called names and that I want to play but they won't listen". Or "Those boys keep coming up and pushing me. I have tried to stay away from them but they keep coming up to me and won't leave me alone." At school, teachers want children to try to solve their problems first. However, adult intervention is needed if this does not work. You say: "That's nice!" as if you heard but did not actually listen. This is very common for busy adults. Coach your child to touch your arm and keep going "Please, listen to me this is important". Now you get irritated and say "Can't you see I'm busy!?" Tell the child that sometimes adults get angry and don't understand but not to give up in asking for help and to say the specific problem again: "Some girls are being horrible to me" You minimise and say: "What's the big deal? Just stay away from them."
Coach the child to be persistent and say again, "this is making me feel really unhappy and I don't want to come to school anymore. Please, I really need you to listen." Now change your demeanor so that the child can see you are listening and understanding and say "Oh! I am sorry I shouted at you and I am glad you are telling me. Tell me more and we will figure out what to do." Remind the child that, if the adult still does not listen, it is not their fault, but to keep asking until someone does something to fix the problem. Tell the child to please always tell you whenever they have a problem with anyone anywhere anytime. Ultimately, it is the responsibility of adults to create safe environments for the children in their lives and to be good role-models for our children by acting as their advocates in powerful respectful ways. Using Physical Self-Defense as a Last Resort
Children need to know when they have the right to hurt someone to stop that person from hurting them. We should teach our children that fighting is a last resort – when you are about to be harmed and you cannot leave or get help. Learning physical self-defense helps most children become more confident, even if they never have to use these skills in a real-life situation. Just being more confident helps children to avoid being chosen as a victim most of the time. There are different self-defense techniques for bullying than for more dangerous situations — let the child practice a self-defense move like kicking someone in the shins, pinching someone's leg or upper arm, or hitting someone in the chest. You can practice in the air or by holding a sofa cushion. Consider sending your child to a Karate or Ju-Jitsu class, these are lessons which teach self-discipline along with self-defense and will enable a child to grow in confidence. 6:4 Explain ways for children and young people to make positive and informed choices that support their well being and safety: As well as encouraging a child's awareness of health and safety issues, we should also support their development by helping them to have a positive self-image.
Children need to have plenty of opportunities and encouragement as they grow up in order to develop their independence and learn about their likes and dislikes. Children should also be aware that they have a right to be safe and know what to do if they do not feel safe. If a teaching assistant is carrying out a planned activity with children which involves talking about the body, it is important to remember that children will have learnt different language form their parents and families to describe body parts, for example, boys often refer to their 'penis' as 'willy' or 'widgy'. However, the language that girls often learn when referring to their 'vagina' can be more unusual or obscure, for example, 'tuppence' or even 'flower'.
If a child chooses to confide in you as a teaching assistant and tell you something has happened to them, they may need time or additional help to use the right language or to draw a picture of what has happened. As part of our curriculum at St Matthew's Primary School we inform our children of organisations that exist to protect them, such as 'Kidscape' and the 'NSPCC'. This is carried out more thoroughly during our Anti-bullying week in November each year, although the subject of bullying is something which is covered regularly and also within PHSE. Help children critically evaluate media violence.
Children may learn aggressive behaviours by watching television and movies that glorify violence and by playing violent video games that reward violent behaviour. We can help children make positive and informed choices about their style of play when in the playground for example by helping children understand that media portrayals of violence are unrealistic and inappropriate. We can intervene when we see children imitating media violence in their play and social interactions. We can offer alternatives by encouraging large group activities and sports within the children's playtimes.
Provide opportunities for children to learn and practice the qualities and skills that can protect them from bullying. Children who are confident are less likely to tolerate bullying and more likely to have the courage and inner-strength to respond effectively. Children who are assertive know how to react to a bully in effective, non-aggressive ways, and they are less likely to be targeted by bullies in the first place. Children who know how to make and keep friends can rely on them for protection from bullying. Children who know how to solve problems constructively avoid responding aggressively to conflict. These types of children will have an overall sense of well-being. Develop strong connections with the children in your care.
Children are less likely to become bullies if they know it will displease an adult whom they respect and trust. Similarly, children are more likely to confide in an adult with whom they have a caring and trusting relationship. Children whom have these relationships with the close adults around them, including parents/carers, other family members and teaching staff at school are more likely to make positive choices in order to keep themselves safe. At St Matthew's Primary School we strongly believe that by in-building into our children to feel closely connected and responsible for one another then bullying is less likely to arise. We encourage all our children and the adults around them to appreciate diversity among their peers and to include, rather than exclude, children because of their differences. Instead we celebrate our differences.
In conclusion: From reading the above booklet we at St Matthew's Primary School hope it has given you a better and more thorough outlook around the very real and very sensitive issues surrounding bullying. We believe that if we have positive relationships with our children and their families it will not only help prevent but also eradicate incidents of bullying. We are committed to the happiness of all our children and will work effectively to manage any issues of bullying quickly, sensitively and effectively. Thank you for taking the time to read this booklet, we hope it has been useful and will help you as a child/young person, parent or practitioner both now and in the future, should the issue of bullying ever arise for you, a friend, loved one or client.
Reference List:
Burnham,L and Baker,B (2010) Supporting: Teaching & Learning in Schools (Primary) Heinemann (Pearson). Electronic Sources:
www.torfaen.gov.uk/schoolsafeguarding
www.barnados.org.uk
www.resilnet.uiuc.edu
www.rip.org.uk
www.bernardvanleer.org
Related Topics