How Multi Agency Teams Work Together to Support Speech, Language and Communication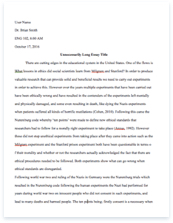 The whole doc is available only for registered users
Pages: 3
Word count: 532
Category: Work
A limited time offer! Get a custom sample essay written according to your requirements urgent 3h delivery guaranteed
Order Now
Multi-agency working brings together practitioners from different sectors and professions, to provide an integrated way of working to support children, young people and families. It is a way of working that ensures children and young people who need additional support have exactly the right professionals around them. If a child needs support from a speech therapist, a social worker, teachers and health workers, then a team of those professionals will be set up (with consent of the child, young person and family) and will work together to improve their lives. Team members will share information and support one another so the child's needs are addressed efficiently and effectively. In some circumstances, the multi-agency team works together under one roof, in other cases they may operate virtually. In all groups, the practitioners will meet regularly to discuss the needs of the child or young person, to plan and deliver coordinated and targeted interventions. Multi-agency working could involve anyone whose job or voluntary work puts them in contact with children, young people and their families.
It is likely to include people from professional backgrounds including social work, health, education, early years, youth work, and police and youth justice. It may also involve people from the third or private sectors. Because the needs of children and young peoples can be very different, the composition of a multi-agency team will differ from case to case. What is important is that each person brings with them their own specialist skills, expertise and insight so that the child or young person gets the best support possible. A child with a speech problem would probably be seen first by the health visitor at home who would then voice their concerns to a doctor, after being seen by a doctor, the doctor would give a medical diagnosis and if in their opinion the child needed more specialist help then they would refer the child to a specialist clinic for a more thorough diagnosis. Once the child had been diagnosed with a specific problem, then help could be arranged with other professionals, like speech therapists.
The child's school or nursery would need to be aware of the Childs specific problem and their specialist needs, this would be dealt with by the parent first but then the SENCO would need to arrange an assessment and once an individual learning plan had been drawn up and the class teacher and the Childs parents had all agreed with it, then the child would be introduced to what was going to happen and how everything was there to help them. Some children have therapy sections in school time and this would have to be co-ordinated with the school and the therapist to help the child cope as much as possible. All the agencies involved with the Childs care and education would have to make sure that everyone had all the relevant information about the child and about the Childs care plan, so that all agencies can tie in with each other to give the child the best overall care. By keeping each other informed and working together the child should be able to manage and cope with everything a lot better.
Related Topics