How Important Standards of Honesty Are in Writing a Piece of Work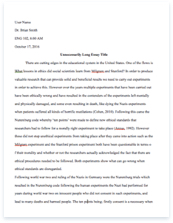 The whole doc is available only for registered users
A limited time offer! Get a custom sample essay written according to your requirements urgent 3h delivery guaranteed
Order Now
The use of information from a source or someone work without properly citing it (plagiarism) may seem innocent in the beginning, but in the long run could cause a lot of problems in one's path and career. Shortly after this happened to me I found out how wrong I was. Even at the university or college there are many life lessons to be learned.
Going through the code of ethics for engineers, I realized how important is to have an understanding of ethics in the field of engineering; this field that has a direct impact on people lives. The services that I will provide as a future engineer require high standards of honesty and integrity with employers or clients, and also it is very important to do the right things and take the right decisions as an engineer; because sometimes recalling the product might not solve the error or might be too late, a small error in a product or taking a wrong decision can cause serious consequences in many cases (financial failures, injuries and might also cause deaths).
When going into the engineering field, professional engineers must ensure that they use wisely and faithfully the knowledge that is relevant to the engineering skills needed in their work in the service of others so we should perform services only in the areas of our competence because the company needs to ensure that their operations are ethical to the society or the surrounding.
the highest standards of honesty and integrity is also one of the main obligations listed in the code of ethics for engineers, this state that engineers must adopt honesty by advising their clients or employers when they believe a project will not be successful. And they need to treat all persons with dignity, respect, fairness and without discrimination.
Code of ethics and the student code of conduct exist for the same reason; both of them are here to promote an honorable conduct on the part of the students and engineers.
Academic integrity is very important to me; it gives me the best chance of success, after going through this I realized that as hard as I thought mechanical engineering major is, the real world can be tougher. And if I do not learn how to learn while I'm here at UTSA, I'm not going to do very well in my career ,because the years I spent here at the college of engineering will set the foundation of my professional knowledge.
Visiting the career center was such a learning process that I will forever be grateful for, after my meeting with the counselor I can say that i successfully turns this whole thing into a good experience and did learn a lot from it .Michael was very helpful from the start to the end , he helped me develop a plan for searching internships , prepare documentation and how to execute them. Mike overwhelm me with things and websites and ways on how to apply and look for internships which was the main thing that we focused on during the 45 minutes meeting ; he walked me through some posted internships and fully explained to me how and what to look for . I also had my resume reviewed by the counselor who add a lot of stuff to it and give me tips on how to show that I have experience if I don't have a direct experience. Also talked about scheduling another appointment to take a look to my resume draft after i make all the changes that he asked me.
At the end of our meeting the counselor gave me a handout of resources where I can look and explore internships opportunities and companies, and also told me about the other services that are provided by the campus career center.
Related Topics