How Can Managers Adopt Marketing Orientation Successful?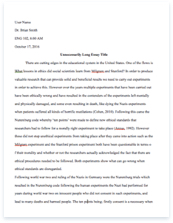 The whole doc is available only for registered users
A limited time offer! Get a custom sample essay written according to your requirements urgent 3h delivery guaranteed
Order Now
What is it and how can they fulfil it through their activities? How is the whole organisation involved in marketing?
Managers should be able to adopt marketing orientation successfully by assessing the market that they are in or considering entering. This is found out or assessed by carrying out market research and targeting all areas, whether you think the consumers are too young or too old. The more committed an organisation is to its marketing activities, the more able it will be to pursue its corporate objectives and develop in retaining its customers. The function that keeps each business running of course, is its customers, so in order for it to attain this level, it must try and insure it meets the customers needs. This is by taking into account the customers relationship and the communication that should be in place between organisation and the consumer. Another is sensitivity to consumer issues. Where there are extrinsic and intrinsic forces affecting the company, shareholders have to be kept happy but also and importantly the consumer otherwise a boycott on the use of the companies products may occur. Last of all is mass customisation where it involves taking into account the needs of each customer personally.
With marketing orientation, its best asset is that rather than production process being the main target, its actually the needs of the customer. It has been identified that there are three major benefits:-
* It identifies the difference between customer needs and the ability to satisfy such needs.
* It uses marketing to coordinate, organise and link production decisions with market needs and production.
* It places an onus on businesses to meet customer needs successfully if they wish to remain competitive.
(Business for Higher Awards, pg 7).
Describe the managerial function of planning, explaining what it is, and why managers should do it. What are common barriers to planning, and how could a manager reduce them?
The purpose of planning is so that the organisation is moving in the direction it wants to go. If the company fails to decide on the planning of the company and its direction, then the outcome will simply be disastrous. Staff and managers will be doing the entire wrong thing and this will as mentioned before, be pushing the company in the wrong direction. Planning is used to also ensure the future is taken into account, so that the organisation can control the situation it finds itself in, as far as possible and prepare for unexpected eventualities. Planning can be carried at various times, and most companies tend to do this on a daily basis. This is so that if any problems arise throughout the day, it can then be sorted out without any fuss. With the market forever changing, the need for a company's product can be forever changing and if this is to arise then the company must have contingency plans in place. When in charge of the company or in the position as financial director, it's his/her role to plan for changes that may occur within the British economy and so make the relevant decisions. As the above statement points out planning is a major responsibility that's needs to be carried out by all businesses and companies.
Why is knowledge of motivational theory useful to a manager?
Motivation is a key factor to a manager attaining the best out of his work force. There are many forms of rewards that can be offered by the company as a way of motivating its employees. This can be anything from days off in lieu to financial gains of commission. There can also be the use of positive criticism where the manager talks to the employee on a one to one basis.
Every employee is motivated to some degree and it would be pointless to say they weren't. This is simply because every employee has their own aims and put all their effort into achieving these. With this type of showing, it often puzzles managers as to why they don't follow what is directly asked of them. More often or not, the reason for this is all because the task being asked of them is not broken down or not explained that clearly. Another possible reason is that the employees are less likely to carry out what has been asked because of their career aims or the direction of the company is not what they perceive as matching their ambitions. With this, the manager must adjust his ideas on what motivates the company's employees and implement those ideas as soon as possible.
Discuss the benefits of wide and narrow spans of control, say which you believe is most effective and why. Distinguish between power and authority; explain whether all managers have power an all managers have authority.
The term span of control refers to the amount of employees that are directly supervised by one person. Within the term span of control there are two types, which are tall and flat otherwise known as narrow and wide spans of control. Where the levels of authority are deemed to be high then this is classed as being tall/narrow structure, where as where there are broader spans and fewer levels, this is classed as being a flat/wide structure.
Its been suggested that fewer levels, tend to improve decision making, morale and communication. However, this can cause problems where the possibilities of promotion become reduced. This in time will limit opportunities for possible future managers who may look for employment else wear to suit their needs. If the span of control seems to be too wide, then the manager directly in charge, will be the one to suffer as if he's overworked, their staff will be unable to perform their expected duties effectively. Where as if the span of control is deemed to be too narrow then the management will have too much time to waste.
I believe that wide spans of control are better in the long term because although the manager will spend little time with his staff, the employees will receive thorough job training, effective interaction between superior and subordinate and also effective meetings
Within the role as a manager, there is a certain degree of power that is handed to them so they have the choice as to they wish to employ for the company, however a manager can be given authority, which would have been handed down. This order would have come from a higher position above him, such as a managing director.
5. Explain why communication is such an important part of a manager's role? Give details and support your discussion with research and/ or theory. Discuss the concepts of upward, downward and horizontal communication flows and their use by the organisation.
This is regarded as being the passing on of ideas and information on possibly how the company can be improved, whilst importantly making sure these channels of communication are kept clean and clear. There are a number of forms in which communication can be passed on and this can be in the form of speech, writing, data communications, actions and gestures. With communication having the most time spent on it by managers and administrators, then the building and developing of communication skills must be viewed as a vital managerial requirement.
When placed in the position of manager, it's clear to understand that the company has to go in a direction in order for it to become successful. Here again, it shows how important communication is filtered in a way that all is understood and carried out successfully.
The term upward and downward communication is simply explained for example as a system where information is passed via email in an upwards and downwards motion which in effect cuts out the middle man but also the time. Also the term horizontal communication is similar but the workforce has an input where they can suggest their area of work can be improved.
Related Topics