How Advertising Influences Our Society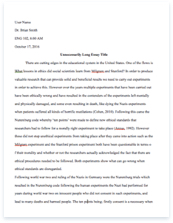 The whole doc is available only for registered users
A limited time offer! Get a custom sample essay written according to your requirements urgent 3h delivery guaranteed
Order Now
How does one know about a product or a service? The answer to that question would be Advertising. Many people are greatly influenced by advertising, whether it would be a billboard or word on the street about an item. Advertising is a form of communication from the producer or manufacturers of the product to the consumer or buyers of the product. Usually the consumers or buyers rely greatly on advertising to tell them about the products or services. Many people are influenced by advertising. Our society is influenced by advertising greatly, whether it would be by the products, food, or services that are being advertised.
The advertisement of products greatly influence our society. Anything one can imagine is advertised. Our society looks at the advertisement of products as a good thing. There are many products that are advertised and reach a variety of different people in our socity. Many of the advertisements have to do with weight loss items, whether it would be the pills, low calorie food, or workout machines. Our society is great influenced by these items. Some people think that if you buy these items and use it, it will work instantly. But the reality of it is that it takes time to lose weight and you need to be patient. Advertisement today tells people the facts but, in fine print and not everybody reads the fine print. Many people see weight loss advertisements as not relevant because some of the times on the before shot picture they show a perfectly healthy person that weighs what he/she is suppose to weigh.
But the after shot is skinnier and most muscular camera to the before shot. S advertisement today is making normal people look like they are fat and need to lose weight. But in reality, they really do not need to lose weight. It is just the advertising that tells you that you need to lose weight. Another product that is seen often in advertisements would be makeup. One often relates makeup to females most of the time. Usually the makeup advertisements are very realistic on how the makeup will look. But the advertisers put the makeup on wither beautiful superstars or a drop dead gorgeous model. Much of the female section of our society is greatly influenced by these other higher up girls. Some girls think that if the model looks good with it on then they will too. That is how our society is influenced by advertising through products.
To go along with the advertisements of products, there would also be the advertisement of food and the competitiveness of advertising. Many fast food restaurants or just restaurants in general like to compare with other restaurants and make the other restaurants look bad. An example of this would be in their commercial how Quiznos show their bus bigger than a Subway sub, so they make Subway look bad so that the consumers will be influenced to eat the bigger sub. The competition is very influential in our society today. Another example of the competitiveness of advertising would be how in the commercials, Charmin shows their toilet paper as more durable and longer than other brands of toilet paper. This makes the consumers want to buy the Charmin toilet paper over the other brand of toilet papers. These types of advertising are very influential to society, as well as the advertisement of food in general. The advertisements make the food look so appealing but when you get them and eat the food, it really does not look like the picture. Advertisements also can make food appear larger in a picture or even prettier in a picture. Than when you eat the food, it is smaller and not what one thought it to look like. Many times pictures can be deceiving in advertisements.
Other things can be deceiving as well in advertisements especially in the many services that are provided. An example of this would be cell phone advertisements. Many of the cell phone companies are out to make money by putting extra fees in the fine print. A company might advertise that you get a free phone but you have to start a new two year contract and they are many start up fees. Many people are influenced by this. Just because of the fact that it says free does not mean that it is going to be free. There is usually a catch to the "free" item. Also in many services that are provided to our society, there is a "buy one item and then get one item for free". Our society likes those types of deals because they are getting two items for the price of one, which saves money and of course we love to save money. That is just a couple of examples of how our society is influenced by advertisements especially through serves that are provided.
Advertising is a big thing in our society today. It is a way of communicating what there is to offer and what products you might purchase or consume. It is also rather influential to every body in our society. Many things in this world are very influential, advertising just happens to be one of them.
Related Topics