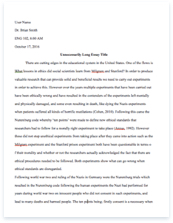 The whole doc is available only for registered users
Pages: 6
Word count: 1320
Category: Abuse
A limited time offer! Get a custom sample essay written according to your requirements urgent 3h delivery guaranteed
Order Now
Define the following types of abuse
(a) Physical abuse – This is the deliberate use of physical force that results in bodily injury, pain or impairment (b) Sexual abuse – this is direct or indirect involvement in sexual activity without valid consent (c) Emotional / psychological abuse – this is any action by another that damages an individuals mental wellbeing. It includes the denial of basic human rights (d) Financial abuse – this is the theft or misuse of an individuals money or personal possessions to the advantage of another person (e) Institutional abuse – this is the mistreatment or abuse of an individual by a regime or people within an institution (f) Self neglect – this is where an individual fails to adequately care for themselves and meet their own basic needs (g) Neglect by others – this is the deliberate or unintentional failure to meet an individuals basic needs
Identify the signs and / or symptoms associated with each type of abuse listed above (a) Physical abuse – burns, scalds, broken bones, black eyes (b) Sexual abuse – injury of the genital area, fear of physical contact, torn clothes, depression (c) Emotional / psychological abuse – changes in appetite, depression, low self-esteem, lack of self confidence (d) Financial abuse – sudden inability to pay bills, no food in the house, missing money (e) Institutional abuse – lack of choices offered, rigid routines, activities arranged for the convenience of staff and the organisation (f) Self neglect – neglecting personal hygiene, not eating, self-harm (g) neglect by others – denial of access to health or social care, withholding of food as punishment
Describe factors that may contribute to an individual being more vulnerable to abuse Individuals are more vulnerable to abuse if they are frail, isolated, have a mental illness like dementia or problems communicating. These factors can allow care workers to take advantage of them. Other factors include if the care worker is over worked, lack of training and supervision, these factors can lead the care worker to abuse the service user knowingly or unknowingly.
Explain the actions to take if there are suspicions that an individual is being abused If I suspect that an individual is being abused, I make sure that I report my suspicions to my manager and follow agreed procedures. I would also seek advice about what my role is if necessary and maintain confidentiality at all times.
Explain the actions to take if an individual alleges that they are being abused If an individual makes an allegation of abuse as a care worker, it is my duty of care to take them seriously. I ensure that I follow agreed procedures for disclosure, I ensure that I remain calm and not shocked or angry at who the alleged abuser might be. Respect the persons wishes, I would offer them the opportunity to talk to a more senior colleague and record what I have been told accurately.
Identify ways to ensure that evidence of abuse is preserved
Ways to ensure that evidence of abuse is preserved is that I do not move or remove anything, I do not touch anything unless I have to make the person safe, I do not clean or tidy up. I make sure that I record any visible signs of abuse or injuries and the condition of the person involved.
Identify national policies and local systems that relate to safeguarding and protection from abuse These include
•the Human Rights Act 1998
•Mental Capacity Act 2005
•Safeguarding Vulnerable Groups Act 2006
•organisational Safeguarding Policy
Explain the roles of different agencies in safeguarding and protecting individuals from abuse •Social care service – this agency has responsibilities to ensure action is taken to keep individuals safe, they coordinate investigations and are represented at police interviews •Police – they investigate allegations of abuse if a crime is suspected, they gather evidence and protect people in vulnerable situations •Medical services – they provide immediate treatment if required and undertake medical examinations if required
Identify reports into serious failures to protect individuals from abuse •CQC publishes critical report of Castlebeck abuse failings – The Care Quality Commission published its findings following an inspection of Care Homes owned by Castlebeck Care Ltd. The report came after the BBC's Panorama filmed patients being pinned down, slapped, doused in cold water and repeatedly taunted and teased despite warnings by a whistleblower who was a member of staff. After considering a range of evidence, CQC inspectors found Castlebeck Care had failed to ensure that people living at Winterbourne View were adequately protected from risk, including the risks of unsafe practices by its own staff. •Report reveals appalling failures that led to Baby P's brutal death – Baby P was failed by police, social workers and lawyers. The toddler had 60 visits from agencies over 8 months. The death could have been prevented. Authorities didn't realise violent partner lived there. Social workers, doctors and police committed a catalogue of errors which led to the toddler's death at the hands of his mother and her sadistic boyfriend.
Identify sources of information and advice about own role in safeguarding and protecting individuals from abuse These sources of information include – the Care Quality Commission, organisational Safeguarding Policy and Procedure, GSCC Code of practice for social care workers, my job description, from supervision, from training programmes and from team meetings
Explain how the likelihood of abuse may be reduced by  (a) working with person centred values – person centred values such as individuality, rights, choice, privacy, independence, dignity, respect and partnership puts the individual at the centre of all activities. In so doing, it reduces the likelihood of abuse (b) encouraging active participation – active participation is a way of working that recognises an individuals right to participate in the activities and relationships of everyday life. As a care worker, it is my duty of care to empower the individual thereby reducing the likelihood of abuse (c) promoting choice and rights – in this way support is provided in such a way as to ensure the individual is actively involved in everything that happens. Decisions are based on the individuals expressed wants thus reducing the likelihood of abuse
Explain the importance of an accessible complaints procedure for reducing the likelihood of abuse An accessible complaints procedure should be written in plain English and available in different formats, it should be easily available, it should be displayed in the public area of the service and it should include a clear explanation as to how to use the procedures. Making the complaints procedure accessible to all encourages openness. It provided individuals vulnerable to abuse with a user friendly complaints procedure.
Describe unsafe practices that may affect the well being of individuals An unsafe practice is one that puts the individual or care worker at risk. Such practices include not following correct procedures, not undertaking proper risk assessment, not having the appropriate equipment to undertake a task, lack of appropriate staff training and lack of proper leadership and management. All these can affect the well being of an individual in a negative way.
Explain the actions to take if unsafe practices have been identified If I identify any unsafe practice, I should as much as possible make the situation safe e.g. put up a hazard sign, I should report the situation to the manager verbally and in writing and if necessary ensure that other staff members are aware e.g. if an equipment is faulty.
Describe the action to take if suspected abuse or unsafe practices have been reported but nothing has been done in response Whenever there is an unsafe practice or suspected abuse I make sure that I report and record it. If I later find out that nothing has been done to rectify the situation, would initially follow organisational procedures or contact the Care Quality Commission.
Related Topics