Health Service Strategic Marketing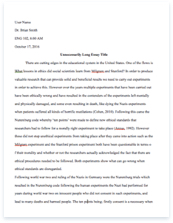 The whole doc is available only for registered users
A limited time offer! Get a custom sample essay written according to your requirements urgent 3h delivery guaranteed
Order Now
In the case of study "Missed Opportunity" there is a character by the name of Susan Daniels. Ms. Davis is the top marketing officer of Briarwood Medical Center, there she is trying to secure to billboards located on the premises. This is a prize location because the billboards panels are located on the main traffic strip. The panels will provide countless opportunities to market the medical center and an excellent investment. Briarwood Medical Center was entangled in a endless battle for the market share against a skilled competitor Crestview Hospital, thus making every opportunity to win patients crucial. This is an opportunity Susan feels that they cannot afford to miss. But her request is rejected by the institution chief executive officer, leading to them to lose the billboards to their competitor Crestview Hospital. The Billboard Pros and Cons
Crestview Hospital is very similar to Briarwood Medical Center is many ways. Crestview Hospital is a 475 bed facility providing general medical and surgical services. Crestview knew in order to separate themselves from their competitors that had to make a mayor move before there competitor did. Buying the billboards adjacent to their competitors Briarwood Medical Center was very good strategic move. With every decision you will have your pros and cons. I will show you what I believe is the positive and negative outcome of this decision along with the reaction of customers and other community stakeholders to the billboard postings. Billboard Pros
Crestview Hospital saw the opportunity to capitalize on a perfect opportunity for their organizations. Not only did us the emphasis to beat out there competitor to purchase not one, but two billboards they did it in a perfect location. This is a very heavy traffic area where all perspective clients have to opportunity to see. Every client that enters and exits the Briarwood Medical Center will have a chance to view both billboards with the consideration of did they choose the right facility to provide them with the proper healthcare. The question will arise because of an excellent marketing strategy used by Crestview Hospital. Both billboards use the tag line in the ads The Best Medical Care in Oakland. This will raise the concerns of patients of their competitors and trying to make sure they are choosing the right health care provider. This was a move that needed to be done to overcome their competition and to take a major step show consumers who is the best healthcare provider in the city. Billboard Cons
Crestview Hospital has to know that pulling a stunt like this against competitors there are consequences. The billboard I believe was a great investment, but can they afford to invest the six month $30,000.00 contract fee. Crestview Hospital has less than 75 beds than their competitor Briarwood Medical Center. Although their competitor has more beds, they felt as if they couldn't afford to pay the rental fee. Crestview Hospital will be put in the predicament to try to replace the income they are losing in advertisement due to the billboards. Crestview Hospital is a for- profit healthcare provider, and if they feel the financial income pressure they will result in charging their consumers more to overcome the financial lost. The purpose for these billboards was to gain more consumers to the facility. This will not be an easy task because their competitors will provide consumers why they shouldn't invest or partake in a for profit healthcare facility. When it comes to healthcare the cost is very important and is taken into consideration when choosing a healthcare provider. Billboard Reactions
When it comes to the reactions of the customers and other community stakeholders to the billboard it varies. For the customers' reactions, the case study states that the Briarwood Medical Center collects 42% of new patients through advertisement in the Oakland area. With Crestview Hospital taking a key marketing asset away from their competitor it put them in a good position to take away consumers and gain future consumers as well. The patients that do not have a relationship with any medical provider look to advertising, among other things, as they go about making their patronage decisions.
The stakeholders for the Briarwood Medical Center were very upset with the fact that the company did not capitalize on the opportunity that was given to them. Briarwood Medical Center initially struggled in marketing previously losing market share for a decade. Due to the poor results it led Briarwood Medical Center governing board to appoint a new management team. Susan one on the new members they brought aboard to change things, and result the fortunes of the institution improved thereafter. To hear that this opportunity was missed stakeholders did not appreciate to hear the bad news. At this point of time there healthcare industry cannot afford to miss out on huge marketing opportunities such as the billboards; in which they did. Briarwood Medical Center Counter
Briarwood Medical Center back is against the wall when it comes to the marketing of their healthcare facility. With these billboards promoting their competitors on within footsteps of their property, it seems as if there promoting people to change providers. The goal is to maintain their current consumers and make sure they do not feel the need to experiment with their competitors Crestview Hospital. One method to make sure their client doesn't have a change a heart is using brand loyalty. "From both theoretical and practical perspectives, it is important to identify additional factors that may promote identification with consumers as ad creators and prevent a skeptical mind-set during exposure to consumer-generated ads" (Thompson, D. 2013).
People are loyal to this hospital and understand the commitment it has to its community. Susan should consider that and make sure the people of Briarwood Medical Center do not forget how this non-profit organization is not money hungry for profit healthcare facility. They were ranked number one as the top healthcare provider in the area. People should be informed of the false advertisement that was given by their competitors. This should be brought to consumers' attention very quickly. The first thing Briarwood Medical Center should do is to make sure they take care of everything in-house first before branching out to different marketing ideas to counter their competitors. They cannot afford to lose any consumers at this time. Marketing Communication Strategies
Along with using billboards Crestview and Briarwood Medical Center should also consider using radio stations and mobile devices (cell phones) to reach out to their clients. Since there the only two mayor hospital in Oakland it is important to stay connected to their consumers at all times with important healthcare information. In the article connecting patients to improve population and public health, it states that "using wireless mobile communication technology to aid health services delivery (m-health) is a rapidly emerging concept around the world; last year, the number of cell phone subscriptions surpassed 5 billion worldwide" (Huang, E 2013). Crestview and Briarwood Medical Center should have also use the method of marketing through social media. In the article entitled "Opportunities and Risks of the use of Social Media in Healthcare," is gives you the pro and cons of marketing using social media.
The article states that "hospitals have to develop effective communication processes, fostering clinic‐patient relationships, implementing and exchanging information; responding to patients' emotions; managing uncertainty; making decisions; and enabling patient self‐management; social networks (Facebook in particular) represent a useful communication instrument so that the health organizations may be more and more orientated towards the patient" (Gravili 2013). In these messages sent through social media there could be links to articles and a website to help support their excellence service. These methods are a lot cheaper and doesn't cost them annual fee to keep up. Governing Board
The Governing Board of both hospitals should take a proactive role in promoting and implementing effective marketing strategies. This is important in both cases. When it comes to the Briarwood Medical Center the Governing Board would have recommended purchasing marketing material for both billboards. This would have been a great investment for the healthcare facility to help promote their services. Since this was not given to them for the initial review they lost out on the opportunity to capitalize on the billboards. Susan there Chief Marketing Officer should have brought the idea to their attention. She instead went to her adviser to approve the marketing on the billboards but he decline. This would've probably been prevented if the Governing Board was involved.
Crestview Hospital Governing Board I believe made a very bold and confident decision to spend money to advertise on the billboards. They knew that they had to capitalize on the opportunity before their competitors did. The only concern is the money that being spent to keep the marketing on the billboards. With the expensive cost they must have felt that this was an investment they had to do and in return they will benefit from it. Value of Various Marketing
It's important that Crestview and Briarwood Medical Center use various marketing communication strategies. With every communication use you can connect with different age groups. This is important to delivery messages to consumers across your local network. Social Media, Newspaper, TV Commercials, Billboards and including mailers can help health care providers like Crestview and Briarwood Medical Center keep in touch with prudential and current consumers. If you don't not advertise you brand then the consumers will not be aware of your existence. With the federal laws passing such as the Affordable Care Act, it is very important to always stay connected with consumers.
References
Gravili, Ginevra. (2013) Proceedings of the European Conference on Information Management & Evaluation. p41-50. 10p.
Huang, E., & Dunbar, C. (2013). Connecting to patients via social media: A hype or a reality? Journal of Medical Marketing: Device, Diagnostic and Pharmaceutical Marketing. Thompson, D. & Malaviya, P. (2013). Consumer-generated ads: Does awareness of advertising co-creation help or hurt persuasion? Journal of Marketing, 77(3), 33-47.
Related Topics