Health Care Policy, Law, and Ethics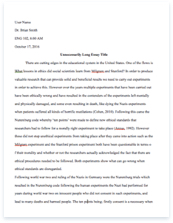 The whole doc is available only for registered users
A limited time offer! Get a custom sample essay written according to your requirements urgent 3h delivery guaranteed
Order Now
You are the manager of the Cancer Center in a small suburban hospital. For the past two weeks you have worked closely with your nursing staff because they have been expressing "Burn Out" (frustration, dissatisfaction, or lack of interest in a job) as a result of the increase in the number of patients coming to the center who were diagnosed with terminal cancer. Nancy Nurse confided in you that she is particularly saddened about the rapid decline in Mrs. Jones' health, a 30 year old single mother. She decided that the next time Mrs. Jones comes in for her treatment; she is going to give her an extra dose of a narcotic that could potential end her life. 1. Explain how the patient Bill of Rights applies to this case. The patient bill of rights applies to the case in the patients' "right to be given by his healthcare providers information concerning diagnosis, planned course of treatment, alternatives, risks and prognosis (Showalter 2008)." It seemed that Nurse Nancy was going to administer the extra dose of a narcotic without Mrs. Jones even knowing it. The scenario does not state that Mrs. Jones was going to be aware of the extra dose that could potentially end her life.
This would mean that Mrs. Jones' patient bill of rights was violated because she was not informed on the planned course of treatment being doubled which could result in the end of her life. Another patient bill of rights that applies to this case is "the right to refuse treatment, except as otherwise provided by law (http://www.aha.org/default.html)." This right is being violated because Mrs. Jones is not aware of the intended treatment from the nurse because she has not been informed about it thus she does not have to opportunity to refuse treatment. Even though Mrs. Jones' health is deteriorating she is a single mother and I am sure that even though she may be in pain most of the time that she wants to spend all the time she has left with her children and would not want to end her life earlier than what it is meant to be. 2. Identify and explain at least three ethical considerations. The first ethical consideration is that Nurse Nancy is committing murder. The scenario does not state that Mrs. Jones asked to be injected with something to help end her suffering. It seems that Nurse Nancy has decided for herself that she was going to help end Mrs. Jones' suffering by her own choice because she is saddened by her situation. The second ethical consideration is from my stand point as the centers' manager.
We as healthcare providers do not have the right to play GOD. Even if Mrs. Jones did ask for help in ending her suffering, healthcare providers under no circumstances are to assist in a patient's suicide attempt. "For example, an 85-year-old resident of a nursing home was suffering from multiple ailments and deterioration health. Although the resident, a former college president, did not have a terminal illness, he was very discouraged about his future and decided to hasten his death by fasting. A court found that the man was competent and had the right to refuse food and that the nursing home was neither obligated nor authorized to force-feed him. The man was permitted to die of starvation (Showalter 2008)." In this case the courts made the decision for the man to commit suicide via starvation; in no way did any of the healthcare staff take part by assisting in his suicide. Another ethical consideration is the fact the Nurse Nancy took it upon herself to make the decision to potentially kill Mrs. Jones instead of seeking advice from her superior. It is unethical to make medical decisions about someone's life without taking the opinion of other qualified professionals into consideration.
The fact that Nurse Nancy is just that, a nurse, and not a physician causes the situation to prove to be even more of an ethical consideration. On top of that, "Today, specialists in palliative care believe that if all patients had access to careful assessment and optimal symptom control and supportive care, the suffering of most patients with life-threatening illnesses could be reduced sufficiently to eliminate their desire for hastened death (http://endlink.lurie.northwestern.edu/eolc_introduction.cfm)." 3. Identify and explain at least three legal considerations. The main legal consideration is murder. Purposely and willingly giving a patient a substance for the sole purpose to end their life whether the patient has asked for this service or not is committing murder or assisted murder, this can cause legal issues for not only the nurse involved but the cancer center as well. The legal issues for Nurse Nancy could be endless she could face time in jail or her license being revoked. If the family finds out that Nurse Nancy intentionally gave Mrs. Jones a higher dose of the narcotic they could sue her and the cancer center for neglect. Another legal consideration is what the cancer will face is other people bringing up lawsuits claiming that the same thing was done to their family members.
Whether any of them are accurate claims or not; this type of thing can still cause thousands of dollars for the cancer center and a negative light. The hospital could lose countless dollars being tied up in litigation for weeks or even months as they go through the different claims. On top of that, the number of actual claims could drag out. It could be seven years from now and someone who was out of state comes across it and decides the same thing may have happened to their family member and they go to file a lawsuit. This could literally drag out for years, The third legal consideration in my opinion would be whether or not this statement Nurse Nancy has confided in me is grounds for termination. In my opinion while she may be going through "burn out" this in no way justifies her irrational decision to help faster end someone's life because she is saddened by her situation. Her lack of suitable judgment and irresponsible thoughts that could have led to actions is certainly grounds for termination.
Legally, I would need to go through human resources to see what needs to be done and whether or not she would have a lawsuit against the center, if she tried the claim the "burn out" and stress from work caused her irrational judgment, after being terminated. 4. Identify and explain at least three business considerations. First off, from a business stand point for me as the manager, I have an employee that is overworked and showing serious signs of misjudgment. I need to figure out what I need to do to get the employee morale higher so that my employees are working to their fullest potential and so that they are not so frustrated, dissatisfied, and still have a focused interest in their job. Since the number of patients being admitted has risen then it would more than likely be in my best interest to higher some temporary employees to help aid in patient care as will as the morale of my permanent employees, at least until the patient count stabilizes and my nurses are all following policy and procedure and are making logical decisions about patient care. Another business consideration is how the facility will be viewed by the community. They will more than likely lose patients because they now have a negative reputation.
If the center loses patients they lose funds and then there is always the possibility of shutting down. On top of that the state will be stricter on audits within the cancer center. No one will want their family members admitted there in fear they could be killed by overdose. This puts an extreme damper on the business aspect of the cancer center. In addition, the local news station will more than likely do a story on it that will add continued negative press that hurts the centers' business.
5. Explain what the manager should do in this situation and why. I feel that the best thing to do with Nurse Nancy would be to get her psychological help and put her on probation. I would explain the seriousness of what the outcome would be if she had of went through with her plans and that she would be terminated and not be eligible for rehire if she was ever found of such misconduct again. I would point out to her many of the issues discussed in this paper. She would have to sign a waiver. She would be wrote up on a final notice and called in weekly to go over things that were going on and how she handled them. This way she can be closely monitored for any worsening signs of "burn out" and it can be handled efficiently.
References
Showalter, J. S. (2008). The law of healthcare administration (5th ed.). Chicago: Health Administration Press. American Hospital Association: A Patient's Bill of Rights <http://www.aha.org/default.html> EndLink: Resource for End of Life Care Education. Physician-Assisted Suicide: Module 5 <http://endlink.lurie.northwestern.edu/eolc_introduction.cfm>
Related Topics