Health and Social Care Practice and Provision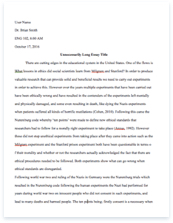 The whole doc is available only for registered users
Pages: 7
Word count: 1716
Category: Health
A limited time offer! Get a custom sample essay written according to your requirements urgent 3h delivery guaranteed
Order Now
In this piece of coursework I will select two demographic factors which have influenced the planning and provision of services. I will use written expression which uses appropriate specialist vocabulary to comprehensively describe how relevant demographic trends are used to assess local needs and inform the planning and provision of services.
I will then produce a comprehensive description of the planning of services and finally give a comprehensive explanation of the influence of national and local standards, targets and objectives on the planning and provision of services. Task sheet
A welfare state
William Beveridge proposed setting up a welfare state with social security, NHS, free education, council housing and full employment. After the war, the labour government tried to make this vision come true. The issues that needed to be tackled were want, disease, ignorance, squalor, idleness. Class notes
During my lifetime I have used many services that provide health and social care such as hospitals, nursery, doctors, playgroups, schools, health visitors, etc. We have all used some of these health care providers and found that the quality of life has improved as a result. Class notes
There are four sectors providing health and social care in the UK, public sector, voluntary sector, private sector, informal sector. For example an elderly person treated by the NHS in a hospital but at home she receives informal care from her family- informal and public. Class notes
Mixed economy of care
During the 1980s the Concervative government were faced with the problem of maintaining the NHS whilst keeping costs down. This was caused by three things happening at the same time: an aging population, the rising cost of new medical technology, and increasing public expectations of the NHS. Class notes
The government did not want to raise taxes therefore it turned to the idea of 'market forces'. Markets are all about buying and selling of goods and services. To have a market you need more than one seller so the buyer has a choice of who to buy from. To get the best value for our money we all shop around. Class notes
In relation to health and social care services the NHS was split into separate purchasers (buyers) and providers (sellers). For example G.P's become purchasers and hospitals become providers. Purchasers shop around for the best value health care for their patients. Also, instead of most services being provided by statutory services, the focus moved towards private and voluntary services. Class notes
This system appealed to Mrs Thatcher because it: created competition, created choice, cut costs and saved money. Class notes
The decision to split up the NHS into an internal market was one of the biggest and most radical in history. The scheme came into operation in 1991 and a similar approach is in operation today. Class notes
How democratic trends are used to assess local needs and plan for services
'Swansea is a vibrant place with some of the most beautiful natural surroundings in the country. Our aim is that the 229,100 people who live in Swansea will be supported to live longer, healthier lives'. Health, social care and well-being strategy 2011-2014
Swansea is a Unitary Authority located at the Western End of the former industrial region of South Wales and is the regional centre of South West Wales. It covers 378 square kilometres and is a mixture of coastal landscapes, open moor land, rural villages and a university city. Over 80% of Swansea is some form of green space. Swansea has a population of 229,100. The population has been gradually increasing since 2001, averaging increases of just over 800 people per annum. Health, social care and well-being strategy 2011-2014
Currently nearly one in five people are over 65 years in Swansea. The population is expected to age further as life expectancy increases. Many older people remain healthy, active and independent with little or no reliance on health and social care services. However increasing age is generally associated with increasing disability and loss of independance and functional impairments such as loss of mobility, sight and hearing, meaning that there are growing demands for health services and social care support. Health, social care and well-being strategy 2011-2014 Key Findings:
• A rise in the older population, 75 yrs and over, from 9% to 13% (29,000) of the total population is estimated by 2031 for Swansea, Neath and Port Talbot. • An increase in chronic conditions such as circulatory, respiratory diseases, cancers and in the economically and care dependent populations is therefore likely. • Over one third of households in Swansea contain at least one older person with 26% of households being occupied solely by older residents – this will undoubtedly have implications for future caring and service provision requirements. • Admissions for pedestrian injuries in 70-89 year old remain higher in those from the most compared to the least deprived areas as the gap remains unchanged. 30 • The crude hip fracture admissions rate in Swansea residents over 75 years has remained largely unchanged over the last decade with women being roughly double the rate of men. • There are differing rates of hospital utilisation in Swansea in residents aged under 75, with statistically significiantly high emergency admission in 18 of Swansea's 31 areas, but with a small proportion of areas with high rates of elective admission. Health, social care and well-being strategy 2011-2014
The life expectancy for males and females in Swansea is 73.7 years and 79.1 years respectively, this is below the Welsh levels at 75.8 and 80.3.
The European age standardised mortality rate (EASMR) for all causes of death for Swansea residents is 684.1 per 100,000 population. This is slightly lower than the Welsh average (688.5) however Wales is higher than both England (650.3) and Northern Ireland (675.8) and above the average for the UK (664.2). ' Health, social care and well-being needs assessment summary The major causes of death in Swansea are circulatory disease, cancer and respiratory disease. Swansea is the 3rd highest LHB for the percentage of people reporting they are being treated for a respiratory illness and 2nd highest for those reporting asthma. Health, social care and well-being needs assessment summary
Mortality from a range of illnesses is highest in the most socio-economically deprived parts of Swansea for example suicide rates are double in most deprived areas compared to least deprived areas. Similar patterns also seen for lung cancer, diabetes, limiting long-term illness, treated arthritis, and back pain. Health, social care and well-being needs assessment summary
Older people
From 2006 to 2011 the population of over-50s in Swansea will increase by 4.6% (approximately 4,000 people). For those over 85 the increase will be 5.6% (approximately 300 people). Currently 250% more women than men survive in this age group, but male life expectancy is increasing so the differences will not be as marked in 2011. Health, social care and well-being needs assessment summary
Swansea has a higher proportion of people of retirement age than England and Wales as a whole. With 7% of people in Swansea aged 65 and over living in care establishments, the projected increase of 2,110 individuals in this age group by 2011 could mean a possible increase of 148 placements. This means that there is a need for an increased focus on people staying in their own homes and remaining as independent as possible. Health, social care and well-being needs assessment summary
The level of income support is a measure of relative poverty which is a key determinant of health. A higher proportion of people aged over 65 claim income support in Swansea than in Wales as a whole. Health, social care and well-being needs assessment summary
Avoidable winter deaths are related to poorly heated homes. Although Swansea has a higher proportion of households with central heating compared to the Welsh average, households occupied by older people aged 75+ are less likely to have central heating. Swansea has the eighth highest winter death rate for persons over 65 in Wales, 18% for Swansea vs. 16% for Wales. Health, social care and well-being needs assessment summary
In rural areas public transport is often infrequent or non-existent compared to urban areas, so people without access to private transport will be disadvantaged in accessing services. Swansea has a higher proportion of 75+ people with no car compared to the Wales average. Healthy eating can prevent cancer, heart disease and strokes. People of all ages in Swansea eat fewer green vegetables and salads than the Welsh average. The number of elective and emergency admissions to hospitals in Swansea for those aged 50 and over has increased in the last three years. For those between 50 and 74 most of the admissions are elective, whereas for those aged over 75 the admissions are usually an emergency. The European Age Standardised Rate (EASR) for those aged 65+ admitted to hospital as emergencies in Swansea is statistically significantly higher than the average for Wales. The % of 65+ patients in Swansea admitted as emergencies as a proportion of all admissions is the third worst in Wales. The EASR for those aged 65+ admitted as electives is statistically lower than the average for Wales. Health, social care and well-being needs assessment summary
Swansea has a high prevalence of cerebrovascular disease in 65+ age groups and a higher incidence of prostate cancer than the Welsh average. Providing unpaid care has been linked with a potential increase in vulnerability and need for support. 19% of people over 50 provide unpaid care, with 6% of those over 50 providing and 2.5% of those aged 85+ providing more than 50 hours per week unpaid care. Swansea has higher than the Welsh average claims for Attendance Allowance and Disability Living Allowance. 45% of pensioner households in Swansea are lone pensioners, with 62% of those lone pensioners experiencing a limiting long-term illness. Health, social care and well-being needs assessment summary
The rate of community-based services for those aged over 65 in Swansea is one of the highest in Wales. With a projected increase of 2,110 individuals over 65 by 2011 this could mean a significant increase in service provision. Health, social care and well-being needs assessment summary
Related Topics