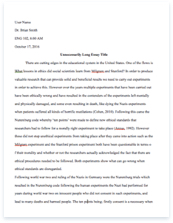 The whole doc is available only for registered users
Pages: 5
Word count: 1103
Category: Health
A limited time offer! Get a custom sample essay written according to your requirements urgent 3h delivery guaranteed
Order Now
A competent healthcare administrator Is key to the success of a medical Institution. To be one of those competent one, sound background of health administration is important. I want to pursue my carrier as an accomplished Health Care Manger and contribute my knowledge to the health care agencies by acquiring and disseminating knowledge. Graduate studies are another step In the academic ladder that further polishes our knowledge and understanding of topics.
As an undergraduate student of microbiology at University of Texas at Arlington, I was exposed to wide range of isciplines in microbiology. My undergraduate degree has been instrumental in providing me an In depth knowledge. However, I can feel that my knowledge Is still limited and inadequate in this modern world. So, I want to pursue and specialize my knowledge by studying Master in Health Care Administration. Healthcare administrators play big role in patient care and satisfaction.
Medicine has become high tech, so has medical institution. To run a modern medical facility, It needs an administrator who has received current training and knowledge about health care administration. This field pays good salary but also demands loyalty, honesty and integrity from an individual. The cost of not possessing latter three characteristics is very high. The courses offered In health care administration degree helps to Install those attributes in an individual and prepare them for the future.
Health Care Administrators face various challenges and have to make decisions to ensure excellent care and smooth running of the organization. As an individual, I love to tackle problems and solve them. A career In health care administration provides me the base to accomplish that goal. I have all those characteristics as mentioned above as an individual and I will be able to polish my administrative skills by taking health care administration course. The roles of health care administrators are equally Important as those of doctors and nurses.
Incompetent medical personnel can ruin one life but an incompetent medical administrator can ruin the whole organization and many lives associated with. This career provides both financial security and growth as an administrator. It teaches you the importance of both business and humane part of medical world, since you are responsible tor it. All these attributes of Health Care Administration encouraged me to pursue a career In this field. Conduct a personal moral integrity cost/benefit analysis.
Decision: Persuading higher education in United States Moral costs for making the decision I Benefit for making the decision I Moral costs for not making the decision I Benefits for not making the decision I Hope for better future I Golden opportunity Of studying abroad I Dreams and desire are unfulfilled I Save cost on persuading education I Experience independence and individuality I Gain self confidence I Regret for missing the opportunity I Live ogether with family I Personal values and belief have changed I Learned new things in life I unaware of the real world I Less struggle I Define your moral bottom line? at hurts my dignity and self-respect.
I would not like to be a part of such organization where people don't have respect for their employee. I cannot tolerate workplace bullying and sexual harassment. Sometimes the action might be taken against popular employer or your boss. If my views and opinion is not respected without having a valid reason, then I would not like to be a part of that organization. Discrimination is prevalent everywhere. Not only at workplace but discrimination can be seen at home. My grandmother is very religious and conservative person.
She carries old values. She did not allow my friend to enter the kitchen because she was from different religion. Even though I was very young, but I understood that it was not right. I fought with her until my mother came in and took me away. From this incident I understood that when it comes to discrimination I have zero tolerance policy. Engage in directed activities to build and maintain your moral integrity. Doing the right thing at right time is one of the major responsibilities of a person. Moral integrity is the core value that makes you different others.
The most challenging part is to do right thing without anybody getting hurt. In this situation, I believe in Mills theory of greatest good for greatest people. According to Hedgehog concept, "it is not a goal to be the best, a strategy to be the best, an intention to be the best, a plan to be a best". Hence, we should not only focus on our goal but also focus on how we achieve that goal. I want to peruse my carrier as health care administrator. As an administrator of medical institution, it is extremely important to show leadership that s consistent and rational.
It helps to take right decision during crisis. Leaders need to have tone of calmness and patience while listening to the coworkers and patient's complains and effectively communicate about the problem. Sometimes, it is important to be non-competitive rather than competitive. When it comes to achieves greater goods for the community, administrator should put aside competitive goal and do what is best for the community. In certain situation, conflicts may arise between our own personal value and organization's value. In that condition, one should be able to do what is best for the community.
Identify a moral mentor. My dad is my mentor for me. He taught me the value of having good character in life. No matter how hard is the goal, we should never give up. As a child, I was very poor in math. My teachers did not have faith on me that I could pass the test. My father was only the people who believe that I can ace the test. He used to say that "try your best and rest live it up to god". His believe made me confident and I never lose by hope. In this way, he also established my faith towards god. Life is not always about being successful and rich.
My father got a Job offer from United Kingdom. He was ffered a high post Job and salary. But, he decided to be with family and remain happy. From this incident I learned that, a person should do what makes him happy. Being happy is most important thing if life. My father shared his own experience to better understand how I should make decision in life and how to react and respond in a difficult situation. The knowledge I received from him not only made my personal life better but I hope this would also help in build up my professional life. Examine your life experience and find their moral lesson.
Related Topics