Hatice TECİR & Duygu KORKMAZ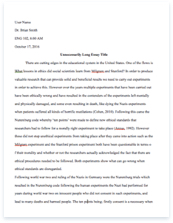 The whole doc is available only for registered users
A limited time offer! Get a custom sample essay written according to your requirements urgent 3h delivery guaranteed
Order Now
Victoria's Secret was started in San Francisco in 1977 by a Stanford Graduate School of Business alumni Roy Raymond
FUN FACT: Roy Raymond always felt uncomfortable when buying underwear for his wife. Inspired by this, he founded the company that is now at the forefront of lingerie retailing worldwide.
FUN FACT: The brand was named after the prudish Queen Victoria. And what was actually her secret? Only she will ever know.
• 1st store opened in Stanford Shopping Center and then quickly followed it with a mail order catalog and then 3 other stores
The store was sold for $4 million to The Limited in 1982
• In 1990s the company began to gain notoriety when they used supermodels in fashion shows and advertising
• A 1998 survey rated it the nation's ninth-most recognized brand and the company's name has grown to be synonymous with romantic and stylish lingerie.
Why was the brand established? Market Gap
• There was no place for men to shop for lingerie
• Victoria's Secret was meant to create a comfortable environment for men
– Wood paneled walls
– Victoria details
– Helpful sales staff
– There were single styles, paired together and mounted on the wall
Mission:
Victoria's Secret is committed to being global trendsetter in premium women lingerie providing superior shopping experience to both men and women.
Vision :
To establish Victoria's Secret as a topretailer of premium women lingerie in Europe. Time horizon: 10 years
Market -Competitor Analysis
Global Underwear Industry
The global underwear industry is estimated to be worth over $30 billion. The market encompasses a range of lingerie and intimate clothing, with bras representing over 50% of the overall market, briefs around 33%, and corsetry more than 10%. Style, evolving fashion trends and factors such as novelty and comfort are the main drivers of this industry.
One major change in the industry compared with traditional attitudes to underwear is that of underwear being worn as outerwear, reports Global Industry Analysts. The industry also faces serious challenges such as the increasing trend of outsourcing production to less expensive countries. The market is characterized by intense competition.
Aging populations in developed nations such as the US are slowing market growth. Growth potential, therefore, lays more in developing countries due to increasing income levels, trends toward Western fashion, a larger young population and rising standards of living. Lingerie consumers tend to make impulse buys, favoring factors other than necessity such as style.
Brand, Product and Company
Positioning
Victoria's Secret has 1,040 stores globally with more than 6 million square feet of retail space. Net sales are more than $5 billion and average sales per selling square foot are $581. However, when the word globally is used, it actually means the United States. International sales are mostly mail order or at a handful of airport stores. Victoria's Secret could position their international presence better and is something they should work on. Victoria's Secret still might be a secret to a lot of people in the Middle East as well. Sexy lingerie and conservative societies do not always mix. This means that expansion into the region will be slow and is most likely going to be led by beauty and branded accessories. That is what the brand current does in their Mirdiff City Centre Mall in Dubai.
Growth Strategies
Differentiation Strategies
Victoria's Secret's differentiation strategy is based on:
The high quality of products and customer services.
The company prices its various products at a higher level than many other lingerie companies, which ensures the exclusivity and luxurious image of the brand. Store expansion is feasible by implementing the most effective marketing tools. As the marketing mix chapter indicates, these marketing tools refer to product, place (distribution policy), price and promotion.
Marketing Mix Strategies
Marketing & Promotion
Strategies
• Television & Print Ads
• Online/Digital Advertising
• Semi-Annual Sales
• Annual Fashion Show video
Marketing Mix Strategies
•Pricing Strategy
•Distribution Strategies
Future Expansion
• 100% Expansion plan in 5 years with a base of $5 billion
• Focus not only on new lingerie designs but many accessories as well- makeup, swimwear, perfume, and pyjamas
• Overall square footage increase of
10% next year with 50% increase in
140 stores
Related Topics