Gratitude for My Educational Journey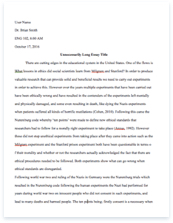 The whole doc is available only for registered users
Pages: 11
Word count: 2609
Category: Gratitude
A limited time offer! Get a custom sample essay written according to your requirements urgent 3h delivery guaranteed
Order Now
The light does not always necessarily have to be in your family; for me it was teachers and schools" – Oprah Winfreyd, 2018 Abstract This capstone project fulfills a requirement for the Masters Degree in the Executive Program for nurses at Teachers College, Columbia University. This project describes the author's journey to become a professional nurse and an educator. This paper will also demonstrate the manner in which the author's goals and objectives were reshaped and reoriented throughout her journey. This program molded the author's understanding of being an educator and also a learner who is armed with knowledge from seasoned professors and colleagues. The author is confident of fulfilling the role of an educator worthy of Teachers College graduate.
Keywords: Capstone Project, educator, professional nurse
The Author's Desire for Education The author grew up in an impoverished village called Keta, in Ghana, West Africa during a period when people thought that education was solely for men. To these individuals, it was considered a waste of resources to send women to school. The author, who was one out of 50 siblings, begged her polygamous father numerous times to go to school, but was unsuccessful. Out of desperation, the author approached people in her village preaching to them about her desire to go to school. One day, after sitting next to the Principal of the primary school in church, her dreams became a reality. The Principal decided to pay the author's school fees and allowed her mother to work on his farm in lieu of paying school fees.
The author and other students sat in a dilapidated classroom structure roofed with branches of a tree learning to write alphabets with their bare hands in the sand. Her kindergarten teacher used to go around the class bending over to inspect these sand-written alphabets and made sure each student grasped the concept before moving on to the next lesson. Despite these limited resources, the author graduated successfully, and got a scholarship for further education thereafter. The generosity and devotion of the Principal and the author's kindergarten teacher lured the author into choosing teaching as her life time career in order to assist others.
Educational and Career Goals Nursing is a profession that requires constant learning. Although learning from experience is invaluable, it is also important to learn the theories and issues that contributed and historically changed the profession. A nurse educator should be one that can prepare future nurses to appreciate what the profession has become, and also reflect and learn from both its legacy and accomplishments. Educational goals describe the competencies, skills and attributes that students should acquire upon completion of a course or program. These goals operate within the domains of skills, knowledge and attributes. According to John Dewey, ( 19 )"Education is not preparing for life; education is life itself" in (Littky & Grabelle, 2017, pg. ). Establishing career goals is inherently a challenging exercise, yet an essential one for any person to strive for prosperity in society. Goals are the very essence of what makes humans unique because we have the ability to visualize a yet unseen world, the ability to hope for something. Though logic may tell us something is impossible, hope is the gift that gives us that spark that it can be done.
Hopes and dreams are what drives us to be better, to achieve more than others and it is hope that encourages us to evolve. Everyone has an inherent desire to improve in their chosen profession. This pursuit not only gives a sense of fulfillment, but also pride and confidence in the performance of their job. It is sobering that a personal battle with lifetime challenges puts life in a different perspective and rearranges one's priorities.
The author always maintained goals of attaining a Masters Degree, but this goal was placed on a back burner in order to tackle other life challenges. The author's educational goals before starting this program was to build on her knowledge base, cultivate a deeper understanding of the medical profession, build her confidence level, become a lifelong learner, think critically and share her knowledge with others. Short- term career goals were transitioning into a more senior position, a healthier work schedule, mentoring and empowering others especially women and also encouraging non-profit organizations to assist the needy. Enhancing the author's professional network was another goal since Teachers College is connected to numerous professionals, many of whom are successful in their careers. The author's long- term career goals will be working her way into the position of a Director of Education within a clinical organization. With this position, the author will establish educational platforms for learning and collaborating with department nurse educators to ensure departmental continuity of education and improved quality of clinical education to staff within the organization. This will also give the author the opportunity to engage in institutional policy reform and continue in professional development as a nurse educator. "An investment in knowledge always pays the best interest"  Benjamin Franklin, 19
The Executive Program for Nurses
The Executive Program for Nurses with specialization in administration and professorial studies prepares leaders for roles in administration and education. Transformational leaders are very much needed in the health care environment that is becoming more complex and challenging. The courses provide an in-depth view of all facets of education expanding the students academic knowledge base, aiding the development of professional growth and encouraging independent thought. These courses are vital to the development of nurse educators who are to become effective change agents and contributed to the achievement of organizational goals. The curriculum prepares educators as leaders to think intellectually and to function effectively and efficiently. The combination of objectives gives direction in subjects such as legal issues, leadership, research, teaching and learning theories etc.
The program instructors all challenge students to delve deeper into the roots and issues of the profession. All of these course objectives molded and changed the personal and professional perspective of each graduate student, transforming them professionally. Numerous program objectives helped the author to achieve her goals. To name a few of them, upon being accepted in to this program, the author began to have second thoughts, doubting if she was capable of pursuing this degree.
These feelings became overwhelming due to the fact that the author was out of school for over 20 years, she was computer challenged, and her friend who also got accepted decided not to attend the school. The author became depressed, anxious and frightened, but all these feelings were alleviated, thanks to the cohort program. This format which consisted of small supportive, reliable groups of students has a wide array of benefits. It enabled the author to form strong professional and educational connections with her peers and the faculty. According to the author, cohort program is a form of learning which depicts a togetherness model.
As students study together, they develop relationships- a form of learning which transcends course materials and morphs into life skill training. It also provided the author an interactive, active and a dynamic setting to grow her knowledge and skills since students spend a larger portion of their time together. It enabled her build a long lasting friendship which also assisted her to develop her leadership, learning team, work skills and was also a reservoir of resource for her. Since these courses are mostly discussion and interactive based, the strong community enabled the author to engage more with materials in class. In addition to this, since most of the students are women, the author felt greatly relaxed and empowered.
These classes became a shared experience which gave the author a wealth of knowledge from the cohort diversity and also depicts new ways of thinking. She was able to learn from her peers and also her professors and was able to envision a clear path from the start of the program to graduation; since classes are preplanned, courses were always available and she was able to know ahead of time whom her professors will be.
Cohort program enabled the author to develop clear educational and career goals through the length of the program and she was able to build relationships with others with similar goals and interest. By building these professional connections, students gain advantage with their career development and professional advancement after graduation. This cohort program depicts some basic facts about human nature of learning and has proven that people learn better in groups. Each weekly meeting was a day to look forward to, knowing that the love for this profession would be increased by the knowledge shared during the day. Nursing Research, which is one of the courses in this program, also has tremendous influence on current and future professional practice and is an essential component of the educational process. Throughout the 21st century, the role of nurses have evolved significantly.
Nurses now work in a variety of settings including classrooms, community health centers, hospitals, business sectors, laboratories and homes. Although their roles are different, the primary goal of every professional nurse remains the same. They are patient advocates and they also provide optimal care on the basis of evidence which is obtained through research. The author's original perception of research was that it was conducted by professionals in biology, chemistry and genetics in laboratories. The author, after taking the research course, now realized that nursing and research can be combined and that optimal nursing care is dependent on the latest research findings. Although the majority of nurses who provide patient care are consumers of nursing research, implementing evidence-based nursing practice is crucial in providing optimal nursing care.
Information one obtains from nursing research has the potential to directly impact the care one provides to a patient in all health care settings. The author is now able to analyze and discuss the role and importance of research in the development of nursing body knowledge and apply research principles and concepts in the development of research proposals. She is also able to understand, describe, implement, evaluate and critique qualitative and quantitative research studies. She now recognized that future professional possibilities are endless and that nursing research is also an emerging and growing field in which individuals can apply their nursing education to discover advancement that promote evidence-based care. "The Legal Issues in Healthcare Organization" was another course that helped to achieve the author's goals. Many decisions that healthcare professionals make each day invoke legal and bioethical principles and have potential legal consequences. The law is in a constant state of flux and to avoid lawsuits, it is important to be educated about current laws, statutes, standards of care and options that are available when your best efforts are questioned in a court of law.
This course enabled the author to identify the general principles of law that affect health care organization and professional practice. It also emphasized the impact of specific statute, governmental regulations and case law on the health care delivery system and the licensed professionals who work within that system. This course enabled the author to identify organizational and professional conducts that may be criminal, negligent or in violation of the law and steps to avoid these situations. The author is also able to apply these legal concepts to her area of practice and career goals with emphasis on avoidance of liability and the delivery of good patient-focused care.
Adult Learning is a course highlighting that adult learners are fundamentally different in their method of learning compared to children. With adult learners, one will encounter unique expectations, challenges and demands. The key is to accommodate these challenges and design training in a manner that is most effective and engaging. The author is now able to identify the individual characteristics, environmental factors, teacher or learner characteristics, that help in their personal learning or teaching experience. She is also able to revise a training module using different educational theorists to facilitate learning. "Leadership and Management in Healthcare Organization" prepared the author for flexible leadership and critical action within the complex changing systems, including health educational and organizational system. It also equipped her with valuable knowledge and skills to lead change, promote health and elevate care in various roles and settings.
The author is now able to initiate change, build relationships and problem solve during this current period with numerous challenges facing healthcare professionals. All these courses follow a seamless goal: to direct students for the various leadership roles they plan to assume with the objectives of improving the profession of nurses and providing a world class care to each individual they encounter.
The Future Nursing has numerous leadership roles in the horizon and the ability to inspire and transform other nurses for the good of the profession is the main objective. As an educator, lessons learned in this program will enable the author to deliver effective learning and produce nurses that will be ready to face the challenges in the healthcare system. Being an educator that is capable of inspiring and transforming how students see the nursing profession is difficult, but it is a noble objective. Our society need more nurses who can balance expert knowledge on health and disease and still be the caring healthcare worker that embodies the essence of the profession. An educator should be a mentor for her student, giving them the necessary feedback they need to succeed. This profession needs leaders who are not defined or limited by their responsibilities, but leaders who know how to delegate and take a step back.
They need to inspire change by being the change that they want. The profession needs lobbyist to tell policymakers that this profession needs support for more educators, initiatives to increase diversity and inclusion, incentives to increase the number of nurses with advance degrees and funds to do research to improve the practice. The profession of nursing is a genuine calling. A person has to possess a compassionate heart to deliver care to persons that are sometimes at their worst. But it is not only compassion, it also takes intelligence. It takes instinct with critical thinking skills to know what needs to be done and when it should be done and when to take action and when to hold back. It takes strength of character to hold back emotions in the face of suffering and deliver effective care.
Through all of these, the nurse must effectively collaborate care and be an advocate for her patient. One must continuously learn to keep up with latest research on practice, new technologies and emerging diseases. With all these factors, one can see how truly important quality education and preparation for practice is. It is not only the classroom, but what is also vital is adequate orientation of new nurses.
Residency programs, student internship programs should all be encouraged since it assist the new graduate to expand their knowledge, their confidence level and assist them to know much about the culture of the organization before transitioning into the real world. All these measures will increase retention, reduce stress and burn out of nurses. Looking back to the author's struggle for education, she will passionately like to become a female advocate in her village, Keta, empowering women to follow their educational dreams.
Conclusion
As this personal journey to follow a dream ends, another one begins. There are no words to describe the gratitude owed to the professors and colleagues. Fate has a way of letting the path of people cross, people who will teach you an important life lesson and change you as a person forever. The success of an educator is in seeing students light up with understanding and love of the profession. As this educator takes the first step forward, she looks back with so much gratitude to the school that made it all come true.
Thank you Teachers College.
Related Topics