Gonzalo Guerrero and Jeronimo de Aguilar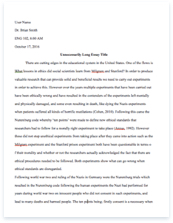 The whole doc is available only for registered users
Pages: 2
Word count: 400
Category: Life
A limited time offer! Get a custom sample essay written according to your requirements urgent 3h delivery guaranteed
Order Now
Gonzalo Guerrero and Jeronimo de Aguilar were similar in that they were both on the same Spanish ship that shipwrecked in Central America. Also, both Aguilar and Malinche were translators, although during different times, to Hernan Cortez during Cortez's conquest of Central America. However, there were also many differences between these three individuals. Guerrero and Aguliar, upon arriving in Central America, chose completely different paths in their lives. Gonzalo became a mighty warrior and war chief, while Aguilar, as a slave, was given much power and oversight, and was regarded as pure and wise.
Aguilar sought to keep and preserve all traces of his Spanish descent, and he did not get tattoos or marry a Mayan woman, both of which Gonzalo Guerrero did. Another stark difference between these two individuals is that Guerrero served the Mayans fighting the Spanish, and Jeronimo served the Spanish in their conquest of Central America. Also, Guerrero ended up becoming a war chief, while Jeronimo later became an interpreter for Hernan Cortez. Malinche, however, is starkly different from both men, as, not only was she a woman, but she was a native to Central America who was sold into slavery.
The title of Calder's book asserts the author's belief that the story of Gonzalo Guerrero is that of a hero for all the Americas. What does Calder mean when he makes that assertion? Provide specific examples. Minimum: 150 words.
Hint: You will find cues to this question in the introduction and the epilogue of the book, and you will find examples in the rest of the book.
Why is Gonzalo a hero?
Gonzalo is a hero for the Americas because he was the parent of the first mestizo children of the future United States. Gonzalo was also a Spaniard that publicly married a Central American woman. Perhaps he was the first Spaniard to publicly do so.
How is the story of Gonzalo Guerrero similar to that of other Spanish conquistadors discussed in Calder's book? How is it different? Provide specific examples. Was Gonzalo Guerrero an immigrant? Was he a refugee? Was he both? Provide specific examples.
I believe that Gonzalo Guerrero was an immigrant, however, I do not believe that he was a refugee. A refugee is one who flees their country as a result or fear of injury or danger, or someone who is forcefully removed from their country. Gonzalo, however, willingly left his country, not because of forced deportation or
Related Topics