Global Financial Management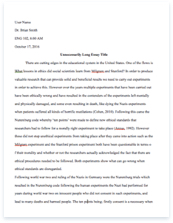 The whole doc is available only for registered users
A limited time offer! Get a custom sample essay written according to your requirements urgent 3h delivery guaranteed
Order Now
Working capital is one of the most difficult financial concepts to understand. In fact, the term means a lot of different things to a lot of different people. By definition, working capital is the amount by which current assets exceed current liabilities. However, if we simply run this calculation each period to try to analyze working capital, we won't accomplish much in figuring out what our working capital needs are and how to meet them.
So, when we compare two different banks and their services we noticed, that Bank of America provides companies with unique solutions to their financial needs. They offer asset based lending to middle market and large corporate borrowers, provide the flexibility that sometimes cannot be provided by traditional bank financing.for Acme company it is very important first of al to have quite loyal transfer bank politic. Because of subsidiaries in South America and Asia, it's very important to be sure in in-times payments, suitable term of loans and line of credit.
Besides that, through Client Investment Strategies, which offer Bank of America Acme Company has access to a "wide variety of fixed income securities available to help maximize returns on excess working capital. Investment specialists will work with you to evaluate your organization's liquidity requirements, tax situation and risk tolerances."[1] Together with our representatives you can begin actively purchasing securities that meet your organization's specific goals.
But as for Bank of Montreal, Royal Bank of Canada, TD Bank Financial Group, have a great opportunity to help enterprises collect payments from their customers that use the Internet – to the tune of $12.5 billion by 2005.
However, banks have had little success signing enterprises that issue invoices. These enterprises need help quickly in turning those invoices into cash. Canadian banks need to move fast to develop electronic invoice presentment and payment (EIPP) cash management services or leave the market to bigger banks in the south.
In order to keep the EIPP business at home, these banks need to quickly determine the real invoicing needs of enterprises. We have identified two pressing needs that banks can help corporations meet:
Develop customer-to-cash strategies that cut costs and support Internet customers
Provide effective cash management services.
So, for Acme company we can offer such kind of cash services:
Trade Creditors: If Company have a particularly good relationship established with its trade creditors, it might be able to solicit their help in providing short-term working capital. The trade creditor will want proof of the order and may want to file a lien on it as security, but if it enables you to proceed, that shouldn't be a problem.
Factoring: This type of financing is more expensive than conventional bank financing but is often used by businesses.
Line of credit: A line of credit allows Company to borrow funds for short-term needs when they arise. The funds are repaid once it collect the accounts receivable that resulted from the short-term sales peak. Lines of credit typically are made for one year at a time and are expected to be paid off for 30 to 60 consecutive days sometime during the year to ensure that the funds are used for short-term needs only.
Short-term loan: If Company have established a good banking relationship with a banker, he or she might be willing to provide a short-term note for one order or for a seasonal inventory and/or accounts receivable buildup.
So, comparing different banks, we have concluded that working capital has a direct impact on cash flow in a business. Since cash flow is the name of the game for all business owners, a good understanding of working capital is imperative to make any venture successful.
Worked Cite:
Working capital and investment capital: what is the difference?
Cash Management http://www.sovereignbank.com/business/cashmanagement/
Working Capital Management http://www.studyfinance.com/lessons/workcap.html
White Paper – Managing Working Capital http://www.planware.org/workcap.htm
[1] http://www.bankofamerica.com/index.cfm?page=corp
Related Topics