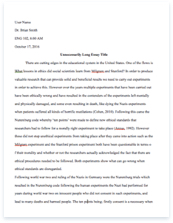 The whole doc is available only for registered users
A limited time offer! Get a custom sample essay written according to your requirements urgent 3h delivery guaranteed
Order Now
I. Introduction
Two years of free technical or career-oriented colleges is a necessity to our ever growing population. A better educated population could result in smarter decision making at every level of society, from jobs to solving our most difficult, collective challenges. By opening up the college system to a broader selection of students who wouldn't be able to attend otherwise.
Many of the students who graduate high school don't choose to pursue a higher education. This leaves many of them ill-equipped to find good employment.
In this day and age a college degree is almost necessary to be successful, today a high school degree just isn't going to cut it. We need to allow everyone this opportunity to be successful.
All students that meet the requirements and specifications a college has should be able to attend that college if they are accepted.
In the position we are in now over 12% of high school graduates don't attend college. (Huffingtonpost) This puts them in a position were their opportunities for work and success are very few. And there is almost no chance at all of them landing a high skill, high pay job. Due to this the gap between the higher and middle class is slowly rising above that of the lower class or people with financial problems.
Not only that, but according to Forbes, 70% of college students are stressed about their finances. Students don't need extra stress while in college, if this resolution was to take place it would hopefully diminish some of this that is put on the students. Without this stress students can focus more on their studies and doing well in college.
II. Body
Going back to my statement I mention before the financial state of students and how it affects them, the jump from a high-school diploma to an associates degree brings more pay. Not only that but they have a higher unemployment rate and opens up new job opportunities to those who have a degree.
Those with high school diplomas have a 5.4% unemployment rate and bring in an average of $678 weekly. Versus an associates degree with 3.8% unemployment and $798 weekly earnings. (Forbes.com) "Between 1970 and 2013, the average yearly incomes of college graduates were significantly higher than those of non-grads. Bachelor's degrees earned people about $64,500. (Washington Post) Associate's degrees were worth about $50,000. And high school diplomas only earned about $41,000."The value of a college degree, diploma, or certificate is greater than ever. One big reason is that the wages of people without any college-level training have been on a downward trend.
2 years of free college will give students a better footing to pursue higher level college education. It would also give students that are transitioning into college a mental and financial boost. That will help them be more successful and better off in the long run. More people will enter the system, thus a greater range of people that all hold different skills, that this nation needs to better itself and the people. New students could then enter college when that could otherwise not, may it due to financial issues or any other problem holding them back. Today, it's all about skills; the practical application of knowledge. Employers want to know what you can do, not just what you can think. This opportunity WILL help millions of Americans start a new life for themselves that will without a doubt eventually lead to success.
"On average, bachelor's degree holders make over $1 million more—over the course of a lifetime—than those with only a high school education. And associate's degree holders make roughly $325,000 more." (Trade-schools.net)
"With $1.3 trillion in student loans, Americans are carrying more student debt than credit card or auto-loan debt. That's a tragedy for our young people and for our nation." In other countries college education tend to have lower levels of student debt among their graduates. For example, in Finland, the average college student loan amounts to $1,200, which is used mostly for living expenses while in school. In Norway, the average student loan is worth $9,381. But that is still less than the U.S. average, which is $15,510." (Washington Post)
The demand for educated workers continues to rise at a steady pace. If there was 2 years of free college the demand could be easily met. People with only a high school diploma don't have the same job selection as those who have college experience. Not only that, but they get paid less and don't have the same opportunities to be successful as those who have gone to college. By expanding this to everyone, most jobs that require college degrees and are lacking in workers will steadily go up if 2 years of college is made free.
"Globalization and computer-driven automation are squeezing more and more lower-skill jobs out of the US economy, and things are likely to get tougher in the years ahead. An occupation-oriented associate degree, the type of degree earned at a community or technical college, will enable the next generation of Americans to acquire the knowledge and the skills companies need to stay competitive in our global economy, while at the same time reducing levels of unemployment, particularly the number of jobs lost to offshoring and outsourcing." (hechingerreport.org)
III. Conclusion
In the 1950s and 1960s, it was possible to graduate from high school and move right into a decent paying job with good benefits. "Strong unions offered apprenticeships, and a large manufacturing sector provided opportunities for those without an advanced degree. A couple with a sole breadwinner could buy a home, raise a family and send their kids to college." That was the American dream. Unfortunately, today, for too many Americans, it's not a possibility.
An important pathway to the middle class now runs through higher education, but rising costs are making it harder and harder for ordinary Americans to get the education they want and need.
We should be taking immediate action to put this resolution in place, because higher education is now essential for personal and the national well-being.
In Europe, many countries offer free college education because they see the youth's drive for education as a benefit for their country, not just a way to make a ton of money. Also by not having to pay for college, some students who are academically fit but not financially would still be able to get into higher-level education.
"That's why every year, more than 4,600 students leave the United States and enroll in German universities. For a token fee of about $200 per year, an American can earn a degree in math or engineering from one of the premier universities in Europe. "Over 20 million students were enrolled in American post-secondary schools in the fall of 2015, which was almost five million more than in 2000. Roughly seven million of those students attended two-year colleges."
Hopefully you see that the pro's of this resolution heavily outweigh the cons. Not only is it giving the American population another route to success, but it will help our own nation in the long run.
Related Topics