Forensic Science Chemistry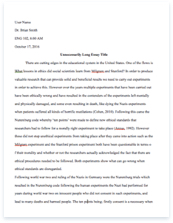 The whole doc is available only for registered users
A limited time offer! Get a custom sample essay written according to your requirements urgent 3h delivery guaranteed
Order Now
Forensic chemistry is becoming an increasingly popular topic. It is being used quite often in the real world with police investigations, cases, and is also being magnified in television shows including Forensic Files, CSI, and Bones (What is Forensic Chemistry?). Forensic chemistry is important because without it we wouldn't know the outcome of a crime. The forensic chemist's job is to examine evidence given to them from a crime scene, when it happened, and even who committed the crime at times (What is Forensic Chemistry?). Forensic chemistry deals with the chemical analysis of a variety of types of physical evidence. These include glass fragments, suspected accelerants from arson debris, gunshot residue on the hands of a shooter, blood stains, fibers, drugs, and even samples of hair. The cases that forensic chemists usually find themselves involved with are arsons, homicides, assaults, bank robberies, and vandalism (Division of Toxicological and Forensic Science Services). Forensic chemists expertise is needed to help crack cases and without forensic chemistry we would not be able to prosecute or convict as many people as we have been able to (Grolier Incorporated).
A forensic chemist is defined as a professional chemist who analyzes evidence that is brought in from crime scenes and reaches a conclusion based on test run on that piece of evidence. A forensic chemist's job is to identify and characterize the evidence as part of a larger process of solving a crime (Forensic Chemistry). Job Description for a Forensic Chemist:
Forensic chemists apply knowledge from diverse disciplines such as chemistry, biology, material science, and genetics to the analysis of evidence found at crime scenes or on/in the bodies of crime suspects. The field is a combination of criminalistics and analytical toxicology. Criminalistics is the qualitative examination of evidence using methods such as microscopy and spot testing, whereas analytical toxicology looks for evidence in body fluids through a range of instrumental techniques from optical methods (UV, infrared, X-ray) to separations analyses (gas chromatography, HPLC, and thin-layer chromatography). Mass spectrometry is also frequently used since it provides the strongest evidence in court. Most often, forensic chemists do not know the nature of the sample before they analyze it. The results of their work are used in police investigations and court trials, at which they may be called upon to provide an expert testimony and explain their findings to a jury (Forensic Chemistry). The chemists rarely leave the lab, but there are a few that get to go out and do field work. Out in the field they often observe the crime scene before the evidence is gathered, take pictures, and a major thing is figure out whether blood splatter patterns were normal, and if not what could have caused them to be irregular in the case of a homicide.
When in the field forensic chemist may also go to crime scenes where an explosion or fire occurred to try and determine exactly what happened (What is Forensic Chemistry?). In most cases forensic chemists are called upon to explain how they reached their conclusion from the evidence given and asked about the test that they run. Because of this chemist not only spend their time running tests on the evidence but they also have to prepare statements for court when cases go to trial, even though not all cases do (Forensic Chemistry). Forensic chemists are trained in organic chemistry.
This allows them to run analysis on blood and other body samples to identify DNA and run toxicology screens. People who earn degrees in forensic chemistry may work at private labs, local police departments, corner's offices, fire departments, with bomb squads, in the military, or at national agencies like the FBI or CIA. Some chemists specialize in certain kinds of identification. For instance some forensic chemist might become experts on chemicals associated with explosives. At minimum, those in the field of forensic chemistry must have a bachelor's degree. Those who want to teach in the field or develop new investigatory techniques may have to have a master's degree or PhD's (What is Forensic Chemistry?). Examples of How Forensic Chemist do Their Job:
Arson Investigation- Arsonists may use a variety of possible accelerants to set a fire. During the examination of a potential arson scene, cause and origin investigators collect fire debris that they believe contains residues of these accelerants. The debris is placed in airtight containers to avoid possible loss of the volatile components and is transported to the laboratory for analysis. The forensic chemistry section utilizes gas chromatography-mass spectrometry to identify traces of ignitable liquid residue in these samples. The forensic chemists will often have to concentrate the small amounts of residue onto activated charcoal strips. The concentrated accelerant is then eluted off the strip by dissolving in a solvent (Division of Toxicological and Forensic Science Services). Gun Shot Residue- When a firearm is discharged gases are generated containing burned and unburned components from both the propellant and primer of the cartridge.
This material may deposit itself on the clothing of a victim or on the hands of the person firing the weapon and is referred to as gun shot residue. The Forensic Chemistry laboratory utilizes a state of the art Scanning Electron Microscope (SEM) fitted with an Energy Dispersive Spectrometer (EDS) to examine tape lifts taken from the hands of suspected shooters. This automated instrument is capable of searching several hundred microscopic fields overnight for the presence of small primer residue particles. When a particle is located, its coordinates are recorded and the particle is analyzed using the EDS unit. If a particle is identified as containing barium, antimony, and lead it is classified as primer residue. The particle's coordinates can also be recalled and it can be photographed using the SEM (Division of Toxicological and Forensic Science Services).
Noxious Chemicals- Noxious chemicals such as tear gas and capsaicin can be identified using the gas chromatograph-mass spectrometer. Tear gas is commonly found as a component in dye packs used by banks to identify suspected bank robbers and may be detected on an individual's clothing after the dye pack has exploded (Division of Toxicological and Forensic Science Services). Miscellaneous Analyses-The Forensic Chemistry section can also assist in sexual assault investigations by examining traces of lubricants used by suspects in rape cases (Division of Toxicological and Forensic Science Services).
In conclusion, without forensic chemistry there would be a lot of cold cases, cases still at trial, and cases that would never have been solved. The field of forensic chemistry is a very interesting field. You are only required to have a bachelor's degree to qualify for a job in the forensic chemistry field. This field in general is an essential part of everyday society and proves that without chemistry we as people and a community could not function as well as we do.
Works Cited
"Division of Toxicological and Forensic Science Services." Westchestergov.com. 09 Jan. 2011 <http://www.westchestergov.com/labsresearch/ForensicandTox/Fortoxdivframeset.htm>. "Forensic Chemists." American Chemical Society – The world's largest scientific society. 09 Jan. 2011 <http://portal.acs.org/portal/acs/corg/content?_nfpb=true&_pageLabel=PP_ARTICLEMAIN&node_id=1188&content_id=CTP_003390&use_sec=true&sec_url_var=region1&__uuid=e0b5e4e6-d356-441c-bac7-1b57d71cc2b0>. The new book of knowledge. Danbury, CT: Grolier Incorporated, 2001. "What is Forensic Chemistry?" WiseGEEK: clear answers for common questions. 12 Jan. 2011 <http://www.wisegeek.com/what-is-forensic-chemistry.htm>.
Related Topics