Food Standards and Health and Safety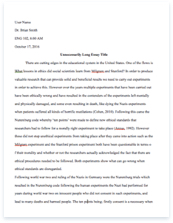 The whole doc is available only for registered users
A limited time offer! Get a custom sample essay written according to your requirements urgent 3h delivery guaranteed
Order Now
Bi) Laws relating to health and safety
Health and safety at work act 1974 – is the primary piece of legislation covering occupational health and safety. > Control of Substances Hazardous to Health 2002 (COSHH) – Care providers must protect staff and service users from harm by ensuring that potentially dangerous substances are safely stored and that staff that use them are properly trained to do so. > Reporting of Injuries, Diseases and Dangerous Occurrences Regulations 1995 (RIDDOR) – Employers have an obligation to report death or serious workplace accidents and occupational diseases. > Personal Protective Equipment Work Regulations 1992 (PPE) – This act deals with protective clothing and equipment that must be worn to protect the employee against health and safety risks. > Workplace (health, safety and welfare) regulations 1992 – These regulations are concerned with the working environment. They place a duty on employers to make sure that the workplace is safe and suitable for the tasks being carried out there, and that it does not present risks to employees and others. Bi) Laws relating to moving and handling`
> Manual Handling Operations Regulations 1992 (MHOR) – Sets out methods and requirements to be met when manually handling objects inc. people > Provisions and Use of Work Equipment Regulations 1998 (PUWER) – The regulations deal with the work equipment and machinery used every day in workplaces and aims to keep people safe wherever equipment and machinery is used at work > Lifting Operations and Lifting Equipment Regulations 1998 (LOLER) – The regulation states that any machinery that is used for lifting must be regularly tested and must be used by a trained and competent individual.
Bii) Food Standards that relate to social care
The Food Safety Act 1990 The General Food Regulations 2004 The Food Hygiene Regulations 2006 Food Labelling Regulations 1996 Biii) outline the main health and safety responsibilities of a Social care worker: The main responsibility of a social care worker is to care. They must prevent risks from happening. They should ensure we are smartly dressed and have good personal hygiene. They need to avoid wearing loose clothing due to the need to operate machinery, It will avoid the chance of a risk occurring. A social worker needs to wear correct personal protective equipment while carrying out personal care to avoid the spread of diseases. They need to ensure that all training is up-to-date, if you believe you need follow up training or more training then ask a supervisor or manager. A care work must notify the employer if their personal health changes eg. you become pregnant, this would affect your ability to work.
The employer must write up a risk assessment and others that you work with need to be aware of the changes. Employees must report injuries, strains or illnesses that you suffer whilst in the work place. The employer's responsibilities are to make the workplace safe. They need to ensure machinery is safe to use and that safe working practises are set up and followed up. They need to make sure that emergency procedures are set up and all staff have had training and know how to carry out the procedure. Employers must provide training for all staff on health and safety related matters. They must provide first aid equipment and ensure that on every shift there is a trained first aider. Employers need to provide personal protective equipment.
They also need to report accidents, incidents and diseases that have happened to the health and safety executive (HSE) and the care quality commission (CQC) The responsibiites of individuals using the service are: to report any hazards. If they have any allergies to report them and they should be noted in their care plans. Not to cause harm to others Biv) The main points of health and safety policies and procedures should state; the name of the health and safety representative of your workplace, this person you report any health and safety issues too. It should outline the evacuation procedure of the workplace. The policy needs to list identified health and safety hazards and the procedures to deal with them should they occur. It should state that all PPE's should be worn when carrying out procedures that require them. It should outline how to carry out correct manual handling. It should have the correct procedure to follow when recording accidents at work.
Every member of staff should familiarise themselves with the policies and procedures and know where they are kept. Bv) Before carrying out certain work activities, specialist training needs to be carried out, these activities are: > Manual handling equipment; hoists, slip sheets, wheelchairs. > Kitchen equipment; meat slicers, ovens, steam cookers > Food handling and preparation > Laundry equipment; washing machines, tumble dryers > Medication; handling, dispensing, administering > Carrying out first aid > Using cleaning products. Bvi) If you need additional support and information on health and safety you could ask your manager, supervisor or in house health and safety representative. You could seek information from outside your work place such as the internet and books. You can contact the HSE (health and safety executive) via their website.
Related Topics