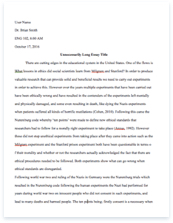 The whole doc is available only for registered users
A limited time offer! Get a custom sample essay written according to your requirements urgent 3h delivery guaranteed
Order Now
An anonymous author once stated, "Fate is a fixed decree by which the order of things is prescribed; the immutable law of the universe; and the force by which all existence is determined and conditioned." But there is one question most humans struggle to solve. Do we as people have the ability to control our fate? The author of the choral ode feels that we do not have the power to be in command of our fate and our destiny is already decided. Contrasting this belief the writer of "Invictus" believes in free will and the opportunity to control and overcome our fate.
Every person has their own set of beliefs that can be similar or very different to those who surround them. Sophocles proclaims the idea of fate through the choral ode. He believed that everything you do you must always remember God's power and have fear of heaven. He also provokes the importance of living in obedience by bowing before the Gods. The writer of the choral ode for tells that man must not grow rich in defiance nor discover things that no man should know through the repetition of the word if. This use of repetition implies that if you do any of those things, bad fortune will come your way. Sophocles also warns of the possible tragedy that can occur if you go against fate. He justifies that vengeance is cruel for those who disobey and no prayer can help your wrong doing. He dictates this by saying the metaphoric phrase, "No prayer can plead for him when the sword of heaven is raised." Sophocles also personifies Justice by inquiring the fact that we must fear "her."
William Ernest Henley, who wrote "Invictus", had a totally different idea than Sophocles. Henley believed in free will, or the ability to overcome whatever fate throws at you. The tone of "Invictus" is showing a great deal of pride due to Henley's belief that he is the master of his fate and the captain of his soul as shown in lines fifteen and sixteen. He vows his unconquerable soul and displays that he is strong-minded by boasting that he has not "winced nor cried." Henley uses the alliteration "My head is bloody but unbowed" by hinting that even though he has gone through a lot he is not giving up yet. He also shows bravery by stating that the menace, horror, still leaves him unafraid.
So you be the judge, fate or free will? Do you believe that we have the ability to control our own fate? You can have your personal opinion about this matter, but the truth is we may never find out the real answer. As a human race, we all have different beliefs which can separate us from those around us.
Related Topics