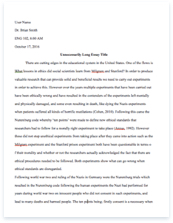 The whole doc is available only for registered users
A limited time offer! Get a custom sample essay written according to your requirements urgent 3h delivery guaranteed
Order Now
"Crash" you've just broken into the natural art museum and you are holding a rare African sculpture worth millions. Immediately, the alarms are blaring, all exits have been sealed, and you are surrounded by dozens of armed guards. What would you do? Attempt flying away and get shot in the process, or turn invisible and make a hasty, undetectable escape. Although some may choose flight, they are wrong and can get shot dead within seconds. Invisibility is the way to go because an invisible person won't be isolated from society, and invisibility is more practical than flying.
An invisible person won't be seen and marked with a label by society. You can easily see a person fly, but you can't see an invisible person. Once exposed that you have the ability of flight, you will be disowned, hazed, and feared by former loved ones and society. Invisibility is the most secure super power.
Invisibility is a much more practical super power than flight. If you were hungry all you would have to do is turn invisible, take what you want, and walk out. If you decided to steal something from a store without invisibility, the clerk would shoot you dead before you even have the opportunity to fly away. Invisibility is expediently the superior super power.
Invisibility is absolutely the greater super power. Because of evident advantages such as practicality, safety, and security, invisibility has an edge over flight in many situations. Make the right choice, be safe, be practical, be secure, be invisible.
Related Topics