Ethical Issues in HRM Strategy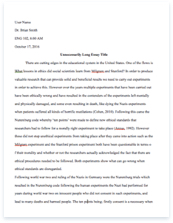 The whole doc is available only for registered users
A limited time offer! Get a custom sample essay written according to your requirements urgent 3h delivery guaranteed
Order Now
Identify the areas of overlap in the new client organization with others that you have had as clients. Human Resource management strategies is a plan where organizations manage people and make a determination based off culture, training and development how they will fit into your organization. When dealing with new clients you have to determine if that person is needed in your organization. Some overlaps could be due to culture. Such as it is a autocratic, proactive or dictatorial. With new clients you have to Provides consistent approach of policies and practices to make sure they are up to speed with the goal you are trying to reach. You have to understand that one clients needs for your service may be different from the new client, so you have to consider the work to be done, cost and you have to communicate frequently throughout the project. Explain the ethical dilemma(s) that may arise if you use your expert knowledge of other organizational HRM strategies with the new client.
One ethical dilemma is when the best interest of the employee differ from what is best for the company. Another possible dilemma is The core concern of business – proponents of the market economy argue – is in attempting to secure the best possible return on any investment. Rose, A. (n.d.). Chapter 2: Ethics and human resource management. Based on your knowledge and dealing with new clients you have to consider if you let your new client know about a offer from a competitor. A senior manager could ask the HRM consultant to over look a employee due to medical leave or any other policy that you have to follow. The new client could leak information to others that you have ask to keep a secret. The CEO of the company might have another agenda than what your expert knowledge has to offer.
Discuss your approach to customizing HRM strategy to business strategies. Emphasize the importance of establishing HRM strategies to improve a competitive advantage. Competitive advantage encompasses those capabilities, resources, relationships, and decisions that permit a firm to capitalize on opportunities and avoid threats within its industry(Hofer& Schendel, 1978).(lengnick-hall, Cynthia , lengnick-hall, mark).When customizing a strategy you want to look at the entire organization and figure out where you want to start. I believe you should start with management, because you have to have a management approach on how you plan to run this organization. Your goal should be having employees that will help your company succeed. When hiring your employees they should be hired based on their creativity, teamwork, their impact on the company and their knowledge.
This strategic plan will be innovative based on performance metrics and will be diversified. All decision will be made on what is best for the company and not just one employee. When it comes to the competitive advantage Three basic types of resources can provide competitive advantage (Barney,1991). Physical capital resources include such things as the firm's plant, equipment, and finances. Organizational capital resources consist of such things as the firm's structure, planning, controlling, coordinating and HR systems. Finally, human capital resources include such things as the skills, judgment, and intelligence of the firm's employees. Because of its recognition of the potential for human assets of organizations to provide competitive advantage, many academic authors have applied the resource based view to understanding the role of HR in organizations.
Reference
Rose, A. (n.d.). Chapter 2: Ethics and human resource management. Retrieved April 19, 2012 from http://www.iped-uk.com/Ethics_and_HRM.pdf Barney, J. B., & Wright, P. M. (1997, April 1). On becoming a strategic partner: The role of human resources in gaining competitive advantage. Unpublished manuscript, Center for Advanced Human Resource Studies, ILR School, Cornell University, Ithaca, New York, U.S. Lengnick-Hall, C. A., & Lengnick-Hall. (1988, July). Strategic human resources management: A review of the literature and a proposed typology. The Academy of Management Review, 13(3), 454–470.
Related Topics