Ernest Hemingway And His Writing Style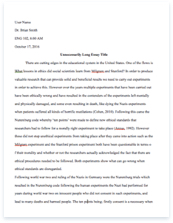 The whole doc is available only for registered users
Pages: 8
Word count: 1792
Category: Life
A limited time offer! Get a custom sample essay written according to your requirements urgent 3h delivery guaranteed
Order Now
Ernest Hemingway was born in Oak Park, Illinois on July 21, 1899. Hemingway was worldly known for his writing style that was composed of brief, straightforward sentences. Hemingway's unique style eventually led to him being rewarded with the Nobel Prize in 1954. Not only was he known for his style of writing, but his characters in his writings were depicted by real people in his life and real places which created a great setting for his readers. Hemingway's novel The Old Man and the Sea was greatly noticed for being a fictional novel that dealt with society in America and was awarded the Pulitzer prize in 1953. Some more novels that Hemingway wrote include: The Sun Always Rises, A Farewell to Arms, To Have and Have Not, and For Whom the Bell Tolls. Hemingway's decisions and things he underwent in his early life ultimately led to events that transpired in his later life.
Ernest's father Clarence Edmonds Hemingway or Ed Hemingway started practice towards being a doctor and when he served his internship re-met his later wife, Grace Hall. Ed Hemingway was helping tend to Grace's mother because she had cancer. Ed Hemingway and Grace Hall had previously seen each other when they went to the same high school, Oak Park High School. Their letters they sent to each other over a span of six years later led to their marriage in the year of 1896. Grace enjoyed playing music and later found herself teaching music to people. Ed Hemingway and Grace Hemingway had 6 children together, including Ernest. Ernest had an older sister, Marcelline, which was born in January 1898. Ernest also had three younger sisters and younger brother: Ursula, Madelaine or Sunny, Carol and Leicester. Ursula was born in 1902, Madelaine in 1904, Carol in 1911 and Leicester in 1915.
Ernest's mom, Grace Hemingway recorded things about Ernest as a child in his baby book, she would record things that Ernest did as a child that were special and embarrassing. There were photos of Ernest as a baby with his sister and it looked like they were twins and both girls. In that century, it was common for boys to wear girls clothes, but even after there began to be differences in the clothes between boys and girls, Ernest's mom still dressed him in girls clothes.. As a child Ernest was very close with his oldest sister Marcelline. Grace always treated his two older kids as twins, because she had always wanted twins. Not only did Grace dress up Ernest like Marcelline but she also made Marcelline repeat a year in school so Ernest and Marcelline could enter a grade together. Ernest and Marcelline's relationship were really close as they were children and continued to grow as they became older but their relationship soon became toxic as they reached adulthood. There were certain traits that Ernest pointed out in Marcelline's personality that he didn't like because they were the same bad traits his mother had.
Ernest's parents bought a house on Walloon Lake in northern Michigan the year before he was born. A third of Ernest's summers were spent at this Michigan lake house. This summer home had a big impact on Ernest as he was growing up and later on in his writings. Michigan is where Ernest experienced the fun in nature and the wilderness in the world. All the Hemingway kids were taught how to shoot a gun and the safety about them by Ed Hemingway, he taught them how to shoot an animal and catch a fish. While at the house on the lake the kids would always fish and hunt. Even though Ernest went to the house in his earlier years there were still consistent appearances of the Michigan house in many of his later works, but one major work that it appeared in was The Nick Adam Stories. The Nick Adam Stories were a group of short stories describing major events in Ernest's life, from childhood to adulthood. Not only did the summers going to Walloon Lake help develop some of his writings, but I believe that it caused Ernest to have a liking for traveling to places and seeing the world.
As Ernest entered in as a freshman into Oak Park and River Forest High School, he wasn't serious about English and actually had plans to become a doctor. After taking English classes and courses in writing, his plan began to change and he became serious about English. Marcelline and Ernest enjoyed reading magazines that came to their house and competed to see who could finish reading things first, like King James Bible. The later years in high school was when Ernest really began to grow an inspiration and love for writing. Two teachers influenced him extremely, Margaret Dixon and Fannie Biggs. Both teachers took a special interest in Ernest, but each helped him differently. Ernest was encouraged and motivated by Miss Dixon when he was beginning to write. Miss Biggs had an elite Story Club that both Ernest and Marcelline sent short stories to.
Throughout the club, students would send in work and critique each other's work with help from Miss Biggs. Miss Biggs was a big influence for Ernest to focus on the genre of short stories, but Miss Biggs was more influential to Ernest in his journalism course. Miss Biggs's journalism class was known for being ran like an actual newspaper office, there was an appointed rotating student editor for their hypothetical newspaper. Both Ernest and Marcelline were picked to be two out of the eight rotating editors for the newspaper. Ernest found that sports writing was the easiest for him especially since he played on a couple of sports teams in high school. Ernest's passion for writing definitely started from high school and flowered into something amazing as can be seen in his writings. His teachers gave him the motivation and opportunity to further his English and writing skills.
In Ernest's senior year of high school, he started thinking about college. Ernest's father wanted him to enroll in Oberlin with his sister Marcelline, but Ernest leaned towards Cornell. Although, Ernest leaned towards Cornell he told his grandfather and his classmates that he was going to the University of Illinois. Soon, Ernest's interest in college disappeared and was more interested at apprenticing as a journalist at The Kansas City Star. Ernest's uncle Tyler helped Ernest get the apprenticeship at The Kansas City Star because he was a classmate of Henry J. Haskell. Henry J. Haskell was the chief editorial writer and Washington correspondent at The Kansas City Star.
The newspaper gave Ernest a full-time job in the fall. Ernest was assigned the duty of covering the police station on 15th street, Union Station, and the emergency room of Kansas City's largest hospital. Ernest would have to note and interview people, especially important people. Ernest got to meet and talk to many people on the streets of Kansas City. He was taught the paper's house style and recommendations for good writing by Pete Wellington. The rules used in the newspaper were using short sentences and short paragraphs which Ernest was considered a master at later in his life. Certainly, obtaining these skills early on in his life helped him become a unique writer, one known for this certain style in his later life.
During Ernest's time at the newspaper he wanted to find a way to serve in the Great War. The U.S. entered the war on April 6, 1917. Ever since his senior year in high school Ernest saw the societies' shift to militarism. This patriotism drew Ernest towards the military life, he signed up with the 7th Missouri Infantry of the National Guard. Ernest's father did not give consent to Ernest enlisting until Christmas 1917, but their family was known for having poor eyesight which kept him out of the U.S. unit. Luckily, for Ernest the American Red Cross sent ambulances to the Italian front and only allowed men to do this service. The Red Cross was actively recruiting because of the major defeats the Italians faced due to the Austrians. Ernest signed up and told The Kansas City Star he was leaving in April. Ernest made his way from Mestre to Fossalta, which would be the Red Cross base camp.
Ernest would travel up and down the Italian trenches, distributing supplies like cigarettes, candy, and magazines. One day as Ernest was going to a listening post from a trench, the Austrians started shooting their mortars at them. There were men on the ground lying dead, men shouting and screaming, and next to Ernest layed two men, one dead and the other without a leg. Ernest who had been badly wounded from the shrapnel, caused by the explosion, lifted a badly wounded soldier and walked to the Red Cross dugout. On Ernest's way towards the dugout he was shot in the right leg by a machine gun, he collapsed in the dugout, laying in his puddle of blood. Red Cross drivers took Ernest to the dressing station at Fornaci where his wounds would be cleaned by an Italian surgeon, and he was shipped to a hospital in Treviso. For Ernest's act of heroism, he was awarded The Silver Medal of Military Valor.
Many different versions of Ernest's story would surface. While in the Red Cross hospital in Milan, Ernest was trying to come up with a good fictional novel about his war wounds. Eventually, Ernest wrote, A Farewell to Arms, in 1929. A Farewell to Arms was a love story about a hero, Frederic Henry, and a nurse, Catherine Barkley, that fell in love while he was recovering from his wounds. Just like in Ernest's novel, Ernest ends up having a liking for a nurse named Agnes von Kurowsky. They spent time together, digging shrapnel out of his leg, sightseeing, and going to races at San Siro. While in the hospital, many have said that Ernest's experiences had caused him to change from a fresh, boyish character to being self-centered. Not only did this event that Ernest experience tremendously help his fan base later in his life, but it also changed Ernest as a person.
Ernest Hemingway's early life seeded the origins for his great writing skills and success. From his experience in the wilderness that later led to his love for traveling, his teachers that sparked his inspiration for writing in high school, to his career in journalism that made him known for his unique writing style, to his near death experience that led him to writing an amazing novel. These are only a few examples in Hemingway's early life that helped his success in his later life. Without these important events Hemingway experienced in his early life, I believe that he wouldn't be nearly as successful and well-known today.
Related Topics