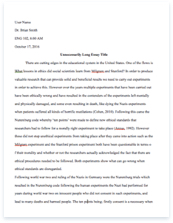 The whole doc is available only for registered users
OPEN DOC
A limited time offer! Get a custom sample essay written according to your requirements urgent 3h delivery guaranteed
Order Now
1. The process employed at VW is referred to as "mass customization." Describe what this means and the pros and cons of such a manufacturing model from the perspective of the customer. Pros Cons • Gives the customer more options for their cars-and the products get exactly what they want • More expensive – anything that is customized to the extent that VW offers, is going to be more $ • Competitive Advantage over the market • First to offer the customization • Takes longer for customers to receive the product – waiting on the car to be manufactured to customers requests and then shipping • other companies mass produce cars ship them and then customize—takes less time • Customer can price the car based on accessories they want • Customer cannot test drive the car before paying for it they just have to see the computerized look • Customer feels more ownership because they designed their own car
2. Describe the information problems associated with VW's mass customization approach. • The mass customization approach needs to provide accurate representations of cost of each part instantly • Inventory levels must be updated constantly and accessible for manufacture to keep up with customized orders • Customized automobiles must be delivered to the correct dealership location, if not Volkswagon will take on unnescessary costs
3. Describe the role of information systems at the operational and tactical levels in selling, producing and delivering VW automobiles. Separate your answer into three categories – e-Commerce website, CRM, and SCM modules.
e-Commerce Website CRM SCM Modules • Provides a platform for customers to customize and order automoiles • Organizes customer information specific to their behavior • Just-In-Time inventory allows for minimal time and resource waste when supplying parts for automobiles • Enables customers to pay for orders through the website • Allows Volkswagon to provide better and more specifically tailored support to individual customers • Integrates and automates production processes to cut costs and increase efficiencies • Allows for tactical sales goals to be met • With a better understanding of individual customer preferences, Volkswagon can better understand general consumer trends
4. Assume you were consulting to VW's CIO prior to the implementation of VW's CRM system. Describe the www.papercamp.com/print/Volkswagon-Case-Study/76918 1/2
2/17/13
Volkswagon Case Study
strategic benefits you would have proposed to the executive management team in justifying the investment in VW's CRM technology. • Enables Volkswagon to maintain and build strong customer relationships • Allows Volkswagon to better understand their customers, which will allow for better product development and less money spent on research and development • Knowledge of individual customer preferences and understanding trends can allow for removing products or specifications (ie: color of vehicle) that are unpopular • An efficient CRM system can help Volkswagon's marketing department by focusing more on popular customer preferences.
Related Topics