Entering the Ice Cream Business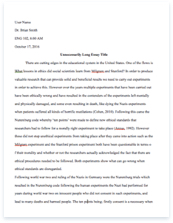 The whole doc is available only for registered users
A limited time offer! Get a custom sample essay written according to your requirements urgent 3h delivery guaranteed
Order Now
The primary subject matter of this case is strategic management for small business, specifically developing a new product and entering into a new competitive arena for an established small family business. Secondary issues examined include marketing strategy, human resource management, and operations management in the small family business. The case is appropriate for junior and senior level undergraduate courses. The case is designed to be taught in one class hour and is expected to require approximately three hours of outside preparation by students. The events described in this case are based on real world experiences.
CASE SYNOPSIS
Jeff Kleinpeter, fourth generation CEO of Kleinpeter Farms Dairy, has boldly led his family's business into a new product/market area, specifically the production and distribution of ice cream. For nearly one hundred years, Kleinpeter Farms Dairy has served the south Louisiana area as the leading milk processor and distributor, but now the company has invested millions of dollars in a new, but related product. Jeff seeks to build on the loyalty and goodwill generated among consumers because of Kleinpeter's excellent reputation for high quality milk products in the south Louisiana area. Kleinpeter appeals to local customers through cross-branding other Louisiana products, such as Ponchatoula strawberries, Bergeron pecans, and Elmer's Gold Brick Eggs. After the new product is launched, the company experiences challenges in marketing, operations, and human resource management.
Key words: small business strategy, new product development, marketing strategy, family business
Journal of the International Academy for Case Studies, Volume 16, Special Issue, Number 1, 2010
INTRODUCTION
Stepping into a quiet corner down the hallway from the buzzing noise of the auction, Jeff Kleinpeter smiled as he spoke into his cell phone, "Sue Anne, we are in the ice cream business. "There is no turning back now. We just spent $58,000 on one piece of equipment." "Jeff you know that I trust your judgment, but this is a bit over the top, don't you think? Are you sure about this?" Sue Anne questioned in reply as any CFO worth their salt would do. "I know that this is going to be a huge investment for us. We discussed this at length with dad before flying out here to Dallas. Joe May, our ice cream plant consultant, is here with us and he assures me that this is a great deal for us," answered Jeff. "From the time I received a notice in the mail that a huge ice cream company here was closing down; I thought that this might be our chance to buy ice cream making equipment at bargain basement prices." "Why did they close down?" asked Sue Anne.
"They said their biggest account had pulled out overnight. It was 60 percent of their business. That was it – they had to shut down," Jeff replied. "I am glad that Joe is there for the technical advice. We know about milk and the dairy business, but ice cream is new for us. You are sure about this now, Jeff?" asked Sue Anne again. "In the auction, we bid the $58,000 on the ice cream freezer itself – the thing that pumps the air in and has the blades that turn to make the ice cream. It has three barrels and makes 1200 gallons of ice cream per hour. Additionally, we bought six fine pieces of equipment for about 10 cents on the dollar. It is beautiful, brand new equipment – state of the art. Don't worry; Joe is advising us on the technical aspects of fillers and shrink-wrappers."
GROWING THE COMPANY: THE NEED FOR ICE CREAM
With the purchase of the ice cream equipment in Dallas, Jeff had started the family business on a great adventure, maybe the biggest risk taken in 95 years at Kleinpeter Farms Dairy. The idea was not new with Jeff. For years, the Kleinpeters had thought about and talked about ways to grow their company and entering the ice cream business in particular had been considered many times before, but this time was different. Jeff remembered a recent conversation with his father, Ben Kleinpeter, just before Jeff flew to Dallas to look at the ice cream equipment. "I love ice cream and I have wanted to get into the ice cream business. People have asked me about it for years, but I always thought it would cost too much," said Ben. "I think this time we can make some super purchases on the right equipment to get into the ice cream business," replied Jeff.
"In many ways, the production of ice cream would be a natural fit for our company. We all know that we need an outlet to sell or use the surplus cream from our milk production," mused Ben.
Journal of the International Academy for Case Studies, Volume 16, Special Issue, Number 1, 2010
"Yes, consumers are demanding more low-fat or skim milk. We have always removed the cream from our milk, but now we have to do this even more so. The days of high demand for Golden Guernsey rich, thick creamy milk are past. I don't think the trend toward low-fat products will change." Jeff added. "We do sell some butter and whipping cream and half-and-half, but not enough to invest heavily in plant and equipment."
"There are other alternatives, Jeff. We could increase our revenues with other products besides milk and ice cream," Ben conjectured.
"Yes, Dad, you are right. We do bottle juice and water. We buy the water from Kentwood, which is natural spring water. We would have to do things like reverse osmosis with our water in order to use it, not that our water is bad. Plus, they buy the plastic bottles from us to put the water in. We have a reciprocating relationship," said Jeff. "Another option would be to invest more heavily in the production of cheese."
"Yes, I have thought of that as well, but which one is going to solve our problem the best? Which one will use the most cream?" questioned Ben. "Producing ice cream will require more cream than producing cheese. That is one issue, but the other thing is which one might be the most profitable. With our weather in Louisiana, we have only two seasons – hot and hotter," Jeff replied. "Do you think people will buy more cheese here in Louisiana or ice cream?"
"Do people buy more cheese or ice cream here? I think it would be ice cream," answered Ben. "Cheese sells here in Louisiana, but I think that it is mostly the broad market for generic cheese. I mean the cheese that goes on pizza and so forth. There are lots of unnatural ingredients there. We have built the Kleinpeter brand name by producing high quality, great tasting milk. Our strategy is to make a better product, not to be the low-price leader. Our philosophy is to provide a natural product with no artificial ingredients like rBGH (a growth hormone that induces cows to produce more milk)."
"How many competitors are there in the cheese business versus the ice cream business? We would be the only ice cream producer locally in Louisiana," stated Jeff. "We have been selling a tanker load of excess cream every week, six thousand gallons. We pay a premium price to the dairy farmers for their milk, but then we sell this excess cream on the spot market at a loss, which is not good," Ben declared.
"What can we do with the excess cream? Well, we need a value-added product. This has been going on for years. Grandfather used to sell cream to people in New Orleans and ship it via the railroad to the restaurants. So, I have been thinking about this. How could we add value to this and start making money instead of losing money? Ice cream! It has 12 percent butterfat, which is pretty high," Jeff said enthusiastically.
Journal of the International Academy for Case Studies, Volume 16, Special Issue, Number 1, 2010
FAMILY AND COMPANY HISTORY
During the second half of the eighteenth century, Spain, which owned the Louisiana territory at the time, attempted to contain the encroachment of Great Britain and France. The government of Spain issued a call for settlers, particularly Roman Catholics, to come and cultivate the land. In return for this pioneering work, the Spanish government offered generous land grants. Answering this call, Johann George Kleinpeter settled in Baton Rouge, Louisiana in 1774. Johann's family and eleven other Catholic families made the arduous trip from Maryland, coming by raft down the Ohio and Mississippi rivers. Often, they traveled at night through dangerous territory. Once they arrived in Louisiana, the Kleinpeters received a large land grant, including much of the acreage currently belonging to Louisiana State University. Developing deep roots, generations of Kleinpeters have remained in Baton Rouge. Some family members owned general stores, while others farmed the land, growing crops such as sugar cane or tending cows for dairy purposes. Dairy farmers must milk their cows every day and they need to process that milk very quickly.
Therefore, local milk processing businesses sprang up across the United States. In 1913, Sebastian Kleinpeter and his son, Leon Richard Kleinpeter, opened Kleinpeter Farms Dairy to meet the milk processing needs of dairy farmers in Baton Rouge and southern Louisiana. Like their dairy farming neighbors, the Kleinpeters also had a small herd of "woods" cows. The "creamery" or milk processing operation is still thriving today as the largest independent dairy in Louisiana. Sebastian and Leon Kleinpeter learned from LSU agricultural professors that Guernsey cows produce milk of superior taste, so they decided to augment their herd of cows in late1913 by purchasing two boxcars full of Guernsey cows from Wisconsin and bringing them by train to Baton Rouge. The experiment worked and the Kleinpeters began to specialize in Guernsey milk. This remains one of the keys to the Kleinpeters' success even today, as Kleinpeter milk is well known for its exceptional taste.
Upon the death of Sebastian Kleinpeter in 1929, Leon Kleinpeter continued to manage the creamery business. Leon and his wife, Mary Lillian, had eleven children, of these; five sons and one daughter worked extensively in the milk processing operation. Mary Lillian worked as a bookkeeper for the company for many years. Leon divided the responsibilities of the business among his children. Leon, Jr. became president, Thomas was in charge of the farm, Vincent was the corporation secretary, Michael was the plant manager, Ben was in charge of sales and delivery, and Betty served as bookkeeper following her mother? This sibling partnership managed the family business from the late 1940's until 1987.
Leon passed away in 1984, leaving the business in the hands of his children. At this point, young Ben Kleinpeter, who had spent most of his career in sales, made the bold financial decision to buy out his brothers' interest in Kleinpeter Farms Dairy. In 1987, Ben obtained a bank loan and purchased the business, paying his brothers with the proceeds. In this manner, Ben gained complete leadership of the company and steered it away from possible family entanglements. Journal of the International Academy for Case Studies, Volume 16, Special Issue, Number 1, 2010
Through a combination of hard work to increase sales and belt-tightening on expenses, Ben Kleinpeter was able to pay off the bank loan in four years. Although Ben was successful in retiring the bank loan, the amount of work and complexity of the business was almost overwhelming. Ben's sons Kenny, Ben, Jr., and Steve and daughters Mary Alice and Sue Anne worked with their father in the business. The youngest son, Jeff, entered the family firm in 1987. To help bridge the gap left by the retirement of his four brothers, Ben hired Tom Zicarelli, from outside of the family, as general manager, in 1989. Tom's assignment consisted of operating the business and training the next generation of Kleinpeters to manage the firm. Unfortunately, Ben, Jr. passed away in 1994. Mary Alice left the business in 1995. Then, Kenny left the business to pursue his interest in music in 1998, and Steve also left in January 2003. This left Sue Anne and Jeff as the principal family member managers.
CURRENT OPERATIONS
Tom Zicarelli served as president of the company and provided excellent training and advice until his death in 2003. Today, Jeff Kleinpeter has taken the reigns as president of the company and Sue Anne Kleinpeter Cox is the secretary-treasurer and CFO. They form the fourth generation of Kleinpeters to run the operation and now lead a team of 185 employees. Ben has retired and passed his stock on to his children. Jeff and Sue Anne own the voting stock, while the other siblings hold non-voting stock. In essence, this leaves the corporation in control of the family members actually managing the business. The non-voting stockholders share in annual dividends and in the proceeds were the business to be sold. The current line of Kleinpeter products include milk, orange juice, butter, oleo, eggs, cottage cheese, yogurt, coffee, tea, punch and containers made for both Kleinpeter and other companies, a service that was added in 2005. Milk accounts for roughly eighty percent of company sales as Kleinpeter Farms Dairy processes 60,000 gallons per day.
The company distributes the milk and other products to approximately 3,000 stores, restaurants, and institutional facilities within a 150-mile radius of Baton Rouge (Riegel, 2009). Recently, following the Interstate 10 corridor, Kleinpeter connected with retail outlets as far west as Lake Charles, LA and as far east as Biloxi, MS. Enjoying a close relationship with Rouse's Supermarkets, Kleinpeter has benefited from the south Louisiana grocer's purchase of twenty former A&P Sav-A-Center Supermarkets in the New Orleans and southeastern Louisiana region. Rouse's operates sixteen of those stores and affords ample shelf space for Kleinpeter products. At present, supermarket sales account for approximately seventy percent of Kleinpeter's overall business. Additionally, the company sells to restaurants, nursing homes, hospitals, schools, offshore catering, food services, and manufacturers.
Journal of the International Academy for Case Studies, Volume 16, Special Issue, Number 1, 2010
BEGINNING ICE CREAM OPERATIONS
After flying back to Baton Rouge, Jeff immediately began the process of building an ice cream plant, "I called the architects, the builders, and the contractors that we knew here in Baton Rouge and said, 'We have to build an ice cream plant.' This was in July and I wanted to have the building ready by December 31 in order to recoup money on the Geaux Zone financing and tax credit incentives." Amazingly, Kleinpeter was able to accomplish this ambitious goal. "The contractors worked their tails off. The equipment people got us all the other things that we needed – the piping, the compressors, and a huge generator that can run this whole facility in case we lose power during a hurricane. We did it in four and a half months," Jeff explained.
The CEO's energy and enthusiasm, along with solid local ties to builders, contractors, and government agencies, enabled the company to build the ice cream plant in record time. The total investment for the project came to $5.5 million. The Kleinpeter ice cream was first sold in Baton Rouge area supermarkets on January 28, 2008. Building on their established relationships, Kleinpeter began their ice cream sales with the half-gallon size, which is targeted for supermarket customers. Soon after, the company developed a pint size and mini-cup size. According to Jeff Kleinpeter, "The pints are a convenience store item. The majority of the sales of pints are in convenience stores. We are shopping right now for 30 or 40 chest-height display case freezers to put in convenience stores. It is part of what you have to do sell the ice cream." The mini-cup size is primarily targeted for children.
LOUISIANA FLAVORS
Jeff led the marketing research for the company to determine which ice cream flavors consumers in Louisiana preferred. Results showed that the best selling flavors are vanilla, chocolate, and then strawberry. Vanilla leads all flavors with sixty percent of the market. So, Jeff started with the top three and then began to add other flavors. According to Jeff, "We started with vanilla, went to chocolate, and then to strawberry, made with Ponchatoula strawberries." Perhaps, the Ponchatoula strawberry flavor served as inspiration to produce other ice cream flavors with the Louisiana local flair. "Then, we went to butter pecan, made with Bergeron's pecans from New Roads, a third generation family business," explained Jeff.
"We went to pralines and cream, made with Aunt Sallie's pralines from New Orleans and Bergeron's pecans, Louisiana cane sugar, and Kleinpeter milk and butter, rBGH free (no artificial growth hormones are given to the cows). Then, we went to no-sugar vanilla and no-sugar chocolate. Then, we went to sweet potato pie, made with Bruce Food's sweet potatoes from New Iberia, a fourth generation family business. Then, we did the Community Coffee flavor –café aulait. These are all Louisiana flavors. Then, we did the Gold Brick Egg flavor. Elmer's Gold Brick Egg was started in New Orleans and has been in business for 140 years and is now in Ponchatoula. The people at Gold Brick are thrilled because 95 percent of Journal of the International Academy for Case Studies, Volume 16, Special Issue, Number 1, 2010 their sales occur in just two and a half months. Now, they can start selling their product in the summer time." One year after the introduction of ice cream at Kleinpeter, sales of the confection comprise eight percent of total company sales.
Kleinpeter Farms Dairy now produces all of the top selling flavors of ice cream and has worked its way down the list to the smaller selling flavors. For instance, while vanilla is sixty percent of the market, no-sugar vanilla is only about 1.5 percent of the market. "We followed the market until we got down below three percent. Now, we are free to do whatever we want. What has been effective has been using Louisiana ingredients and Louisiana companies that we all know and love. The biggest hit has been Gold Brick Egg. It keeps selling out and we haven't been able to make enough to get it in all the stores," states Jeff. To date, Kleinpeter is the only producer of Gold Brick Egg ice cream and sweet potato pie ice cream in the world. Jeff exudes enthusiasm for the new products, "In the food section of the paper (Baton Rouge Advocate) last Thursday, the food editors voted Gold Brick Egg their most favorite flavor. It could be bigger than pralines and cream and the third most popular flavor. Gold Brick Egg now has a dark chocolate Heavenly Hash, which may be our next flavor. What is next? Perhaps, bananas foster flavor, made with Aunt Sallie's bananas foster pralines or banana split or banana pudding. We are looking at a blueberry flavor, made with Louisiana blueberries, or Ruston peach."
EXTERNAL CHALLENGES
While Kleinpeter has begun selling ice cream in south Louisiana, there are some external challenges that have affected the company. It has not been all peaches and cream. The first major element in the external environment is the country's economic recession. Kleinpeter built their ice cream plant as the nation stumbled into a recession. "I watch our sales closely every day, comparing this year to last year. Every month our sales have increased. Restaurant sales have slowed, but our grocery sales have increased. To maintain our market share and try to keep customers from switching to store brands of milk and ice cream, we have run some advertising campaigns to raise the awareness of our brand."
Recently, Kleinpeter has run two very interesting advertising campaigns – one featuring Ben and Jeff as a father and son in a family business and another that shows the Kleinpeter cows as employees of the company. The family business ads appeal to families with children, a prime target market for Kleinpeter. Consumers love the employee cow ads, which have also been adapted to ice cream. Jeff explains, "A group of our employees come to me with an idea. The screen splits and there are three cows coming up to me. Since our milk is so good, why don't we make ice cream? So, we listened to them. It shows me in the lab experimenting with chocolate. In another commercial spot, we talk about using local ingredients. Now, we are proud to introduce Kleinpeter ice cream. We show the ice cream. We thank you and the employees thank you. We show three cows."
The second major element in the external environment for Kleinpeter Farms Dairy is intense competition in both the milk and ice cream arenas. While the only competitor that sells both products in the south Louisiana market area is Borden's, there is plenty of rivalry for grocery store shelf space. In addition to store brands such as Great Value and Rouse's, milk competitors include Barbe's, Brown's Dairy, Horizon Organic, Lactaid, Lala Foods, and Silk Soy Milk. Kleinpeter is not the cheapest milk on the shelf, typically pricing at about one dollar to two dollars higher per gallon than the low price leaders, but still addressing the broad market. In terms of strategy, Kleinpeter relies on superior tasting; rBGH free, locally produced milk to create a competitive advantage (Barney, 1991). This competitive advantage allows the company to command a higher price for its products, using the generic strategy of product differentiation (Porter, 1980).
In the ice cream arena, the leading competitor is Blue Bell, which is a regional company operating in twelve states with plants in Texas, Alabama, and Mississippi. Perceived as a strong marketing company with a good product, Blue Bell leads the market in south Louisiana with as much as seventy percent of the business. According to Porter's five forces model, Kleinpeter, as a new entrant in this product market must find a way to compete successfully with entrenched competitors (Porter, 1979). Following the same strategy as their milk, Jeff Kleinpeter states, "In order to differentiate ourselves, we have to make ice cream as good or better and give it more value. Our ice cream is rBGH free. We market the fact that we are a Louisiana product and that we are buying other Louisiana products to put in our ice cream, which is called cross branding. People here in Louisiana like to use local products." Other ice cream competitors in the broad or general market include store brands, Brown's Velvet, Blue Bunny, Kemp's, Edy's, and Breyer's. Ben & Jerry's and Haagen Dazs, while certainly well known, compete in the super premium category of ice cream. These companies make a product with 14 percent butterfat and are priced approximately two times higher than Kleinpeter.
OPERATIONAL CHALLENGES
The cool morning mist was just beginning to rise, revealing dark green grass heavy with dew. In the distance, the gentle moans of cows fresh from milking and returning to the pasture could be heard above the smooth roar of rubber car tires on Airline Highway and the bump and rattle sounds of delivery trucks bouncing out of the gates at Kleinpeter Farms Dairy. Inside the unpretentious, but serviceable company headquarters, Jeff met his sister, Sue Anne Kleinpeter Cox, at the door to Jeff's office and greeted her warmly with a firm handshake and a sunny smile. "It's good to see you, Sue Anne. Thanks for dropping by this morning; I would like to discuss a few things with you concerning our ice cream operations."
"Jeff, you know I am always willing to listen and offer my opinion, but it seems to me that things are going well with the ice cream," replied Sue Anne.
Journal of the International Academy for Case Studies, Volume 16, Special Issue, Number 1, 2010
"Well, they are, Sue Anne. We planned things out fairly well. We knew that we would have to add some employees and some trucks to deliver the ice cream. We have added about twenty employees and we have bought six new trucks in the first year since introducing ice cream. We are up to about 110 units including trailers, dry vans, and trucks. As you know, the ice cream truck has to be -20 degrees and the milk has to be 35 degrees. It is a whole different truck. This is raising some challenges for us because ice cream does not have the same delivery requirements as milk," said Jeff. "For big stores, we deliver milk every day, but ice cream can be delivered every other day. We do need to check the display of ice cream every day. Our turnover in ice cream is not as fast as it is for our milk.
I wish it were. Even if a truck driver had ice cream on his truck, he would only deliver it every third day or so. Now, on an ice cream truck, the driver has 75 accounts as compared to about 20 accounts for milk. It is a different delivery program." "We realized from the beginning that we could get some synergy between milk and ice cream production through the use of our excess cream, but we still need to combine the delivery operations because we are one small business, not some sort of inefficient conglomerate," remarked Sue Anne.
"I hope we will get to the point where we have to go to all the stores for ice cream every day, but even our competitors do not do that," Jeff stated. "I have seen companies that have both milk and ice cream. They wound up having separate representatives for their milk and their ice cream." "We certainly do not want that situation here at Kleinpeter," agreed Sue Anne. "I did not think that we did either. So, I told the reps, 'When you go into a store, you check both the milk and the ice cream.' Doesn't that make sense instead of two guys walking into a store with one checking ice cream and the other checking milk?" questioned Jeff. "We do have separate sales managers for milk and ice cream," remarked Sue Anne. "One rep having two bosses is not a really good thing."
"That is why it is a challenge for those two sales managers to be really close. They are right next to each other in the same office, sharing thoughts on how to direct the reps," Jeff replied. "There are always growing pains when we expand our business. It sounds like we have an unusual organizational structure going here," Sue Anne offered. "With a new ice cream division, you may have to share and work together because the new division is not big enough to support an entire team," Jeff added. "Jeff, we have some human resource and organizational structure issues here. Meanwhile, we are expanding with an entirely new product line in the ice cream, developing completely innovative new flavors of ice cream, and entering new geographic market areas both to the west in Lake Charles and to the east with the new Rouse's stores and into Mississippi. Are we spreading ourselves too thin to cover all this growth?" asked Sue Anne.
REFERENCES
Barney, J. 1991. Firm resources and sustained competitive advantage. Journal of Management, 17: 99-120. Galbraith, J. (1973). Designing Complex Organizations. Reading, MA: Addison-Wesley Publishing Co. Porter, M. E. 1979. How competitive forces shape strategy. Harvard Business Review, March-April. Porter, M. E. 1980. Competitive Strategy, The Free Press, New York. Riegel, S. 2009. Buying the farm, Greater Baton Rouge Business Report, April 7, 32-33.
Journal of the International Academy for Case Studies, Volume 16, Special Issue, Number 1, 2010
Related Topics