ENT Individual Assignment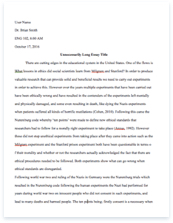 The whole doc is available only for registered users
A limited time offer! Get a custom sample essay written according to your requirements urgent 3h delivery guaranteed
Order Now
Executive SummaryThe purpose of writing this report is to provide business valuation of Bern's Café at ABC University and weighing in the options whether it is suitable or not to purchase the business of Mr. Bernard. The report will be divided into several sections such as the business overview, analysis of the education industry towards the canteen business, customer analysis and also the financial analysis. The business overview will explain more about history and the services provided by Bern's Café. The impact of the education industry towards the canteen business will explain more about the external factors that may or may not affect the growth of the canteen. The customer analysis will then explain the total customer in figures and last, but not least, the emphasis is more focused on the financial analysis. This section will take all of the facts mentioned in the previous sections
and converts them into logical figures. Several valuation methods are going to be used in this section and all of the advantages and disadvantages of each method will then be weigh in to conclude the suitable selling price of the canteen
Opinion of ValueBased on the review of the information provided, I am of the opinion a reasonable range of value for ABC University's canteen, as of April 20, 2014 is: RM 310,000.00
After full consideration, in my humble opinion, I conclude that buying Mr. Bernard's business is a wise decision based upon the several benefits such as the external factor of government support. Statically, the Malaysian Education industry is constantly growing and this means that more students are coming in to ABC University and in return also increases the potential customer coming in to the canteen. Furthermore, upon analyzing the environment of ABC University, it has only one canteen that is Bern's Café and within the radius of 3 km, there are no competitors available. Business wise, this is a major advantage. The staffs are also willing to work under the new owner if the purchasing agreement is finalized and this will certainly eliminates the need to look and hire new staff members. The staff turnover rate has been low, with 80% of them has been working here for more than 5 years. When it comes to machines and equipments, most of them are still in working condition and have been regularly serviced under the care of Mr. Bernard. I would recommend to my superior to purchase the business now as the market is favorable and profitable. My opinion of value is subject to the assumptions and limiting conditions set forth in this report.
Business OverviewHistory of companyMr. Bernard is the proud owner of a canteen that is situated in ABC's University and this canteen is operational for the past 10 years. Before this Mr. Bernard has small grocery shop located in Kuala Lumpur, however the business failed due to the fact the location and stiff competition from other large supermarket that offers more goods. Mr. Bernard's passion in starting a canteen business eventually became a reality when he signed a contract with ABC University and to operate his canteen business which was called Bern's Café. In the first few years of his business, he has made some refurbishment to the entire look of the canteen left by the previous owner. As a passionate businessman, he knows the power of attraction, therefore he re-decorated the canteen with a more modern yet simplistic decoration in order to make the customers feel at ease when dining there. In terms of foods and services, the canteen offers A' la carte and self-service. While at first the menus are mostly local dishes, throughout the years, large numbers of foreign student started to coming in and this made Mr. Bernard to expand his selection of dishes to incorporate Western and Middle Eastern dishes as well.
The menu of Bern's Café differs regarding to the time of day as it offers breakfast menu, lunch menu and also tea-time menu. He also purchased a few furnitures and chairs as well as combining with the furnitures and chairs left by the previous owner. Sadly, his ownership to the canteen business comes to a halt as he was offered a permanent resident status in Australia and also wants to reunite with his family there, thus making him to sell his canteen to proposed buyer. Services providedIn general the taste, environment, ambience and price of the food in the canteen are above average with reasonable pricing. The food and drinks are served in A' la-carte and self-service manner for breakfast, lunch and tea-time hours. Opening hoursThe canteen operates from 7 am until 6.30 pm daily from Monday till Saturday with peak time during afternoon lunch hour. Breakfast start from 7 am till 9.30 am, tea time from 3 pm till 6.30 pm Menu offeredThe table below shows the types of food being offered by the canteen in according to the time of day. Food Drinks
Breakfast Nasi Lemak
Mee Goreng
Potato Wedges
French Toast Coffee
Tea
Milo
Canned Drinks
Fresh Fruit Juice
Horlick
Bottled Water
Lunch Nasi Campur
Nasi Ayam
Nasi Goreng
Mee Goreng
Pastas
Burgers Tea time and snacks Cakes
Breads
Local delicacies
Fresh Fruits Table 1: Menu of Bern's Café
The table above shows the typical menu that is being served in Bern's Café.
Education industry analysis and its impact on canteen businessGeneral trend of Malaysian Higher Education and the Government's policyThe education industry in Malaysia, specifically the higher education is constantly growing throughout the year. This was mainly helped by the Malaysian Department of Higher Education and their policies. One of their aims is to prepare and equipped skilled human capital to cater the needs of an independent and developing Malaysia with its National Development Plan of Vision 2020. Furthermore, under the National Higher Education Development Strategy Plan of 2010, the Malaysian Government have allocated 1.6 million with the aim of targeting the young generation aged between 17 to 23 to pursue higher education.
Figure 1: Student enrollments in private higher education in Malaysia The above chart shows the trend of student enrollments in Private Higher Education ranging from 2004 till 2009. The number of enrollments is steadily growing from 716, 294 students in 2004 to 1,134,134 students in 2010. This proves that the trend of private higher education in Malaysia in constantly growing and in a healthy state. EducationMalaysia (n.a) have stated in their website that "Malaysia has been ranked the world's 11th most preferred study destination by UNESCO. Malaysia also accounts for two per cent of the international student population around the world." By having a large number of students studying in Malaysia, this means that the canteen business will also have a steady supply of customers.
Figure 2: Student enrollments in ABC University
As for ABC University, the above chart shows their student enrollment in the space of 5 years from 2007 till 2011. The data shows that annually, student's enrollment increases by more than half from the previous year. As an analysis, the ever growing trend of student enrollments in private higher education and the government's education policy creates a positive reinforcement in regards to the canteen business. Furthermore, other factors such as ABC University reputation as being one of the top IT based university in Malaysia also play a part in the influx number of student enrollments in recent years. Production processThe daily operation of Canteen 123 starts approximately around 6 am. The head chef and the assistant chefs will then check their inventory and restocking whatever that is needed to start the daily operation. After inventory check then only the operation can start.
By 6.20 am, all of the ingredients needed for breakfast hour will then be prepared and will be used upon customer's order. The same goes with lunch hour as it is the busiest and peak hour of the day. All of the ingredients and foods for the lunch menus is prepared an hour earlier which is around 11 am to cater the large amount of customers coming for lunch. In between the daily breakfast, lunch and tea-time hours, the cleaners will clean the table and collect the plates left by the customers. The process is again repeated during tea-time hours as the foods are prepared at around 3 pm and the customers can still ordered food until 6 pm as the business closes 30 minutes after. Upon closing, cleaning staffs are required to clean the kitchen area as well as the kitchen utensils as this is mandatory for hygienic quality purposes. A' la-carte service
The above flowchart explains the process of how the self-service works at Bern's Café. In summary, customers at first needs to take the plate and utensils provided from a special shelf. The customers can then take rice or take any food available in the food tray provided. Foods ranging from local dishes to Western and Middle Eastern are served daily to cater the customer's taste buds. After picking their foods, customers can the pay at the cashier. The cashier will give the price based upon the types of food being taken. After that, customers pay for the food and they can dine at the seating area. Customer AnalysisThe customers of ABC University can be divided in two distinct categories, first is the local students and staffs and these categories consists of Malays, Indians and Chinese. While the second category is the foreign students and staffs, whereas consists of numerous countries such as China, Kazakhstan, Saudi Arabia, Pakistan, Indonesia and many more. Pie chart below will explain statically the total number of customers in ABC University.
Figure 5: Pie chart of total customer in ABC University
The pie chart above shows the total customers of Bern's Café based upon the students and staffs of ABC University. Foreign students makes up about 56%, while 35% for the local students and just 9% for the employees working in ABC University.
Figure 6: Pie chart of local students in ABC University
While the local students of ABC University consists of Malay, Indian and Chinese. Approximately 48% of the local students are Chinese, 36% are Indians while the Malays consists of 16% of the total local students.
Figure 7: Pie chart of total number of foreign students in ABC University Referring to Figure 7 above, the pie chart explain in figures the break-down countries of the international students. The highest majority is from China, which is 32%, second is Indonesia with 30%, and third is Kazakhstan with 16%. Then with 12% is Saudi Arabia while Pakistan and others shared the same percentage which is 5%.
Figure 8: Pie chart of regularity of having meals at Bern's Café
Figure 8 above shows that 89% have had regular meals at Bern's Café while 11% have said no. The reason for not having meals at the canteen will then be explained in the next chart below.
Figure 9: Pie chart of reasons of not having meals at Bern's Café Figure 9 above shows the reasons why the students are not having meals at Bern's Café. A big majority of them, which is 30% have mentioned that overcrowded is the biggest turn off when deciding to eat there. Not enough selection of foods also become a major decider of not having meals there with 30%. 15% of the total percentage goes to bad service and overprice food while 10% complains that the food taste bad. SuppliersTable below lists down the main suppliers of Bern's Café and these suppliers are chosen based upon two criteria, which is quality and reliability. Mr. Bernard also has a purchasing strategy in which he buys in frozen food and canned foods in bulk, saving up in terms of prices. While for fast perishable food items such as eggs, bread, cakes and dairy products, Mr. Bernard buys them just in time (JIT). Name of Supplier Address Contact Number Items Supplied Delivery Terms Payment Terms Huasin Food Industries Sdn.
Bhd. 2, Jalan Utarid U5/13, Seksyen U5, 40150, Selangor +603-78310109 Cakes Daily Payment upon delivery Malar Setia Sdn. Bhd. Taman Industries Puchong, 42 Jalan TPP 1/19, 47100, Puchong 8061 6558 Beverages Monthly Payment before delivery Lee's Frozen Food Sdn. Bhd. 84 Jalan Rotan Off Jalan Kampung Attap, 50460, Kuala Lumpur 2272 3019 Frozen Food Monthly Payment before delivery Hup Seng Wholesaler Sdn. Bhd. Stall No. D27, Wholesale Market, 68100 Kuala Lumpur +603-61351066 Vegetables Daily Payment after delivery Vit Makanan (Kuala Lumpur) Sdn. Bhd. Lot 126, Jalan Taman Industri Integrasi Rawang 1/2, Taman Industri Integrasi Rawang, 48000 Rawang Selangor +603-60933999 Noodles Monthly Payment before delivery F&N Dairies (Malaysia) Sdn. Bhd. Level 7, Kompleks Metro Pudu No.1, Jalan Metro Pudu 2
Fraser Business Park
55100 Kuala Lumpur +603-92329000 Dairy Products Weekly Payment upon delivery Sweet Memory Distributor Sdn. Bhd. No. 3, Jln Budiman 2/3, Taman Putra Budiman, 43200 Balakong,
Selangor +603-87235899 Snacks Monthly Payment before delivery Lim Soon Huat Sdn. Bhd. Lot A55, Lorong Kuang Bulan, Taman Kepong, 52100, Kuala Lumpur
+603-62741101 Canned foods Weekly Payment upon delivery Lau Kon Hing Egg Dealer Sdn. Bhd. Kepong Baru, 52100 Kuala Lumpur, Malaysia +603-62743785 Eggs Monthly Payment before delivery Eng Hup Seng Sesame Oil & Seed Sauce Factory AL-97, Lot 2781, Jalan Kampung Baru 47000, Selangor +60361560002 Oil and sauces Monthly Payment upon delivery Table 2: List of suppliers of Bern's Café
Human resourcesCurrently, 123 Canteen has 10 full time workers and it consists of canteen manager, head chef, assistant chefs, cashiers, cleaners and servers. There are also a couple of part time workers mainly holds the position of cleaners and servers. The head chef is a well experienced chef who have worked in the culinary industry for 4 years. He has worked in Bern's Cafe since the first day and he is the most senior staff member. He is very professional and also very punctual. The canteen manager has a diploma in accounting and finance and that is the main reason why he is hired. He also have worked with Mr. Bernard since the very beginning and his attitude in the work place needs improvement.
He is constantly yelling when giving instructions to the staff and this makes the customers unease and complains about the noise. The assistant chefs have worked a couple of years in the canteen and their work rate is exceptional, very diligent and hardworking. The cashier is a close relative of Mr. Bernard and have worked in a similar environment before joining the canteen staff. The full-time cleaners and servers always on hand when it comes to cleaning the canteen and serving food to the customers, while the part-time staffs are quite slow when it comes to doing their job and probably they know it is only a part-time job Position No. of
Staffs Job Description Monthly Salary
Canteen Manager 1 Order and receive stock from suppliers
Review all invoices to ensure they are accurate
Ensuring that only authorized people enter the canteen
Locking up at the end of the working day and switching off certain appliances RM 4300 Head Chef 1 Producing menus and new dishes
Managing, training and recruiting a brigade of chefs
Overall responsibility for daily operations in the kitchen RM 2900 Assistant Chefs 2 Maintain standards in food preparation
To relieve in the head chef's absence
Assist the head chef RM 1500
Cashier 2 Maintains sufficient amounts of change in cash drawer Assists customers in locating specific items
Keeps register area neat and stocked with necessary supplies RM 1300
Cleaner 3 (full-time)
1 (part-time) Cleans and sanitizes service area
Cleans and sanitizes equipment and utensils
Cleans and defrosts refrigerators and freezers
Empties garbage cans
Wash canteen laundry RM 950 (full-time)
RM 450 (part-time)
Server 2 (full-time)
1 (part-time) Serves customer's food
Clean dining area RM 750 (full-time)
RM 350 (part-time)
Table 3: Bern's Café full-time and part-time workers
Description of facilitiesBern's café offers a cool and easy on the eye atmosphere with a calming ambience. It is a spacious canteen and can accommodate up to 45 people all at once. There is also ample lighting source meaning that even in the late evening the canteen lights up efficiently. The decoration is a typical canteen decoration and nothing really fancy. Layout plan
Figure 10: Layout plan of Bern's Café (top view)
Legends:
Dinner Table (6 People)
High Table
Bar Chair
Wall Mounted Plasma
Room Divider
Hot Food Warmer
Sink
Single Kitchen cupboard
Kitchen Stainless Steel
Kitchen Hood
Refrigerator
Worktop, Wood
Table and Chairs
Furniture and FittingFurniture and Fitting Quantity Condition Description Usage Years Tables 150 Tables are still in good condition and usable 5
Chairs 220 Chairs are still sturdy and in good condition 5
Wall mount Plasma 2 Still working 4
Lighting 15 All of the light bulb are still working 5
Air Conditioners 9 Still functional and a few sets needs to be service 5 Sink 2 Still function without leakage Table 3: Furniture and fitting of Bern's Cafe Equipment and MachineEquipment and Machine Quantity Condition Description Refrigerator 3 Still in good condition but needs to be service Freezer 2 Both freezers still function properly despite the usage is more than 3 years Cooking Stove 3 Weared out but still function properly
Oven 2 Lightbulb inside oven needs to be replaced however it is still in good condition Pots, Woks and Pan 12 A lot of it are already worn out and needs to be replaced Food Warmer 3 Still in good condition
Gas Cage 1 The cage is rusty and the lock needs to be changed Kitchen Hood 2 Still in good condition
Table 4: Equipment and machines of Bern's Cafe
Financial AnalysisAsset Valuation: Book Value Method437515128270Selling price = Tangible Assets + Intangible Assets – Liabilities 020000Selling price = Tangible Assets + Intangible Assets – Liabilities
Figure 4: Formula for Book Evaluation Method
476250216535RM 150,000 + RM 0.00 – RM 0.00 = RM 150, 000
Selling price of Bern's Café is RM 150, 000
020000RM 150,000 + RM 0.00 – RM 0.00 = RM 150, 000
Selling price of Bern's Café is RM 150, 000
Figure 5: Selling price for Bern's Cafe
At first, the total tangible assets is worth an estimated sum of RM 300, 000, however it is cut to half due to the fact that all of the tangible assets has an estimated life span of 10 years, while the Bern's Café is already at its 5th year of business life. Furthermore, assets such as furniture, machines and equipment wears down throughout the year, thus, making its asset value to depreciate. According to the information provided, Mr. Bernard does not have any intangible assets and no bank loans whatsoever and that is why the intangible assets and liabilities is written down as null.
Market Based Valuation Method: Going Market Rate Methodcenter54610Selling price = Selling Price of Similar Firms 020000Selling price = Selling Price of Similar Firms
Figure 6: Formula for Market Based Evaluation Method
Company Transacted Selling Price Selling Price Per Person
Paradise Café at Smart High School (3,000 students) RM 150, 000 RM 150, 000 / 3, 000 students = RM 50.00 per person
Moon Café at Twain University (15,000 students) RM 60, 000 RM 60, 000 / 15, 000 students = RM 50.00 per person
Wan Café at Pan Corporation
(6,000 employees) RM 400, 000 RM 400, 000 / 6, 000 students
= RM 50.00 per person
Table 5: Selling price based on similar firms
Company Transacted selling price Selling price per person Estimated price of Bern's Cafe Paradise Café at Smart High School (3,000 students) RM 150, 000 RM 150, 000 / 3, 000 students = RM 50.00 per person RM 50.00 x 10,000
= RM 500,000
Moon Café at Twain University (15,000 students) RM 60, 000 RM 60, 000 / 15, 000 students = RM 50.00 per person RM 40.00 x 10,000
= RM 400,000
Table 6: Estimated price based on Paradise Café and Moon café Based upon the table above, Bern's café selling price is estimated between the range of RM
400, 00 to RM 500, 000. Wan's Café at the Pan Corporation is eliminated from the table due to the fact that the transacted selling price alone is expensive compared to the other two canteens. The strategy here is to get an estimated price that is cheaper in terms of similar firms.
Income based Business Valuation: Return on Investment (ROI) Method333375172085Selling price = Net Annual Profit x (100/Return on Investment) 020000Selling price = Net Annual Profit x (100/Return on Investment)
Figure 7: Formula for Return on Investment (ROI) method
Year Turnover Net Profit
2007 RM 300, 000 RM 60, 000
2008 RM 350, 000 RM 63, 000
2009 RM 400, 000 RM 60, 000
2010 RM 450, 000 RM 67, 000
2011 RM 500, 000 RM 60, 000
Figure 8: Net annual profit of Bern's Café
514350121285Average net profit for the last 5 years = (RM 60, 000 + RM 63, 000 + 60, 000 + RM 67, 500 + RM 60, 000) / 5 = RM 62, 100
020000Average net profit for the last 5 years = (RM 60, 000 + RM 63, 000 + 60, 000 + RM 67, 500 + RM 60, 000) / 5 = RM 62, 100
Figure 9: Calculation based on Net Profit
center312420Selling price = RM 62, 100 x (100 / 20%)
= RM 310, 000
020000Selling price = RM 62, 100 x (100 / 20%)
= RM 310, 000
Figure 10: Calculation based on ROI method
Based upon the calculation in figure 9 and 10, it is calculated that Bern's café, over the past 5 years has an average profit of RM 62, 000. Using that average net profit and putting it into ROI method, the selling price of Bern's Café is at RM 310, 000. The 20% is based upon the fixed deposit given by the bank which is around 3% to 3.2% and include other investment which is around 5.15%. Furthermore 20% is suitable because of cost of maintenance and the business only operates 5 days in a week. Conclusion for Financial AnalysisAs stated in the financial analysis, 3 type of methods are used to determine the selling price of Bern's Café, which is assets based, market based and income based valuation method. Assets based valuation has some pros and cons to it, firstly the tangible assets can be measure accordingly to the operation of the business. Furthermore, the value of the assets is readily available which makes the calculation of assets based valuation easy to straight forward.
The cons is that this method may underestimate intangible assets' value for example goodwill and copyrights. Adding to that is the inaccuracy of the value of the assets for example the calculated value is more than it what is originally spent. Next is market based evaluation. The advantage of this method is that by comparing other similar firms such as Paradise Café, Moon Café and Wan's Café, a general market value can understood and determined. However, the drawback to this method is that some firm has a significant higher transacted selling price when compared to Bern's Café. This is why Wan's Café is being eliminated as the estimated selling price is more expensive than Paradise's Café and Moon's Café. Last but not least, using the ROI method. This method is the best method to use when calculating the estimated price of Bern's Café because the goal of buying Bern's Café is to continue operating the business while earning profit in the long run.
References:
Citeman.com, (2008). Advantages and Limitations of ROI. [online] Available at: http://www.citeman.com/3280-advantages-and-limitations-of-roi.html [Accessed 26 Sep. 2014]. Educationmalaysia.gov.my, (n.d.). Global Education Hub. [online] Available at: http://www.educationmalaysia.gov.my/global-education-hub/ [Accessed 26 Sep. 2014]. Enrollment in tertiary institution in Malaysia, local and foreign students. (n.d.). [image] Available at: https://research.osk188.com/images/31/jgVT19202875517731ae352d4.jpg [Accessed 26 Sep. 2014]. Floorplanner.com, (n.d.). Create floor plans, house plans and home plans online with Floorplanner.com. [online] Available at: http://www.floorplanner.com/ [Accessed 26 Sep. 2014]. Institute, A. (n.d.). Government Policies and Regulations. [online] Adbi.org. Available at:
http://www.adbi.org/working-paper/2011/04/19/4513.access.equity.malaysia.higher.educ/government.policies.and.regulations/ [Accessed 26 Sep. 2014]. Lovewell, K. (2010). How much is your business worth: valuations based on assets versus cash flow [Part 2 of 3] – Anthill Online. [online] Anthill Online. Available at: http://anthillonline.com/how-much-is-your-business-worth-valuations-based-on-assets-versus-cash-flow-part-2-of-3/ [Accessed 26 Sep. 2014]. Masters.donntu.edu.ua, (n.d.). Return on Investment (ROI) definition equation benefits limitations. [online] Available at: http://masters.donntu.edu.ua/2007/fvti/livandovskiy/library/9.htm [Accessed 26 Sep. 2014]. NST Online, (2014). Malaysia 'on right track to be education hub'. [online] Available at: http://www.nst.com.my/node/9796 [Accessed 26 Sep. 2014]. Pirraglia, W. (n.d.). Return on Investment Techniques. [online] Small Business – Chron.com. Available at: http://smallbusiness.chron.com/return-investment-techniques-3423.html [Accessed 26 Sep. 2014]. PRIVATE HIGHER EDUCATIONAL INSTITUTIONS ACT 1996. (1996). 1st ed. [ebook] Kuala Lumpur: PERCETAKAN NASIONAL MALAYSIA BHD. Available at: http://jpt.mohe.gov.my/IPT/Act%20555%20-%20IPTS%20-%20BI.pdf [Accessed 26 Sep. 2014]. Yean Tham, S. (2011). ExplExploring Access and Equity in Malaysia's Private Higher Education. 1st ed. [ebook] Available at: http://www.adbi.org/files/2011.04.19.wp280.access.equity.malaysia.higher.educ.pdf [Accessed 26 Sep. 2014].
Appendices
Assumptions and limiting conditionsThis business analysis is subject to the following assumptions and limiting conditions: Information, estimates and opinions contained in this report have been obtained from sources considered reliable. However, ABC University has not independently verified such information and therefore, assumes no liability for such sources. All facts and data set forth in this report are true and accurate to the best of our knowledge and belief. We have not knowingly withheld or omitted anything from the report which might affect our opinions, conclusions, recommendations or estimate of value. No investigation of title to property or any claims concerning ownership of property by any individuals or company has been undertaken. Unless otherwise stated in this report, title has been assumed to be clear and free of encumbrances and as provided to ABC University.
The estimates of value presented in this report apply to this analysis only and may not be used out of the context presented herein. Any other use of this report may lead the user to an incorrect conclusion for which ABC University assumes no responsibility. It should be specifically noted that this analysis assumes the business will be competently managed and maintained by financially sound owners over the expected period of ownership. Our engagement entails a limit evaluation of management's effectiveness. However, we are not responsible for future marketing efforts and other management or ownership actions upon which actual results will depend. No opinion is intended to be expressed for matters which require legal, income tax or other specialized expertise, investigation or knowledge. It is assumed that there were no regulations of any government entity, which controlled or restricted the use of the underlying assets, unless specifically referred to in this report. It was also assumed that underlying assets were not operated in violation of any applicable government regulations, codes, ordinances or statutes.
This report has been prepared solely for the use of the party or parties named and specifically for the purposes set out therein. In accordance with normal practice, I hereby disclaim liability to any other person. Any other person should not rely upon the information and conclusions reached nor should any statement in this report be used for any other purpose without written consent from ABC University. Public information, purchased private information and industry statistical information are from sources I deem to be reliable; however, I make no representation as to the accuracy or completeness of such information, and have accepted the information without further verification. Absent a statement to the contrary, we have assumed that no hazardous conditions or materials exist which could affect the subject business or its assets. However, we are not qualified to establish the absence of such conditions or materials, nor do we assume the responsibility for discovering the same.
Related Topics