Employability – Personal Effectiveness at Work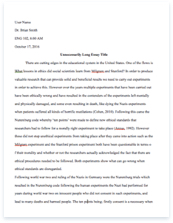 The whole doc is available only for registered users
Pages: 3
Word count: 696
Category: Work
A limited time offer! Get a custom sample essay written according to your requirements urgent 3h delivery guaranteed
Order Now
Task 1
a) Goals and Objectives that contribute to personal effectiveness at work placement:
* Hard working- your manager would know you're appropriate for the job and can handle it.
* Communication- to maintain good relationship with your clients and build up your confident.
* Responsibility- so you know how to take care of your own actions and maintain your job in an effective way. Also you can't rely on others.
* Time management- to maintain smooth running of the day and feel like you're not piled up with to many responsibility.
b) The areas of development you need to support personal goals:
* Training and development- this is important because you would know how to work effectively and make sure nothing will go wrong.
* Organizing- this is important because if your not organized then you might find your job very hard and start struggling and find your self in a position that you cant handle the job no more.
* Plan ahead- so you're up to date with your job and work and you won't stress.
* Goal setting- this is important because you would know what job you need to do and might not forget anything important.
c) Why I think personal goals and objectives are important at work:
* Achieve goals- feel very proud of yourself and see you can work independently.
* Hard working- get everything done on time and working effectively.
* Professionalism- so people see you as a good worker and see that you can do your job professionally.
* Willing
* Committed- so you don't get distracted and know that the work is very important to you.
Task 2
Personal implications of starting work:
* Maintain standards of work
* Other people needs
* Location
* Environment
* Budget money
* Childcare
* Social activities
* Personal appearance
* Attitude
Task 3
a) Ways to describe the way I would create a good impression with personal presentation in workplace:
* high standard of hygiene
* smart appearance
* Hair should be neat because you don't it coming to the front and might get caught into something.
* No piercing because the clients might not like it and feel scared.
* Being polite and pleasant because you don't want to upset anyone.
* Time management because you don't want to miss anything important e.g. giving medicines an time.
* Staying clean and tidy, its safety and for hygiene protection. Looking neat and tidy will stand out towards clients and anyone.
b) Why I think personal presentation is important when starting work:
* It's a good impression towards and will give you a lot of confident that you can present work and deliver it to anyone.
* Taking the job seriously and that you know it is important for you take pride in appearance so anyone who looks at you will see you as a professional.
* Respect towards other and that they feel you are interested in the job.
Task 4
a) Ways in which I would manage my feelings in the workplace:
* Take control, it would make you feel better and that you feel more committed to your job.
* Speak to somebody so you can sort you problems out or someone can sort them out for you if you're having trouble with your job.
* Be assertive
* Relaxation techniques as yoga can help you with your stress levels.
* Exercise such has jogging can help you forget things and bring you mind back.
* Counting to 10 feel calm you down if you think you are stressing.
b) Why is it important to manage my feelings when starting work?
* Maintain professional- people might think you're not professional; it will give a bad image towards your clients.
* Don't make any wrong impressions
* Avoid any conflict
* Remain calm
Related Topics