Eliot's Prufrock: Modernism Itself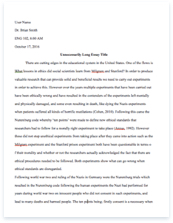 The whole doc is available only for registered users
A limited time offer! Get a custom sample essay written according to your requirements urgent 3h delivery guaranteed
Order Now
'Till human voices wake us, and we drown.1 The last line of T.S. Eliot's "Love Song of J. Alfred Prufrock" relays in a few words the demise of what little flicker of resolve a downcast soul has mustered. It delivers the perfect, sullen coup de grace to Prufrock's futile attempts at an exodus for his decaying spirit; a daydream that lasts not longer than a zephyr.
Eliot's Prufrock is not simply another literary modern piece, some argue that it is "the first Modernist poem."2 The Love Song undeniably influenced the advance—if not the genesis—of Modernist literature. Espousing several defining facets of modernism and employing many a modernist tactic or style, Eliot's work is a fine specimen of the then contemporary era of literature.
Shall I say, I have gone at dusk through narrow streets, And watched the smoke that rises from the pipes, Of lonely men in shirt-sleeves, leaning out of windows?3 Lines depicting the dreary and the decrepit accentuate aspects of literary modernism such as being a "response to 'sense of social breakdown'"4 and being "ironic but not unfeeling,"5 among others. Perspectivism, impressionism, and typical themes—to state a few—lend a distinct modern tone to the poem; Let us go then, you and I, When the evening is spread out against the sky / In a minute there is time, For decisions and revisions which a minute will reverse.6
With the style of writing and underlying elements of modern literature, the poem vividly and effectively elaborates the dire degenerative condition of life and state of mind of a dwindling spirit. Eliot's Prufrock is a definitive example of Modernist literature–one can truly say the poem is Modernism itself.
1, 3, 6   Lines from The Love Song of J. Alfred Prufrock by T.S. Eliot
2   Lifted from an entry in enotes.com, see references
4, 5   From American Literature Sources, see references
References:
Gizzo, d. (2004, August 15). OVERVIEW OF LITERARY MODERNISM. Retrieved June 25, 2007, from Georgetown University Website: http://www9.georgetown.edu/faculty/sd224/Classes/handouts/LiteraryModernsim.htm
O'Conner, D. M. (2000, April). Literary Modernism, 1915-1945. Retrieved June 25, 2007, from Millikin University Website: http://www.millikin.edu/aci/crow/basics/modernism.html
S. Eliot: The Love Song of J. Alfred Prufrock (1919). (1998, December 23). Retrieved June 25, 2007, from Washington State University: http://www.wsu.edu:8080/~wldciv/world_civ_reader/world_civ_reader_2/eliot.html
The Love Song of J. Alfred Prufrock Reviews, 1916-19. (1999, August 23). Retrieved June 25, 2007, from The Prufrock Papers: http://www.usask.ca/english/prufrock/recstart.htm
The Love Song of J. Alfred Prufrock, T. S. Eliot | INTRODUCTION. (n.d.). Retrieved June 25, 2007, from Enotes.com: http://www.enotes.com/poetry-criticism/love-song-j-alfred-prufrock-t-s-eliot
Related Topics