Early Middle and Adulthood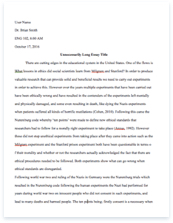 The whole doc is available only for registered users
A limited time offer! Get a custom sample essay written according to your requirements urgent 3h delivery guaranteed
Order Now
This paper is about the trial and tribulations associated with the stage of becoming a young adult; it will focus on social and intimate relationship established in this process. It will also talk about people and the changes, encounters, and experiences a person can experience in this stage. People in the beginning stages of early and middle adulthood can go through many changes throughout their life. Relationships private and social have a need for the confirmation of the roles played by each participant in the relationship. Each can form healthy relationships with friends, co-workers, and family members, etc. The goal for the individual is to not pick up unhealthy habits that can create negative consequences that will impact the success of one's future. Social and Intimate Relationships
Middle years from 18-25 years old is a time of many accomplishments and many risks taken, so many changes going on inside. Emotional, brain development and change, as well as social change leading young adults from teenager to a full mature adult. Society is on the verge of understanding how and why things happen the way they do or don't. Early adulthood age ranges from 18-25-year-old. At this age children branch off from their parents and become an independent individual. This process usually occurs when the child goes off to college or just leaves the house to move in with a roommate or small apartment. Through the development of social relationships, stress may fall on the growing adult due to the status of different groups and the way people separate and interact as adults may become more difficult for one to adapt to. Human beings have a natural need to be accepted, through the need to feel acceptance from others, different actions will arise from established social relationships.
Although slight age-related trends may be apparent, personality characteristics are more commonly determined by full adulthood. Over a period an individual will learn his or her companion and trust will become more apparent, intimate details will be disbursed, and commitment and real friendship begins. Young person can consider different perspectives while not allowing one 's self to take sides, just understanding both points of view. The ability to hold many views in their mental visor allows a young adult the ability to form stable relationships with peers. Having the ability to understand people to see what they have in common and are loyal to the same things or people, is an example of sharing the same values. Understand constructive criticism at this age is much easier, and one can recognize another individual's insight and appreciate helpfulness even if it is not what they prefer to hear at the time. Relationships
Many close relationships share many of the same factors, psychological needs, and ways. Levels of intimacy progress being attracted to a person, a close relationship, and long standing commitment. Erikson notes relationships have demands that involve personal sacrifice and vulnerability which brings a new found understanding and departs with isolation from over self-protecting. Humans have a desire that is apparent to many social scientists. The beginning of life, an individual has a natural need to depend on another person no matter what the circumstance may be. Studies show that many adults emerge from social ties as one grows in age. Initial independence begins from the parent and sometimes has the sense to not want to get married or even bare children.
How does the personality of the young adult change? Many choices take part in the advancement from adolescent to young adult. Career opportunities and that an individual identify as plays an enormous role in the personality of the young adult. Establishing adult relationships for the college graduate and those in the early adult years seem to come to a point of surrounding oneself around other just like them. Generally speaking, the average young person focus' on financial and career goals. An individual may very well be in a promising relationship but may not be ready to get married or start a family until one feels financially stable. History has the primary role of provider, sustainer, and protector of the family as being associated with the job of the male. In today's society, many men are faced with challenges to live up to those standards. According to "What-When-How.com" (n.d.), many women are entering the workforce, and they are very successful, having the ability to provide, maintain caregiving, and protecting their children. As a result of both parents working the "two-income family", can adjust and ping pong male and female male role or mother and father role. Adapting a healthy lifestyle
Researchers from Northwestern University have studies looking at a small selection of healthy lifestyle choices made by young adults that paid off in a positive way later along in adulthood. According to researchers at Northwestern University, The Choi (2001-2014) website. Adopting a healthy lifestyle as a young adult is essential in the prevention of heart disease and will help the body maintain a healthy structure later on in life. Research shows that young adults were able to remain a low risk for heart disease into middle adulthood and were able to continue with the healthy lifestyle habits in later on in life. "Based on this study of those who adopted a healthy lifestyle, even after 20 years, many were able to maintain their low-risk profile," said Dr. Kiang Liu, the study's lead author and professor of preventative medicine (Choi, 2001-2014).
To conclude it is best to take care of one's health before it is too late. Older adults often tell younger adults to pay close attention to the things that older adults overlooked and contributed to the disease, symptom, or ailments of an older adult. It is genuine, heartfelt advice and the belief that younger adults take their health for granted with the assumption that it will always remain in a healthy state. Everyday life is a constant reminder of what older adults experience and the trials and tribulation that some endure due to not maintaining a healthy diet and lifestyle.
References
Choi, C. (2001-2014). medill.northwestern.edu. Retrieved from http://news.medill.northwestern.edu/chicago/news.aspx?id=202607 Shaping your health. (n.d.). Retrieved from
http://highered.mheducation.com/sites/dl/free/…/hahn_samplechapter_01.pd Stassen Berger, K. (2009). Invitation to the lifespan [University of Phoenix Custom Edition eBook]. Bronnx, Ny: . Retrieved from University of Phoenix, PSY/280 website. what-when-how.com. (n.d.). Retrieved from http://what-when-how.com/nursing/early-and-middle-adulthood-development-throughout-the-life-cycle-nursing-part-1/ youngadultdevelopmentproject.org. (n.d.). Retrieved from http://hrweb.mit.edu/worklife/youngadult/index.html
Related Topics