Drug Abuse is a Serious Sociological Issue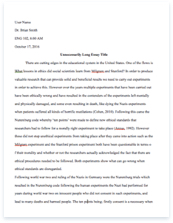 The whole doc is available only for registered users
A limited time offer! Get a custom sample essay written according to your requirements urgent 3h delivery guaranteed
Order Now
Drug abuse, also called substance abuse, is a serious sociological issue that has plagued public health for the last century. It affects almost every family and group in some way. Each year drug abuse produces millions of serious health dilemmas among Americans. Some of the commonly abused drugs include cocaine, heroin, marijuana, anabolic steroids, prescription drugs, and opioids, etc. Drug abuse also plays a big role in many significant social problems, such as violence, anxiety, drugged driving, and child abuse. Drug abuse can lead to crime, financial problems, and missed work or problems with keeping a job. It destroys families and harms unborn babies. According to NSDUH (National Survey on Drug Use and Health), over 7 million Americans had drug disorders in 2014. The Office of National Drug Control Policy (ONDCP) reports, it is clear that addiction and drug abuse cost American society close to $200 billion in many factors including healthcare, legal, criminal justice, and lost workplace production/participation costs in 2007.
There are many factors that can encourage drug abuse such as the environment, genetics, occupation, family history, and social factors. Social factors break down to 3 main categories. These are stress, desire to fit in, and peer pressure. The pressure at school and work or from family problems can lead to increased stress. People may feel that they need to use numerous drugs in order to maintain this pressure. Whether it is to help them feel more energized or more relaxed, or even just forget about their problems. This mindset can lead to addiction. The desire to fit in may also lead to drug addiction. People may start using drugs to feel more accepted to the sub-culture they live in. If they are using what the "crowd" is using, maybe they can gain acceptance or popularity. But the most important social factor which leads to addiction is peer pressure. Many people are strongly motivated by those that they spend time with. They engage in similar beliefs and activities to build relationships. The desire to please and not disappoint friends can result in giving in to peer pressure to try and practice drugs. In short, society encourages people in many ways to try drugs which can lead to addiction. Right now drug use is a serious problem in the United States of America and there are people who are trying to fix this problem. On July 2, 1986, Metallica showed their attitude against drug abuse and how it affects people in many ways. One includes releasing the album and the song, "Master of Puppets."
Metallica is an American heavy metal band from Los Angeles, California which was formed in 1981 by Lars Ulrich and James Hetfield. The group's aggressive and energetic musicianship, instrumentals, and fast tempos made them one of the founding 'big four' bands of heavy metal. They have gone through many changes and misfortunes but they found solutions for them and somehow continued playing. The original members of the band were James Hetfield, Lars Ulrich, Dave McGovney, and Dave Mustaine. Hetfield was the rhythm guitarist and singer. Lars was an excellent drummer from Gentofte Municipality, Denmark. Dave Mustaine was the original lead guitarist and McGovney was the original bass player. Metallica showed their views against drug abuse and people on drugs before Master of Puppets by kicking the original lead guitarist Dave Mustaine from the band. Mustaine was kicked out mainly because of his drug problems and his destructive behavior against the band members that came as a result. This is a great example of how people lose their jobs due to their drug addiction. Substance use can cause other problems like lost productivity, injuries, absenteeism, theft, fatalities, and low employee morale. Some other consequences are increased health care costs, legal liabilities, human resources issues, and workers' compensation costs. Brian Slagel who is the owner of Metal Blade Records said 'Dave was an incredibly talented guy but he also had an incredibly large problem with alcohol and drugs. He'd get wasted and become a real crazy person, a raging megalomaniac, and the other guys just couldn't deal with that after a while.' It's obvious that this referred to in Master of Puppets' lyrics and music structure.
Master of Puppets is mainly about what will happen to a drug user. It communicates many messages about the horrifying life of an addict. In the song, the 'master' of puppets is a reference to drugs and how it controls people. Drugs are the master, and users are the puppets. The song structure goes like this: Verse 1, refrain, pre-chorus, chorus, verse 2, refrain, pre-chorus, chorus, post-chorus, instrumental bridge, bridge, guitar solo, verse 3, refrain, pre-chorus, and chorus. Verse 1 explains what will happen to a drug addict. They become addicted to something that is ruining their life, killing them, and leading them down a path of self-destruction. It tells us how death is slowly getting closer as the drugs enter your bloodstream. There are plenty of reasons why people become addicted to something that will harm their body eternally. Pre-chorus of the song points out how you can't stop buying drugs once you are an addict. Even when you're financially weak and dying, you still purchase them. According to drugabuse.com, the financial burden of addiction in the United States of America is more than twice that of any other neurological disease. Chorus symbolizes how drugs have taken over everything the addict own. His life, his goals, and most importantly, his dreams. In verse 2, the most powerful line is "chop your breakfast on a mirror." Cocaine is traditionally consumed by arranging it into lines on a mirror with a razor. Due to his addiction, this will be the first thing for him to do in the morning. Instrumental bridge, which starts in the middle of the song, symbolizes getting high. In this bridge, songs tempo suddenly drops and gets really calm. Finally, verse 3 explains how going to hell is worth the temporary satisfaction of using the drug for an addict. There are plenty of reasons why people are getting addicted to something that will harm their body eternally. One of the reasons is adverse childhood experiences (ACE). Adverse childhood experiences are stressful or traumatic events that happen in childhood times. These events may include neglect, abuse, and household dysfunction, including growing up with family members who have drug use disorders. These events increase the risk of drug abuse. According to SAMHSA'S (Substance Abuse and Mental Health Services Administration) Center for the Application of Prevention Technologies, for every additional ACE score, the rate of the number of drugs used increased by 62%. This research shows how sociological events like ACE can cause drug abuse.
In conclusion, drug abuse is a serious sociological issue that has troubled the public health. Some practice drugs as a way to bypass reality some may use them just to feel more accepted to the sub-culture they live in. And some use drugs because they believe that it will help them to mask their feelings. The tragic truth is that after using the drugs, many of the users have a feeling of regret. But it's not impossible to clean. It just requires patience and determination. But when you become clean, it's one of the most important things. Robert Downey Jr. once said, 'Getting sober was one of the three pivotal events in my life, along with becoming an actor and having a child. Of the three, finding my sobriety was the hardest thing.'
Related Topics