Discuss and Compare Two Advertisements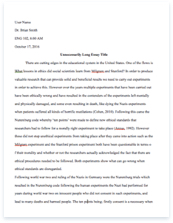 The whole doc is available only for registered users
A limited time offer! Get a custom sample essay written according to your requirements urgent 3h delivery guaranteed
Order Now
Advertising plays an important role in your life. Everywhere you look there are pictures and messages influencing our decisions and telling us what we should do. Though this may not always be seen as a good thing, as studies have shown that this limits the possibilities of conscious choice and promotes a consumer society. This may be true but advertisement does play a fundamental role in the economy of almost every country, billions of pounds spent each year on market research and ad campaigns. Everywhere you look it is likely an advertisement is looking back.
Advertisements come in three main forms these are; public, consumer and charity. Each has a different target audience.
Public advertisements are messages sent through the media by the government. These aim to inform the general public about health and welfare issues, another is consumer advertisement. It aims to make a person buy their product. Usually products bought out of desire. The third type is charity. Charity advertisement provides no concrete product. Their adverts aim to make someone give aid (e.g. money) to help their causes
Each form has a different target audience and therefore uses different techniques to make achieve there aims. It is very important to get the right audience otherwise it is likely to not be effective. This is done by using certain language, captions and images that may attract certain people
The following advertisement was found in 'The Times', a broadsheet newspaper; it is appealing to a more affluent reader, therefore hoping to attract further donations. It aims towards a possibly wealthier reader who may find £15 a month a reasonable amount.
The most striking content of the advertisement is the illustration. It has obviously been designed to catch the eye of the reader. It is a young girl's face (most likely Amies.) She is staring into the camera. Her clothes imply she is very poor as she is only wearing an old cloth which has been turned into clothing as she cannot afford to buy anything. She has no smile and instead wears a frown which then relays to the reader. These work together to create the intended effect.
The text explains how Amie lives, how she struggles to survive and that she needs your help. It toys with the readers emotions and is designed towards making you feel empathy and sorrow and making you wish you could help.
The words used in the text are designed to emotionally blackmail the reader. Amie is showed as a stereotypical child in poverty. By using stereotyping other people can easily understand the situation presented. The reader also understands the gravity of words such as 'healthcare' and 'schooling' and the lack of them in Amie's life.
The techniques used in this advertisement work together to play on the emotions of the reader it evoke empathy towards Amie.
My second piece is on an advertisement for a wine called "kumala". It uses a variety of techniques to persuade you to purchase their product; this is an example of consumer advertisement. This means the purpose is to make the reader purchase the product.
This advertisement was found in the magazine 'Live'. 'Live' is read mainly by people between the ages of twenty and forty. This seems to suit the product offered
The first thing it does is set the scene. It uses dark 'evening' colours that symbolize relaxation which is relative to the tone that the other items set. It is a picture of an evening sky with stars at the top which fade downwards to a picture. Of a bottle of wine, on either side is a half full glass. On the far left is a TV and on the far right are two people.
This gives the image that it wants you to sit down, relax with a friend and most importantly open a bottle of their wine. The advert makes you want to purchase their product. You feel like you want a piece of what they are offering. This is what the advertisers are attempting to achieve. Plays on the readers emotions and uses their cravings against them.
In comparison to the advertisement for Amie it is very similar. In the end they are both trying to achieve the same thing: for you to do what they want. They both exploit your emotions, In Amie this is empathy; in the wine advert it is desire. They have been used effectively through a multitude of methods such as: text and illustrations which have been aimed towards a particular demographic therefore achieving the best results possible.
Related Topics